Why you need this Plan ?
Ease of purchase- No need to buy from different insurers.
Service touch points in over 600 branches of both insurers.
5% discount* on total premium on purchase of Click 2 Protect Health.
Only plan that provides tax benefits under section 80C, 80D and 10D of the Income Tax Act, 1961.
A customer has to give a single cheque, go for single documentation and single medical test to buy this policy.
* Discount of 5% on annual premiums paid towards both Life & Health will be offered. If Customer decides to opt out of one of the products, the discount, if any, shall not be available to the Customer going forward.
Explore HDFC Life Click 2 Protect Health
Features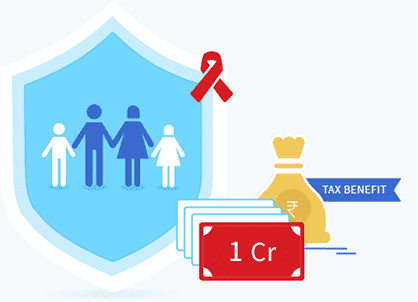 Protection:

Provide financial protection to you and your family at an affordable cost
Customize your plan with a choice of 9 plan options
All future premiums are waived on Accidental Total Permanent Disability (Available under all options) and on diagnosis of Critical Illness (available under 3D Life & 3D Life Long Protection options).
Protect yourself for whole of life with lifelong protection options
Flexibility to choose your policy and premium payment terms
Life Stage Protection feature offers to increase insurance cover on certain key milestones without medicals
Flexibility to increase your cover every year through top-up option

Special premium rates for female lives.
Attractive premium rates for non-tobacco users
Tax benefits** under section 80C and 10 (10 D)as per prevailing tax laws
** Calculated on highest tax bracket i.e.`46,350/- under Sec. 80C (Life Insurance Plan) and `16,995/- under Sec. 80D (Health Insurance Plan). As per Section 80CCE, the aggregate amount of deduction under Sec. 80C, 80CCC and 80CCD(1), shall not in, any case, exceed `1,50,000/-. The above mentioned tax benefits are subject to changes in tax laws. These calculations are illustrative and based on our understanding of current tax legislation. Above figures are calculated for a salaried employee at the highest tax bracket. Please contact your tax consultant for an exact calculation of your tax liabilities.

Health:

Restore benefit– A unique benefit that automatically reinstates the basic sum insured in case you exhaust it in a policy year.
Multiplier benefit– We will increase your basic sum insured by 50% for every claim free year upto 100% of basic sum insured
Stay Active benefit- Now with Stay Active benefit, simply walk your way to good health and earn upto 8% discount on your renewal premium.

Preventive Health Check-up- This Policy helps you keep track of your health status with its preventive health check up benefit offered at renewal irrespective of claim status
Lifelong renewal- Offers lifelong coverage on continuous renewal and stay covered forever
No sub-limit on room rent- With this health plan you can get the room you like and the treatment you deserve without a hassle
Cashless transaction- Policy enables you to get treated on a cashless basis across 4500 + network hospitals in over 830 cities.
No geography based sub-limits- No matter where you buy your policy you can get treated in any city or hospital you like in the country with no additional co pays or sub-limits
No claim based loading- We will never load your renewal premium because you claimed or fell ill after taking our policy
Quick turnaround time- You don't have to worry about claim pre-authorization, 90% of pre­ authorization is done within 2 hours
Quick claim payment- When it comes to claim settlement, we're one of the fastest in the industry to honor every genuine claim

Easy upgrade- This health plan also comes with an easy upgrade option. You can upgrade your cover to the next slab at the time of your policy renewal
You can avail tax benefits for the premium amount under Section 80 D of the Income Tax Act*

* Tax benefits are subject to change from time to time
Benefits
Eligibility
| | | | | |
| --- | --- | --- | --- | --- |
| Eligibility Criteria | 3D Life Option, Life Option, Extra Life Option, Income Option, Extra Life Income Option | Income Replacement Option,Return of Premium Option | Life Long Protection Option | 3D Life Long Protection Option |
Min Age at Entry

18 Years

18 Years

25 Years

25 Years

Max Age at Entry

65 years

Min Policy Term

5 years

5 years

Whole of Life

Whole of Life

Max Policy Term

(85 - Age at Entry)

40 years

Premium Payment Mode

Single Pay$, Regular Pay,
Limited Pay : 5 years to (84 - Age at Entry)

Single Pay, Regular Pay,
Limited Pay : 5 years to 39 years

Limited Pay : (65 - Age at Entry) or (75 - Age at Entry)

Limited Pay : (65 - Age at Entry)

Premium Payment Frequency

Single, Annual, Semi-Annual, Quarterly, Monthly

Single, Annual, Semi-Annual, Quarterly, Monthly

Annual, Semi-Annual, Quarterly, Monthly

Annual, Semi-Annual, Quarterly, Monthly

Min Age at Maturity

23

23

Whole of Life

Whole of Life

Max Age at Maturity

85

85

Minimum Basic Sum Assured

Rs. 10,000
Eligibility Criteria
Health
Min Age at Entry

91 Days

Max Age at Entry

65 Years

POLICY Term

1 year or 2 year period (sum insured & benefits will applicable on policy year basis)

PREMIUM PAYMENT MODE

 

1 year policy period: Annual
2 year policy period: Single

MATURITY AGE

Life Long on continuous Renewals

SUM ASSURED

 

3 Lakh
5 Lakh
10 Lakh
15 Lakh
20 Lakh
25 Lakh
50 Lakh
For Income and Extra Life Income options, the minimum income term shall be 1 month and the maximum income term will be 20 years.
All ages are expressed as on last birthday
$Single pay option is not available under 3D Life Option
FAQs
Downloads
Product Brochure Download
HOW CAN WE HELP YOU
Service For Policyholders
Service For Policyholders
Mon-Sat 10 am to 7 pm IST (Local Charges Applicable.) (DO NOT prefix any country code e.g. +91 or 00.)
Stay updated with HDFC Life
Get HDFC Life updates in your mailbox