HDFC Life ClassicAssure Plus

Investment

HDFC Life ClassicAssure Plus

Investment

HDFC Life ClassicAssure Plus

Investment
For NRI Customers
(To Buy a Policy)
Call (All Days, Local charges apply)

Email ID

Whatsapp
---
(If you're our existing customer)
Call (Mon-Sat 10am-7pm, Local Charges Apply)

Email ID
For Online Policy Purchase
(New and Ongoing Applications)
---
Branch Locator
For Existing Customers
(Issued Policy)
Whatsapp

Call (Mon to Sat, from 10 am to 7 pm, Call charges apply)

Email
---
Fund Performance Check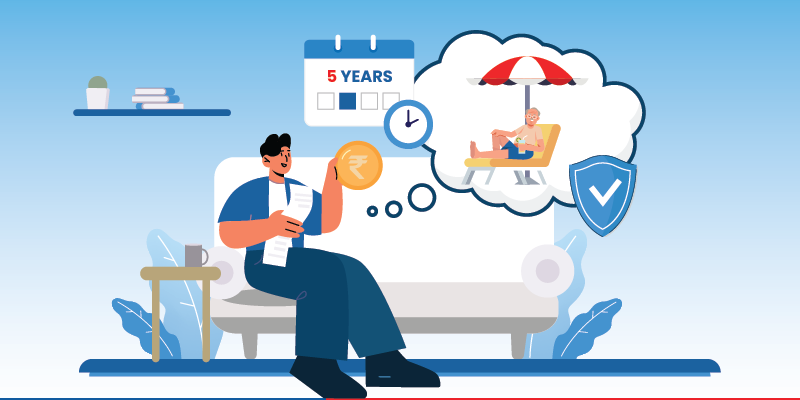 Every young professional today understands the importance of planning for the future. We are encouraged to start saving for retirement right from the time we start working. With the cost of living and healthcare expenses constantly rising, we must build a significant corpus to remain financially independent in our golden years. If you feel you have left retirement planning until the last minute, don't worry. Let's better understand how a 5-year retirement plan can benefit you.
What is a 5-Year Retirement Plan?
A 5-year retirement plan is a financial tool that helps individuals builds a corpus for their retirement over five years. Depending on your risk appetite, you can select investment options or a guaranteed return to safeguard your retirement. You can make a single lump-sum payment or invest smaller amounts over five years. When you purchased the HDFC Life Systematic Retirement Plan, the insurance company uses the power of compounding to generate assured returns for retirement. These plans also provide life insurance coverage to safeguard your family's financial future.
How Does a 5-Year Retirement Plan Work?
Insurance companies today offer different kinds of retirement plans. Plans offering guaranteed returns work best when you're 45 or older and have a short timeline. The HDFC Life Systematic Retirement Plan* allows you to pay the premium for just five years. On maturity, you receive a guaranteed income for life. Let's better understand how this policy works with an example.
Nitin purchases the HDFC Life Systematic Retirement Plan at the age of 45. He pays a premium of INR 2,00,000 per year for five years. The premium amount earns interest that gets compounded over time. Nitin wants to start receiving a guaranteed income 15 years after purchasing the plan when he is 60 or 61. Nitin starts receiving an annual income from the plan as per his selected payment frequency. The amount enables him to enjoy his retired life. The plan also offers a life insurance component. If anything happens to Nitin before the deferment period ends, his beneficiary or heir receives the payout.   
Why Choose a 5-Year Retirement Plan?
Let's better understand why you should opt for a 5-year plan. 
Time Advantage
A 5-year retirement plan lets you create a corpus later in life. It ensures you can safeguard your retirement even in your 40s and 50s. 
Flexibility and Adaptability
A 5-year retirement plan allows you to adapt to changing circumstances. Life is full of unexpected events. A shorter plan offers the flexibility to adjust investments, expenses, and goals according to evolving needs.
Risk Mitigation
A 5-year plan like the HDFC Life Systematic Retirement Plan offers guaranteed income for life. It's a deferred annuity plan, allowing you to balance the risk from market-linked investments.
Things to Consider Before Selecting a 5-Year Retirement Plan
Before selecting a 5-year plan for your retirement, you must consider the following:
Your Goals
Determine your retirement age and list your goals. Would you like to travel or pursue a hobby in your golden years? Depending on when you want to retire and what you'd like to achieve, you can select a plan that aligns with your goals. 
Current Finances
Evaluate your current finances. Consider your assets, income sources, liabilities and existing investments. Understand how much you still need to secure your retired life. Select a plan that helps bridge the gap between how much you have and what you need.
Risk Appetite
Insurance companies offer different types of retirement or pension plans. Some allow you to invest in market-linked instruments, while others provide guaranteed returns. Consider your risk appetite and decide whether you can afford high-risk, high-reward investments or require guaranteed returns. Select a plan that suits your risk appetite.
Account for Inflation
Consider the impact of inflation on your finances while selecting a retirement plan. Ideally, you should find options that offer a rate of return higher than the estimated inflation rate. It will help you maintain your lifestyle and standard of living once you retire.
Insurance Coverage
Retirement plans help you and your spouse or other dependents enjoy a comfortable life. Evaluate the insurance coverage offered by retirement plans. Select an option that will provide a payout to help your loved ones take care of their financial needs.
Planning for your retirement allows you to maintain your financial independence once you retire. You can set your goals and evaluate all the options before selecting a plan that meets your needs. Once you choose a 5-year plan, ensure you monitor its progress. Make adjustments as necessary to fulfil your retirement goals. A 5-year retirement plan enables you to secure your golden years and enjoy a financially secure future.
Related Article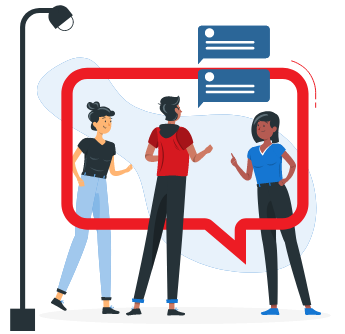 Not sure which insurance to buy?
Talk to an
Advisor right away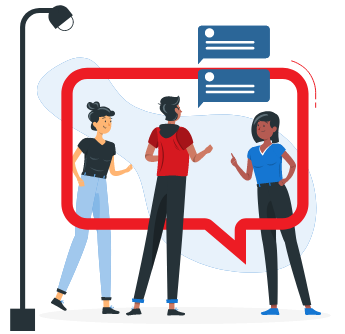 We help you to choose best insurance plan based on your needs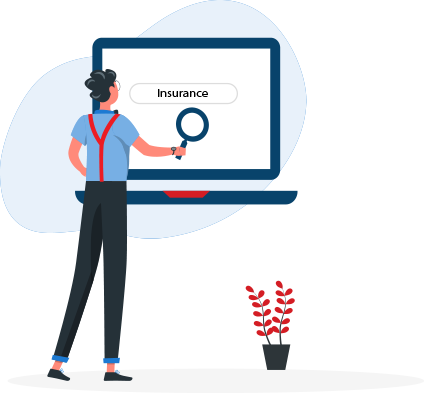 *HDFC Life Systematic Retirement Plan (UIN:101N143V06) is an Individual/ Group, Non-Participating, Non linked, Savings Deferred Annuity Plan. Life Insurance Coverage is available in this product.