What are Child Plans?
Child plans basically help in financial planning for your child's future needs at the right age. As a parent you can secure your child's future with plans that encompass children insurance plans and children education plans.
Why you need a Child Insurance Plan
It is one of the best ways to save enough with regular investments for your child's future for needs like higher education which can be costly.
Financial protection features in child plans ensure that your child gets the best in the future even in your absence.
How Child Insurance Plans by HDFC Life help you
HDFC Life's YoungStar Plans encompass child insurance plans and education policies from HDFC Life.
They provide the ideal combo of protection and savings thanks to the many features of these children plans and make them perfect birthday gifts for your child
HDFC Life Youngstar Super Premium
HDFC SL YoungStar Super Premium, a unit-linked insurance plan (ULIP) designed to accumulate savings for your child's future, even in your absence.
BENEFITS
Financial Protection
Premium Options
Select tenure
Tax Benefits

Many Families covered by
Youngstar Super Premium Unit Linked Plan

3 Reasons Why a Child Insurance Plan is Essential
A child is a parent's greatest joy. Being a good parent is a tremendous task. You worry about the well-being of your children. You hope that the decisions you make regarding your child are the right ones. You nurture your children into becoming responsible adults. If unfortunately something untoward were to happen to you, it is instrumental that you plan for the prospects of your family. You should equip your family with all the means to lead a comfortable life. It is better not to underestimate the needs of your family. To foster your child's future prudently, it is essential you have a child's insurance plan. Here are just three of the most important reasons why you need a good child insurance plan:
Educating Your Child

Something basic and essential that every child needs is an education. When it comes to educating your child you should not have to compromise. The further you educate your child, the better their prospects are. However, the price of education is on the rise. Private schools and good colleges sometimes cost a great deal of money. Having a child's insurance plan can help with the costs of educating your child.

There are simple things like extracurricular activities that your child may partake in. They may be budding sportsmen and women or young Picassos. You want your child to dream big and achieve those dreams. Do not let money be a hindrance to your child pursuing their passions. A child insurance policy will allow you to create a fund that your children can draw on for their benefit.

Creating a Corpus

Your child will one day be married. On such a joyous occasion you will want the celebrations to be full-fledged. This is not a situation where you want to skimp on spending. It would be ideal if you were to sponsor all aspects of the ceremonies. If you have a daughter you must cover expenses like fine jewellery and an exquisite bridal trousseau. If you have a son you may want to contribute toward the nuptials. You do not want to find yourself in a situation where you are unable to afford your own child's wedding. This is truly a time of elation for your child. Do not let a lack of money get in the way of your child's happiness.

Your child may learn how to drive. You may want to surprise you child with a scooter, motorcycle, or car. It is important you have the means to account for such expenses. Your child will someday think of buying their own house. This is an incredibly important purchase and to encourage this kind of independence you may want to help pay for the property. Creating a corpus for your child is one of the greatest gifts you can give them. This is one reason a child insurance policies are indispensable.

Responsible Young Ones

The best thing that you can do for your child is to set a great example yourself. Children learn by example. Apart from Superman, Spider-Man, Batman, Wonder Woman and other superheroes, children idolise their parents. Children learn and emulate the behaviours they see in their parents, and it is important that we remember that they are impressionable young human beings.

The decisions you make as parents will have a great impact on the kind of people your children will turn out to be. It is common knowledge that you cannot be rash and reckless when it comes to your children. Buying an insurance plan for your child is a very sound decision. When children see you, their parents, using your good judgement, they too will make good decisions in the future.

The good news is that you can purchase an insurance plan for your child from HDFC Life. You can build a corpus for your child to draw from and teach your child fiscally responsible behaviours. The biggest benefit is that once you have a child insurance plan, you can ease your biggest tensions regarding your child's life and their future. Rest assured when you purchase a child insurance plan, you are making one of the best decisions possible regarding the well-being of your child and the rest of your family.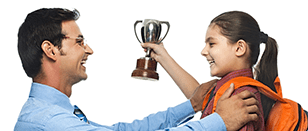 HDFC Life Youngstar Super Premium
Creating a corpus for your child is one of the greatest gifts you can give them. HDFC SL Young Star Super Premium helps you provide for your child's dreams.
FAQs
HOW CAN WE HELP YOU
Service For Policyholders
Service For Policyholders
Mon-Sat 10 am to 7 pm(Local Charges Applicable.) (DO NOT prefix any country code e.g. +91 or 00.)
Stay updated with HDFC Life
Get HDFC Life updates in your mailbox