HDFC Life ClassicAssure Plus

Investment

HDFC Life ClassicAssure Plus

Investment

HDFC Life ClassicAssure Plus

Investment
For NRI Customers
(To Buy a Policy)
Call (All Days, Local charges apply)

Email ID

Whatsapp
---
(If you're our existing customer)
Call (Mon-Sat, 10am-9pm IST, Local Charges Apply)

Email ID
For Online Policy Purchase
(New and Ongoing Applications)
---
Branch Locator
For Existing Customers
(Issued Policy)
Whatsapp

Call (Mon to Sat, from 10 am to 7 pm, Call charges apply)

Email
---
Fund Performance Check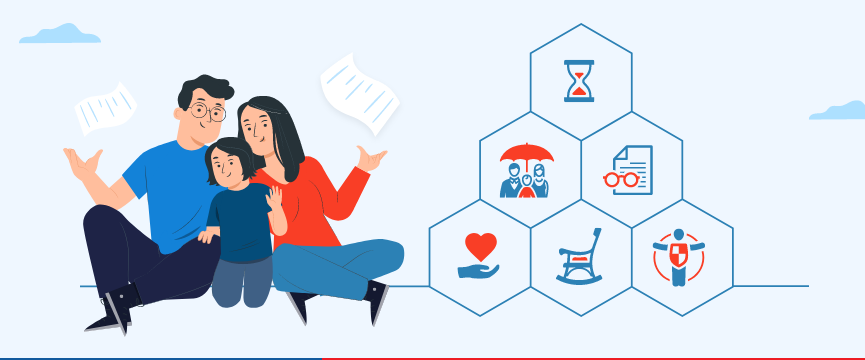 Table of Content
What is a Life Insurance Policy?
A life insurance policy is a contract with an insurance company. In this policy, a person has to make regular payments (known as premiums) to the insurance company in order to receive a sum of money that will be paid to them after a period of time, or to their family, in case of the policyholder's death, or if the policy matures. Typically, this type of policy is chosen based on your needs and goals.
Different Types of Life Insurance Policies in India:
a. Term insurance:
Term plans are the most basic type of life insurance. They provide life cover with no savings / profits component. They are the most affordable form of life insurance as premiums are cheaper compared to other life insurance plans.
Online term insurance plans provide pure risk cover, which explains the lower premiums. A fixed sum of money - the sum assured - is paid to the beneficiaries if the policyholder expires over the policy term. If the policyholder survives, there is no pay out.
b. Whole life policy:
A whole life insurance policy covers a policyholder over his life. The main feature of a whole life policy is that the validity of the policy is not defined so the individual enjoys the life cover throughout his life. The policyholder pays regular premiums until his death, upon which the corpus is paid out to the family. The policy expires only in case of an eventuality as there is no pre-defined policy tenure.
c. Endowment plans:
Endowment plans differ from term plans in one critical aspect i.e. maturity benefit. Unlike term plans which pay out the sum assured, along with profits, only in case of an eventuality over the policy term, endowment plans pay out the sum assured under both scenarios - death and survival. However, endowment plans charge higher fees / expenses - reflected in premiums - for paying out sum assured, along with profits, in either scenario - death or maturity. The profits are an outcome of premiums being invested in asset markets - equities and debt.
d. Unit linked insurance plans (ULIP):
 ULIPs are a variant of the traditional endowment plan. They pay out the sum assured (or the investment portfolio if its higher) on death/maturity.
ULIPs differ from traditional endowment plans in certain areas. As the name suggests, performance of ULIP is linked to markets. Individuals can choose the allocation for investments in stock/debt markets. The value of the investment portfolio is captured by the NAV (net asset value). To that end, there are many similarities between ULIPs and mutual funds. ULIPs differ in one area, they are a combination of investment and insurance, while mutual funds are a pure investment avenue
e. Money back policy:
A money back policy is a variant of the endowment plan. It gives periodic payments over the policy term. To that end, a portion of the sum assured is paid out at regular intervals. If the policy holder survives the term, he gets the balance sum assured. In case of death over the policy term, the beneficiary gets the full sum assured.
f. Retirement plans:  
Once you retire and there's no source of earning, you will need a regular income to sustain you for the rest of your life. Here, the retirement plans connected to life insurance can be a good pick as these ensure a regular and stable flow of money. These policies require you to save an amount regularly while you are working and the corpus thus formed is utilised to pay you a monthly income post-retirement. Your expenditures are also taken care of if you continue to invest after retirement. In the event of your demise, your nominee gets a sum assured as a death benefit.
g. Savings plans:  
The savings plan is a financial instrument that combines your insurance and savings needs. These policies offer a maturity benefit which acts as lump sum savings that can be utilised to meet the future financial needs of life. While it inculcates a savings habit resulting in a sizeable corpus, the policy helps people achieve financial protection for their families.  
h. Child plans:
The child plan is designed to help your child grow up without any financial struggles and realise his/her dreams even if you are no more. The death benefit of this policy goes to the child and can be utilised to fund life goals like his/her education or wedding costs.
i. Group Insurance plans:
This life insurance plan caters to a group of individuals instead of a single person. These are aimed at providing life cover and financial security to the families of a group of employees in the corporate sector, banking institutions or any homogeneous set of people. For a specified period, the policy covers a minimum of 10 people. Here, the plan is termed as the master plan and is issued in the name of the manager of the group (master).
j. Savings and Investment plans:
These life insurance policies don't just provide you with a life cover, but channel the savings part into long-term investment. Thus, a part of the premium is invested in a chosen portfolio to fetch market returns. Some of these policies offer a relatively higher rate of return while others come with a guaranteed returns option.
How to choose the right insurance policy
A right policy is a perspective that varies from person to person depending on individual needs, goals and affordability. It's thus crucial to choose the plan that best suits these factors. Here are some things that can help you take your pick.
Life Goals:

Determine the life goals you wish to fund with your life insurance benefits.

Sum Assured:

The life cover or the sum assured should suffice to fund the needs and goals of your family when you are not around. Experts believe the ideal coverage should at least be 10 times your annual income.

Policy Term:

Choose a long-term or short-term policy depending on what life goals you want to fund with it.

Riders:

Enhance your coverage with additional riders like the accident cover and the critical or terminal illness cover to enjoy maximum benefit.

Credibility of the insurer:

Ascertain whether the insurance company will settle the claims on time. Check for parameters like claim settlement ratio, solvency ratio and exclusions in coverage.
Related Articles:
ARN - ED/10/23/5578

Tax Articles
Subscribe to get the latest articles directly in your inbox
Life & Term Articles
Investment Articles
Here's all you should know about life insurance.
We help you to make informed insurance decisions for a lifetime.