What is this product about?
Critical illness insurance provides a lump-sum payment in-case the policyholder is diagnosed of a health related condition of a serious nature. Some of these common critical illnesses include: Heart attack, Cancer, Paralysis, Coronary artery bypass surgery, Major organ transplant (e.g. heart, lung, liver, pancreas), Stroke, Kidney Failure.
Why you need this plan?
Healthcare costs have been growing faster than general inflation in the last decade.
Episodes of critical illness, hospitalization, and medical procedures can happen to anyone, anytime
Enjoy high cover at an affordable premium
Get protection from well defined benefits
HDFC life Easy Health can work like a top up to your already existing health plan too
BEAT THE RISING COSTS OF HEALTH CARE AND GET COVERED IN A FEW EASY STEPS
Explore HDFC Life Easy Health
Features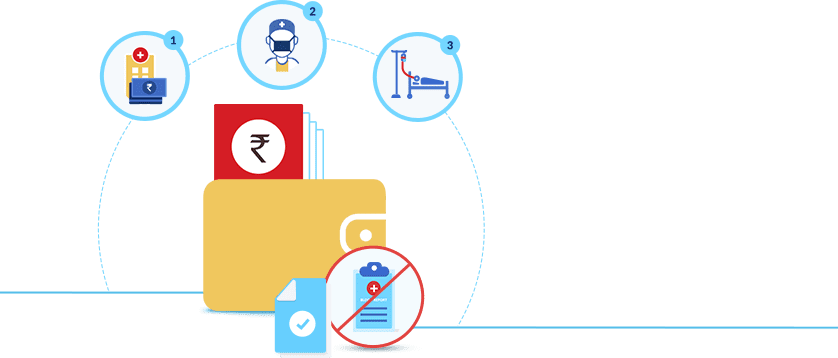 Comprehensive, fixed benefit, health insurance plan and mediclaim policy for family that provides coverage against Critical Illness, Surgeries & Hospitalization
Flexibility to choose between 1, 2 or all 3 benefits. Customize your health plan based on your requirement by opting any one of 7 Plan Options

Lump sum payout upon diagnosis of any one of 18 Critical Illnesses

Lump sum payout against 138 Surgical Procedures

Daily Hospital Cash Benefit in case of hospitalization  with HDFC Life Easy Health Plan

Simplified issuance process, no requirement to undergo any medicals

Flexibility to pay Regular or Single premium based on your convenience

Tax Benefits subject to provisions contained under Section 80D of the Income Tax Act 1961 
Benefits
Choose ANY or ALL of the following benefit options to avail of HDFC Life Easy Health.

Daily Hospital Cash Benefit*
1% and 2% of sum insured shall be payable per day in case of Hospitalization on admission into Non ICU room and ICU Room respectively 
Benefit payable shall be for a maximum of 20 days (for Non ICU room) and 10 days (for ICU room) per year
Benefit payable shall be for a maximum of 60 days (for Non ICU room) and 30 days (for ICU room) during the policy term

Surgical Benefit*
Lump sum payout up to 100% of the Sum Insured against 138 surgeries, based on the severity of the surgery

Critical Illness Benefit*
100% of the Sum Insured shall be payable in case diagnosed with any one of 18 Critical Illnesses specified

HDFC Life Easy Health Plan
HDFC Life Easy Health - a cashless health insurance that let's you customise your plan as per your needs. Avail Daily Hospital Cash Benefit, Surgical Benefit and Critical illness Benefit for just Rs 24 per day*.
*Annual Premium amount of Rs. 8,516 for Male, 35 years of age, for Rs. 3 lacs Sum Insured, Daily Hospital Cash Benefit, Critical Illness Benefit and Surgical Benefit, inclusive of taxes, for online purchase only (Rs. 8,516/365 days = Rs. 23.3 approx.)
Eligibility
ENTRY
AGE

MATURITY
AGE

POLICY
TERM
PREMIUM
PAYMENT MODE
Onetime payment (Single premium)
Annual (Regular Premium)
PREMIUM PAYING
FREQUENCY
SUM
ASSURED
Option 1 : Rs 25,000
Option 2 : Rs 50,000
Option 3 : Rs 75,000
Option 4 : Rs 1,00,000
Option 5 : Rs 1,50,000
Option 6 : Rs 2,00,000
Option 7 : Rs 2,50,000
Option 8 : Rs 3,00,000
Option 9 : Rs 4,00,000
Option 10 : Rs 5,00,000
Survival Period : A 30 days survival period between the date of diagnosis of a Critical Illness and the date of eligibility for benefit payment would be applicable
Waiting Period : 60 days waiting period shall be applicable for Daily Hospital Cash Benefit and Surgical Benefit 90 days waiting period shall be applicable for Critical Illness Benefit 1 year and 2 year waiting period shall be applicable for specific conditions Waiting period shall not be applicable for hospitalization or any specified surgery
FAQs
Downloads
Product brochure download
Things to Know
Six Tips for a Healthy Life
As adults, we have to take a conscious decision to take care of our health.And being healthy doesn't simply mean being skinny or looking better than your arch enemy. Living a wholesome life is a long-term commitment.There are emotional,physical, and spiritual factors that affect our well being, and it's important that we understand this before we start to make lifestyle changes to live a healthier life.Here are a few things we can do that will help us lead a more wholesome life:
Eating Healthy

Whether you are vegetarian, non-vegetarian or pescatarian, you can still eat healthy. The best diet is a wholesome mix of vegetables, fruits, and nuts. Additionally, fish, meat and eggs may also figure in your diet. It's a good idea to eat smaller, sensible portions of food through the day at regular intervals. Avoid junk foods and snacking unnecessarily. If you feel the urge to snack, swap out chocolate bars for carrot sticks and nuts instead. Make healthy food choices confidently. You could keep a food diary to take stock of all that you eat, which will help you make more conscious food choices.

Staying Hydrated

Two-thirds of the human body is composed of water. Water performs myriad functions for the body. It acts as a solvent, it regulates body temperature, it carries nutrients, and above all, it acts as a detoxifier. Staying hydrated has a profound influence on the body's energy levels and vitality. Good hydration complements mental alertness. Be sure to drink plenty of water.

Getting Sunlight

As with all things, when it comes to exposing your body to sunlight, moderation is essential. Low levels of sunlight and high levels of sunlight, both are not healthy for the human body. Nonetheless it is essential to spend some amount of time in the sun which yields vitamin D that is healthy for your skin. Vitamin D offers a number of benefits which include a reduced risk of heart disease, cancer and osteoporosis. Sunlight improves your immune function, so let the sun shine into your life.

Sleeping

Sleep has the unique ability to optimise physical and mental energy. A healthy level of sleep is considered to be about eight hours per night. Getting enough sleep is linked with improved longevity, better brain function and a reduced risk of chronic illnesses. Lack of sleep is also linked with premature aging. Being well rested no doubt improves overall well-being. Get your required shut-eye.

Exercising

Aerobic exercise, even something as low impact as walking, has a gamut of benefits for the brain and body. Walk for 30 minutes a day and experience the renewing effects. Resistance exercise helps strengthen the body and maintain muscle mass. Exercise reduces the risk of chronic diseases and ensures mood enhancing effects. Regular exercise is absolutely instrumental to maintain good health.

Investing in Health Insurance

You could make healthy choices every day. However it is crucial that you visit a healthcare professional on a regular basis for routine screening. Despite all the healthy measures you take, you might unfortunately find yourself falling ill or involved in an accident. There might be various scenarios in which you need to visit a doctor. The price of medical care can prove to be very costly if you are required to pay out of your pocket. It is always helpful to have a health insurance plan that takes care of the cost of your medical needs. Apart from that, health insurance is also eligible for certain tax benefits*, so it's an investment that takes care of you while also helping you save.

* Tax benefits are subject to change as per tax laws

Habits to Avoid

If you are serious about keeping your good health intact, it's equally important to avoid unnecessary risks and accident prone habits. Always remember to wear a seatbelt while driving, and wear a helmet while on a two wheeler. Make the effort to consult a good doctor when you're ill, and don't self-medicate. Invest in a good health insurance plan, which takes care of you and also your tax planning. Maintaining good health often turns into a life and debt issue and is not just a life and death issue. Don't compromise on your health and safety.

HDFC Life Easy Health Plan
HDFC Life Easy Health - a cashless health insurance that let's you customise your plan as per your needs. Avail Daily Hospital Cash Benefit, Surgical Benefit and Critical illness Benefit for just Rs 24 per day*.
*Annual Premium amount of Rs. 8,516 for Male, 35 years of age, for Rs. 3 lacs Sum Insured, Daily Hospital Cash Benefit, Critical Illness Benefit and Surgical Benefit, inclusive of taxes, for online purchase only (Rs. 8,516/365 days = Rs. 23.3 approx.)
Stay updated with HDFC Life
Get HDFC Life updates in your mailbox