HDFC Life ClassicAssure Plus

Investment

HDFC Life ClassicAssure Plus

Investment

HDFC Life ClassicAssure Plus

Investment
For NRI Customers
(To Buy a Policy)
Call (All Days, Local charges apply)

Email ID

Whatsapp
---
(If you're our existing customer)
Call (Mon-Sat, 10am-9pm IST, Local Charges Apply)

Email ID
For Online Policy Purchase
(New and Ongoing Applications)
---
Branch Locator
For Existing Customers
(Issued Policy)
Whatsapp

Call (Mon to Sat, from 10 am to 7 pm, Call charges apply)

Email
---
Fund Performance Check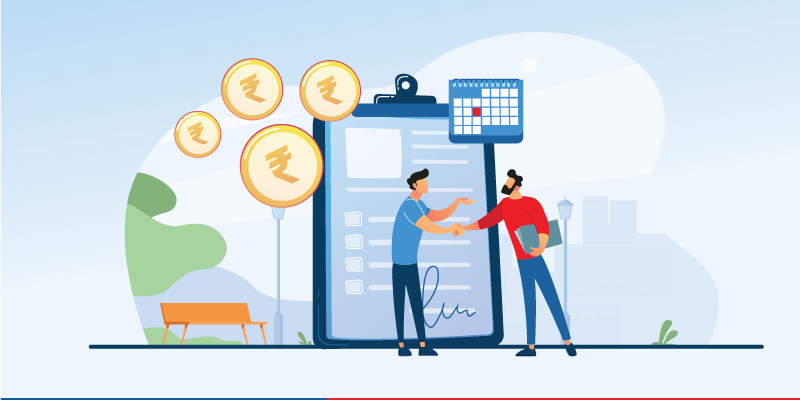 Table of Content
The cost of any insurance plan is a key determining variable while choosing one. Term insurance cost is no different. While this is the purest insurance you can buy, costs must be balanced with requirements. A term insurance plan provides financial cover for your family (or any nominees) in the event of your unforeseen demise during the policy's term. Hence, a death benefit is given to beneficiaries upon your demise. The quandary that most individuals get into is the confusion over what the correct cost is and how cover is calculated. Therefore, some considerations should be explored.
Why Buy Term Insurance Early?
Purchasing term insurance early, that is, the moment you begin earning, has a myriad of benefits. This cannot be stressed enough, and term insurance cost affects how early you buy it. Here are the reasons to buy a policy early:
Low Premiums, but High Cover -

When you buy term insurance while you are relatively young, your good health is somewhat assured. The premium you have to pay towards coverage is, therefore, low. This is because, at a young age, your risk of disease is relatively diminished.

Tax Advantages -

You are permitted certain tax deductions on your premiums under Section 80C of the Indian Income Tax Act#. Therefore, the earlier you buy insurance, the earlier you claim deductions in tax returns.

Fiscal Planning -

Investments are the key to sound financial planning. Allocating a part of your earnings to term insurance is a great way to ensure your family is protected in your absence, financially, and save money.
Factors affecting Your Term Insurance Cost
The ideal method to calculate term insurance premiums is to make use of a clever online tool, the premium calculator. In case you are thinking of how the cost of term plans is estimated, there are key factors that come into play:
Your age
Your gender
Your yearly income
Your consumption of substances like alcohol or tobacco
Your present state of health
Your medical history
Your policy sum assured (cover)
Your policy tenure
Your type of term insurance plan
Issuers of term policies have to consider the above while issuing policies. The premiums charged will depend on the above, as they may make a difference in terms of risk factors associated with policyholders. For instance, having a pre-existing medical condition will influence the term insurance cost, and insurers may charge a high premium.
How Much Term Insurance Cover Do You Need?
To most individuals, the confusion over how much term insurance coverage is required is always looming large. There is no correct or incorrect amount of coverage, as each policyholder is unique with different requirements, health conditions, standards of living, etc. A rule of thumb to use to decide the term insurance cost and the coverage is to consider your present income. With this in mind, your sum assured in a term policy should be at least 10 times to 15 times that of your present annual income. Just to be safe, some policyholders may even estimate term insurance cost as much as 20 times their current income.
What types of riders are available?
In any term insurance plan, riders are available, depending on the insurance company and the plan chosen. A rider is an additional cover and broadens the scope of a plan. It also increases your term insurance cost, but it is an option worth considering. Riders give you extra advantages that your current plan does not typically cover. Here are the general riders you get:
Rider for Accidental Death

This is a rider that takes up the term insurance cost, but it offers coverage against the death of policyholders due to accidents during the policy's tenure.

Rider for Disability due to an Accident

This rider covers disability due to accidental causes. It includes a permanent or partial disability.

Rider for Critical Illness

In case policyholders are diagnosed with a critical illness during the policy's term, this rider covers costs associated with it.

Rider for Premium Waiver

In the event the policyholder lacks the ability to pay premiums, this rider kicks in. For instance, a policyholder may be prevented from employment and earning an income after an accident. This is a rider which may increase term insurance cost to a degree, but assures a policyholder that life coverage remains intact even when premiums cannot be paid.
Why Should One Check the Claim Settlement Ratio of the Insurance Company?
The CSR, or the claim settlement ratio, indicates the amount of claims settled by an insurer against the amount of claims received by an insurer in any financial year. The reason for checking this ratio is to know how loyal insurers are to policyholders. The level of commitment in settling genuine claims displays the efficacy of any insurance company.
End Thoughts
A smart way to get your financial planning in order is to invest wisely. Allocating your capital to term insurance not only compels you to save your earnings but to ensure that your dependents have a financial buffer in your absence.
Related Article
ARN – ED/01/23/31820
Tax Articles
Subscribe to get the latest articles directly in your inbox
Life & Term Articles
Investment Articles
# This material has been prepared for information purposes only, should not be relied on for tax or accounting advice. The customer is requested to seek tax advice from his/her Chartered Accountant or personal tax advisor with respect to his/her personal tax liabilities under the Income-tax law.
# The above stated tax benefits are subject to the provisions & conditions mentioned in the existing Income Tax Act, 1961. Tax Laws are also subject to change from time to time.