HDFC Life ClassicAssure Plus

Investment

HDFC Life ClassicAssure Plus

Investment

HDFC Life ClassicAssure Plus

Investment
For Online Policy Purchase
(New and Ongoing Applications)
---
Branch Locator
For Existing Customers
(Issued Policy)
---
Fund Performance Check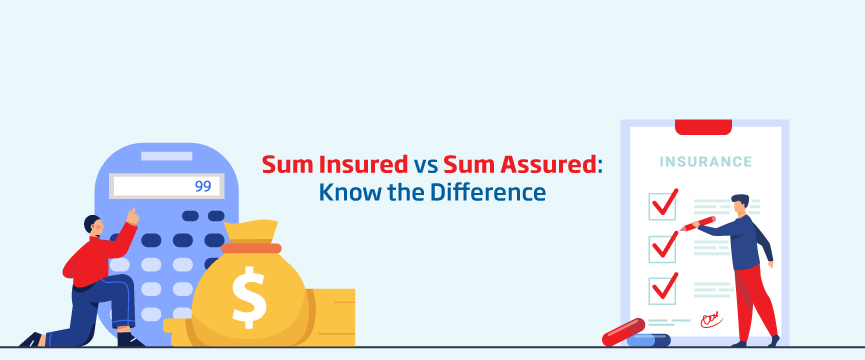 Perhaps the most fundamental terms used in the insurance domain that many individuals tend to confuse and use interchangeably are Sum Assured and Sum Insured. While both may sound similar, they are two different terms with different meanings that an individual needs to understand before buying insurance.
Sum Assured –

Sum assured is the pre-defined amount payable by an insurance company to the policyholder at the end of the insurance term or to the nominee listed in the policy documents in the event of the policyholder's demise. A sum assured term is applicable in the case of life insurance policies and the guaranteed return insurance policies.
The amount paid by the policyholder to the insurance company as a premium is dependent on the total sum assured. The higher the sum assured, the higher the premium amount paid to the insurer. Know your ideal sum assured by HDFC Life's Human Life Value Calculator
Sum Insured –

The sum insured term is applicable in the case of general insurances such as health insurance, motor insurance, home insurance, etc. Such policies work on the principle of indemnity which provides compensation or cover in case of any damages, loss, or injury to the insured asset.
The idea behind the Sum Insured concept is to ensure that there are no monetary benefits made by the policyholders and only their losses are covered. The total cover provided for the non-life insurance policies is known as the Sum Insured.
If you are the sole breadwinner of the family, it is vital to buy life insurance with the sum assured that would suffice to take care of the current and future expenses of your family members. Increasing inflation and lifestyle expenses can impact the total amount you need as life cover.
Also Read: 4 Common Mistakes to Avoid When Planning to Buy Term Insurance
HDFC Life offers Human Life Value (HLV) calculator, a user-friendly online tool that helps secure your family's future. It determines the ideal sum assured based on the basic details such as your current age, desired retirement age, educational qualification, and the details of your finances such as annual income, monthly expense, liabilities, etc.
Visit the HDFCLife.com website to calculate the ideal sum assured and know your Ideal Life Cover' using the Human Life Value Calculator. 
ARN: ED/01/22/27403
Tax Articles
Subscribe to get the latest articles directly in your inbox
Life & Term Articles
Investment Articles