HDFC Life ClassicAssure Plus

Investment

HDFC Life ClassicAssure Plus

Investment

HDFC Life ClassicAssure Plus

Investment
For NRI Customers
(To Buy a Policy)
Call (All Days, Local charges apply)

Email ID

Whatsapp
---
(If you're our existing customer)
Call (Mon-Sat, 10am-9pm IST, Local Charges Apply)

Email ID
For Online Policy Purchase
(New and Ongoing Applications)
---
Branch Locator
For Existing Customers
(Issued Policy)
Whatsapp

Call (Mon to Sat, from 10 am to 7 pm, Call charges apply)

Email
---
Fund Performance Check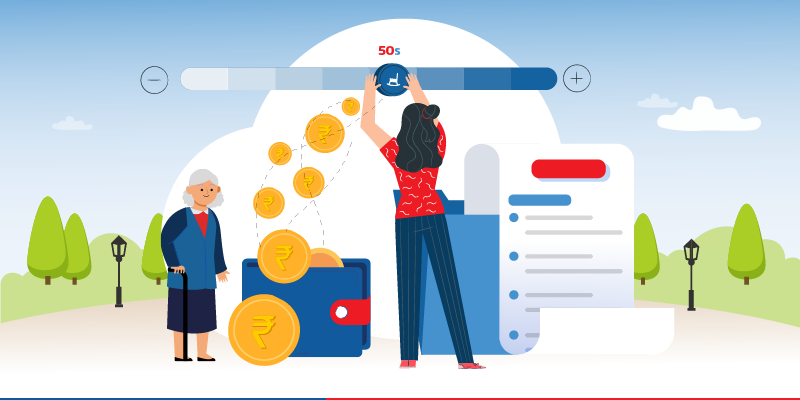 Will the price you buy your apples today remain the same 20 years from now? The answer is probably NO in capital letters. That's because rising inflation keeps pushing the prices upwards. Consequently, your purchasing power keeps diminishing. So, the quantity of products or services that you buy today at a certain price is going to cost more in the coming years. This is exactly where you need to focus while buying a term insurance too, because its benefits are meant to support you financially in future, say at least 20 years from now.
So, how does inflation affect the outputs of term insurance? To understand that better, let us take a glance at the meaning of term insurance and how it works.
Designed to support a family in a mishap or help a policyholder build a savings corpus, term insurance ensures funding for your future. The premiums paid for a defined term entitle the policyholder to a life cover paid as a death benefit or a sum assured at maturity.  
In the event of the insured's untimely demise within the policy term, the death benefit paid is supposed to take care of the family's financial needs, help them maintain their standard of living and fulfil their future life goals. On the other hand, the maturity benefit of the return of premium policies is meant to be a lump sum corpus for the policyholder whom he/she can use to fund long-term needs. Since both benefits are designed to meet future needs, inflation can always play a crucial role here.
Impact of inflation on term insurance cover
For the last few decades, India has been witnessing a steady rise in inflation. From vegetables to groceries, from education to healthcare—prices of goods and services are mostly on an upward curve, leading to a higher cost of living and reduced purchasing power. Meant to financially support a family in future, term insurance is thus likely to be affected as well. Here's where inflation impacts the insurance coverage, which you need to consider while buying a policy.   
Purchasing power:
Let us assume that the inflation rate will vary between 5-8% in the coming years. So, a term insurance cover sufficient to meet the financial needs of your family now will exhaust much faster 20 years later. This is because, meanwhile the inflation has risen, letting you purchase much less with the same amount of money, and the cost of living has shot up.
Varying degrees of inflation:
The price of everything doesn't increase at the same rate. For instance, healthcare and education costs rise at a much faster pace, compared to fruits or groceries. In turn, 20 years on, your child's higher education will be costlier to a greater extent than your household expenditures. The cost of healthcare, for instance, can get hiked by 15-20% while everyday expenses post-retirement might increase by 8%. Naturally, it would impact the efficiency of your term insurance coverage.
Increasing cost and liabilities:
With age, healthcare expenses for you and your family members will increase. So will be liabilities like children's education, their marriage, retirement plans of buying a house or a car, etc. Since all of these are future requirements, both the death and maturity benefits of your term insurance need to cover the inflation rates too.
Smoothening out the hassles:
So, how do you battle these issues while attempting to financially secure your loved ones' future even when you are not there? Here, term insurance with an increasing cover or a term plan with a life stage increment option can be your saviour. In both cases, the life cover amount increases with time while the premium remains the same. Thus, the rising inflation rate is taken care of, ensuring the promised financial comfort in future.   
Related Articles
ARN - ED/08/23/4276
Tax Articles
Subscribe to get the latest articles directly in your inbox
Life & Term Articles
Investment Articles