HDFC Life ClassicAssure Plus

Investment

HDFC Life ClassicAssure Plus

Investment

HDFC Life ClassicAssure Plus

Investment
For NRI Customers
(To Buy a Policy)
Call (All Days, Local charges apply)

Email ID

Whatsapp
---
(If you're our existing customer)
Call (Mon-Sat, 10am-9pm IST, Local Charges Apply)

Email ID
For Online Policy Purchase
(New and Ongoing Applications)
---
Branch Locator
For Existing Customers
(Issued Policy)
Whatsapp

Call (Mon to Sat, from 10 am to 7 pm, Call charges apply)

Email
---
Fund Performance Check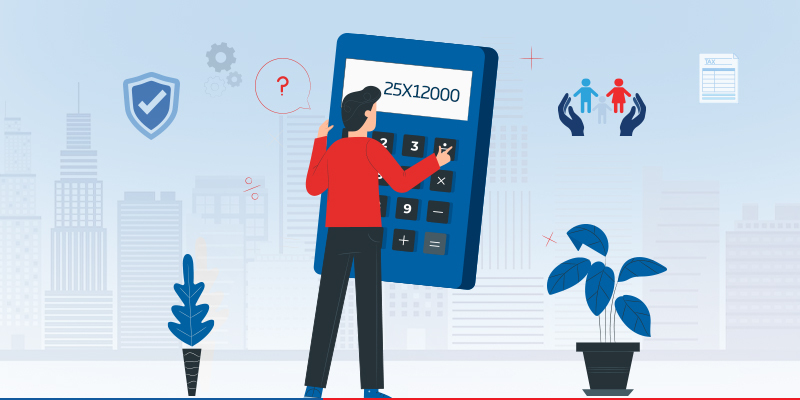 How much term insurance coverage does one need? 
Life has always been uncertain. The death toll in the COVID-19 pandemic has taught this in a much harder way. Dealing with the losses of near and dear ones has made us more concerned about the financial security of our family if we die an untimely death. Purchasing term insurance has thus become a crucial financial step. But before that, it is important to understand how much life cover to opt for.
What is the meaning of term insurance coverage?
Term insurance coverage refers to the amount of money the policyholder's nominees receive; in case they die within the policy term. The sum assured includes additional covers for accidental death, accidental disability, and critical or terminal illness. 
How does term insurance coverage work for an individual?
Term insurance coverage is meant to secure the policyholder's dependents in the unfortunate event of the policyholder's death so that they can maintain their life, take care of expenses and liabilities as well as fulfil future goals. Ideally, term insurance coverage should be at least 10-12 times the policyholder's annual income that can sufficiently match the inflation and the increasing cost of education, healthcare etc. So, if an individual's current salary is Rs 10 lakh per annum, they should opt for a life cover of at least Rs 1 crore. The death benefit pay-out will be tax-free under section 10 (10D) of the Income Tax Act 1961.* 
Things to consider before selecting the life insurance cover
The most important task is deciding how much coverage amount will be sufficient to support the family in case the unforeseen happens. While various factors need to be considered, one should also check one's affordability to pay the premiums regularly. 
1. Life goals: You might have planned your child's higher studies or marriage. What if suddenly you are not there? An adequate life cover of your term insurance plan can keep fuelling your dreams in your absence and take care of these life goals.
2. Age: Life goals and liabilities change as you age. When you are young and single, you can look forward to buying a fancy car. But as you approach 40 and have a family, your goals can shift to saving for a house or your child's education. Hence the coverage should be decided depending on your age and varying priorities. At a young age, it's easier to go for higher life cover as premiums are low. 
3. Regular income: No matter how much you earn, sudden expenses are a burden. So, while deciding the amount of life cover, check if the premium is affordable as it needs to be paid regularly. 
Points to note while calculating your term insurance cover
There are certain crucial points to focus on while calculating the amount of life cover required. 
Factor in your monthly expense: To calculate the coverage amount, take into account the total monthly expense of your household. This should include grocery bills, electricity and telephone bills, rent and taxes, fuel costs, prices of clothes and other necessities. 
Get a liabilities check: There might be outstanding loans which should not become a burden to your family if you are not there. Add up your liabilities like home loans, car loans or other EMIs to decide the term insurance coverage amount. 
Map your goals: Lump sum savings are needed to fund your child's higher studies, marriage or retirement plan. Keep that in mind while calculating the coverage to help your family fulfil their dreams in your absence. 
Assess your policy tenure: When you are 25 and single, a policy with a tenure till your retirement age can suffice. But if you are 40+ with a spouse and a child, the tenure and coverage should be planned accordingly, focusing on the family goals. 
 Once done with all the calculations, choosing the right term insurance will be an easy game!
Related Articles
ARN -  ED/05/23/2371
Tax Articles
Subscribe to get the latest articles directly in your inbox
Life & Term Articles
Investment Articles
*Tax benefits are subject to conditions under Sections 10(10D) and other provisions of the Income Tax Act, 1961.