Why you need this plan ?
Cancer can affect anyone, anytime
There is an alarming increase in cancer cases in India and around the world
Cancer cases are only expected to rise
If diagnosed cancer treatment can be expensive
Staying financially prepared is half the battle won
PROTECT YOURSELF FROM THE RISING COSTS OF CANCER CARE.GET COVERED IN A FEW SIMPLE STEPS.
Explore HDFC Life Cancer Care
Features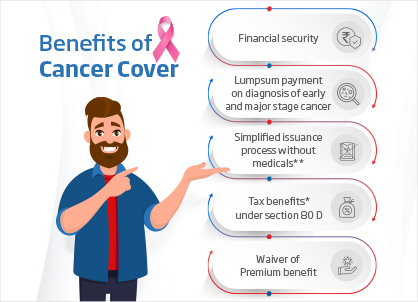 HDFC Life Cancer Care offers lump sum benefit on detection of Early and Major cancer

3 plan options to choose from – Silver, Gold and Platinum

Regular income for 5 years only under Platinum option

Waiver of Premium Benefit in case of diagnosis of Early Stage Cancer

Simplified issuance process without medicals**

Avail tax benefits under section 80D of the Income Tax Act 1961*

* Tax benefits are subject to change as per tax laws

**Based on a Short Medical Questionnaire (SMQ)
Benefits
Benefits offered under the various Plan Options

Silver option
Offer lump sum benefits on diagnosis of Cancer as per the table below: 

| | |
| --- | --- |
| DIAGNOSIS OF | % OF APPLICABLE SUM INSURED |
| Early Stage cancer or Carcinoma-in-situ (CIS) | 25 |
| Major Cancer | 100 less early Stage Cancer or CIS Claims, if any |

Waiver of Premium: On a valid claim of Early Stage Cancer or Carcinoma-in-situ (CIS) diagnosis, premiums will be waived for a period of 3 policy years.

Gold option
Gold Option:In addition to the benefit offered under Silver Benefit, under this option Increased Benefit under this option Increased Benefit is also payable. In Increased benefit, the Sum Insured increases by 10% of initial Sum Insured each year starting from the first policy anniversary. This will continue till the earlier of:
Increased Sum Insured becoming 200% of the Initial Sum Insured or
Any claim event

Platinum option
Platinum Option: In addition to the benefit offered under Gold Benefit, this option offers monthly income of 1% of applicable Sum Insured for 5 years, on diagnosis of listed Major Cancer.

Offers Premium discounts for Sum Insured above Rs 10 Lakhs 

HDFC Life Cancer Care
Smoking affects at least 6 million people a year*. Cancer treatment is expensive. HDFC Life Cancer Care now covers smokers too!
Eligibility
ENTRY
AGE

MATURITY
AGE

POLICY
TERM

PREMIUM PAYING
FREQUENCIES

Annual
Half Yearly
Quarterly
Monthly
SUM
Insured

SURVIVAL
PERIOD

7 day survival period between the date of diagnosis of a condition and the date eligibility for a benefit payment would be applicable. 
EXCLUSIONS

No benefit shall be payable under the policy in respect of any Major Cancer, Carcinoma-in-situ or Early Stage Cancer resulting directly or indirectly from or caused or contributed by (in whole or in part) :
Sexually Transmitted Diseases AIDS or HIV.

Any congenital conditions

Any pre-existing condition

Intoxication by alcohol or narcotics or voluntarily taking or using any drug, medication or sedative unless it is an "over the counter" drug, medication or sedative taken according to package directions;

Nuclear, biological or chemical contamination (NBC),

The policy shall terminate and no benefit shall be payable under the policy if the
Diagnosis or

Signs or symptoms (related to the diagnosed cancer) first occurred during the waiting period.
Please refer to product brochure for detailed benefits.
FAQs
Downloads
Product brochure download

HDFC Life Cancer Care
Smoking affects at least 6 million people a year*. Cancer treatment is expensive. HDFC Life Cancer Care now covers smokers too!
Things to Know
The importance of having cancer cover
Reema# is a young and vibrant individual. She has never smoked and lives an active and healthy life. For a few days, Reema had a terrible cough, and started experiencing shortness of breath. She went for a check-up, where she was diagnosed with lung cancer. While the cancer was caught early, Reema's medical insurance did not cover the cost of her treatment. As Reema's health was on the mend, her savings were completely wiped out, and she was forced to build her savings from scratch once again.
We all hear stories like Reema's, but we always believe that cancer is something that happens to others, and never affects us. Unfortunately, this is not true. According to a recent research more than 1 million cancer cases are diagnosed every year1. By 2020 Cancer cases are expected to rise by 20%.
The number of cancer cases in the country is definitely increasing; and breathing in polluted cities like Delhi and Mumbai has been said to be as bad for you as smoking a packet of cigarettes every day.
If not treated on time cancer treatment can be expensive. Over 45% of families drain their savings for cancer treatment. Very few health insurance policies will cover diseases like cancer, and cancer treatment drugs can cost up to Rs. 8 lakh*. Keeping this in mind, it's a good idea to opt for a comprehensive plan, like the HDFC Life Cancer Care plan, over your regular health insurance, which will take care of your finances, leaving you free to focus on your health.
#The name and character of Reema is used in a fictitious manner. Any resemblance to actual person, living or dead, or actual events is purely coincidental.
The cost of cancer

Cancer is the kind of disease that requires medical care over a very long period of time. Recurring medical costs are quite draining, and cancer treatment can completely wipe out an individual's life savings. Insurance companies have understood the need to provide comprehensive cover, and a number of insurance policies are now available that are especially crafted for people who are at a high risk for cancer, as well as for people who are health conscious and regularly go for cancer screening tests.

Catching cancer early

As with diabetes, cholesterol, high blood pressure and a number of other heredity diseases, constant screening is the easiest and fastest way to detect cancer while it's still in its early stages. If cancer is detected early, the treatment is not only less costly, it is also more effective.

Medical Insurance v/s Cancer Care

A good medical insurance policy will generally cover the costs for an ambulance, hospital room charges, and the doctor's fee if the insured person is required to be admitted for treatment. Unfortunately, most health insurance policies will not cover expensive treatments such as cancer treatment. At the end of the day, you are the best judge of your medical needs. While it is important to have a regular health insurance plan in place to cover hospitalisation costs, you need to decide whether you need a cancer care plan based on various factors.
Stay updated with HDFC Life
Get HDFC Life updates in your mailbox