HDFC Life ClassicAssure Plus

Investment

HDFC Life ClassicAssure Plus

Investment

HDFC Life ClassicAssure Plus

Investment
Online Buy Support
---
Branch Locator
Policy Holder Services
---
Fund Performance Check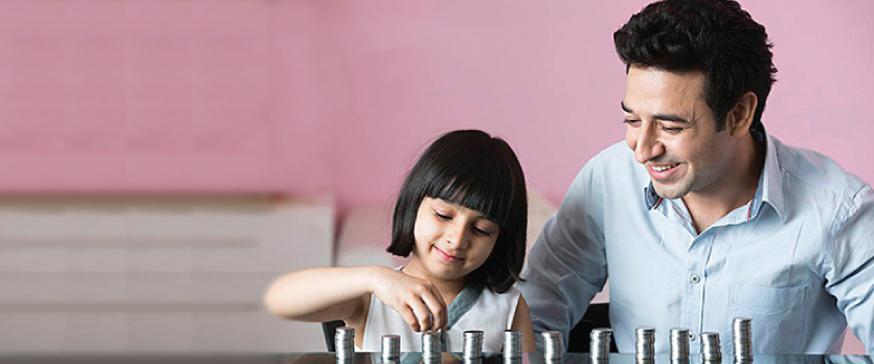 February 17, 2017
1515
Without good money habits, your kids could grow up to be ill-equipped to make the right financial decisions. As adults, they may end up overspending and under-saving. Here are some ways to impart big lessons about money to your children that will help them to live financially fit lives.
1. Discuss Money with Your Children
You may feel that discussing the essentials of money with your children can be a daunting task. But avoiding the topic altogether may lead to your kids lacking the confidence to earn, maintain and multiply money as adults. As a parent, you can use your experience and perspective, including your financial mistakes and successes, to share some valuable knowledge and skills with your children.
2. Make Learning Fun
As soon as your children learn to count, you can teach them what money is, how it is spent, and its value. Make the learning fun for them by having them play number and money related games. This will encourage them to ask questions about money and hopefully probe deeper into the concept. This way, they will also be able to grasp some useful money management techniques.
3. Lead by Example
They say that children learn most things about their finances at home. Therefore, the way their parents handle their accounts and money can affect their own financial habits in a big way. Do you work with a fixed budget and know exactly how much is available for saving and spending? Keeping your finances under a firm check and managing your inflow and outflow can show your children how to be proactive about balancing income and expenses. Even if your children are young, they are sure to notice these things, which in turn will help them learn the value of money.
4. Have Your Children Earn Their Own Money
Even if you give your children an allowance, the fact is that when they earn money on their own, they learn how to be self-sufficient, independent and resourceful. If your children are teenagers, you can encourage them to hunt for part-time jobs such as babysitting or walking the neighbours' pet dogs. Younger children, on the other hand, can be paid for completing household chores.
5. Teach Your Children How to Budget and Save
Whether your children have an allowance or an income from a job, they should be encouraged to assign themselves a budget and set some money-saving goals. So, if your son wants a new toy that he does not have enough money to pay for, help him make a budget in order to save up for it. Once there is enough money saved, take him shopping and let him pay the cashier himself. He will never forget how good it feels to plan for a goal and be rewarded in the end.
6. Help Your Children to Distinguish Between Needs and Wants
Help your children understand the difference between needs and wants so that they can spend their money wisely. A good idea is to ask them what would happen if the family spent all the available money on games for a week, and didn't buy any groceries. Let them think about this. Then explain to them that it is important to pay for needs (such as food) before buying things that are wants (games). You can also take your children around the house and ask them to point out items that are needs or wants.
7. Talk to Your Children about Investing
As your children get older, it is a good idea to make them aware of the concept of investing. To show them how money can grow through investments, you can set up a small fixed deposit in their name and let them track its growth. If you are making an investment, involve your children in the process to help them understand the various ways in which they can leverage their earnings as adults.
Plans such as HDFC Life Click2Invest - ULIP meet a variety of your investment needs. This market-linked plan allows you to invest in funds with flexible premium options. As a policyholder, you can switch between funds, do partial withdrawals, and invest additional amounts of money.
Recent Posts
Subscribe to get the latest articles directly in your inbox
Popular Post
HDFC Life Insurance Company Limited. CIN: L65110MH2000PLC128245, IRDAI Reg. No. 101.
Registered Office: Lodha Excelus, 13th Floor, Apollo Mills Compound, N.M. Joshi Marg, Mahalaxmi, Mumbai 400 011. Email: [email protected], Tel No: 1800-266-9777 (10 am to 7 pm). The name/letters "HDFC" in the name/logo of the company belongs to Housing Development Finance Corporation Limited ("HDFC Limited") and is used by HDFC Life under an agreement entered into with HDFC Limited.
For more details on risk factors, associated terms and conditions and exclusions please read sales brochure carefully before concluding a sale.
BEWARE OF SPURIOUS PHONE CALLS AND FICTIOUS/FRAUDULENT OFFERS
IRDAI is not involved in activities like selling insurance policies, announcing bonus or investment of premiums. Public receiving such phone calls are requested to lodge a police complaint.