HDFC Life ClassicAssure Plus

Investment

HDFC Life ClassicAssure Plus

Investment

HDFC Life ClassicAssure Plus

Investment
For NRI Customers
(To Buy a Policy)
Call (All Days, Local charges apply)

Email ID

Whatsapp
---
(If you're our existing customer)
Call (Mon-Sat 10am-7pm, Local Charges Apply)

Email ID
For Online Policy Purchase
(New and Ongoing Applications)
---
Branch Locator
For Existing Customers
(Issued Policy)
Whatsapp

Call (Mon to Sat, from 10 am to 7 pm, Call charges apply)

Email
---
Fund Performance Check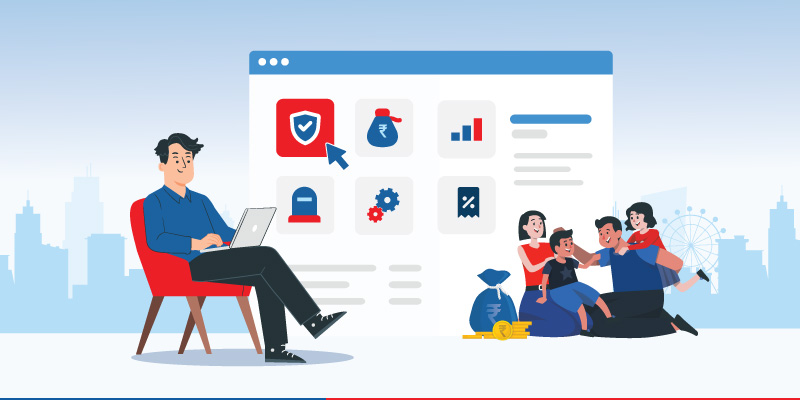 In this policy, the investment risks in the investment portfolio is borne by the policyholder
Introduction
Unit Linked Insurance Plans/products are great ways to combine life insurance and investment. Everyone has financial goals that are required to be met with certain time horizons in mind. Life is made up of several stages and as people go from one stage to the next, plans and goals may change according to circumstances. In line with your changing goals, especially those of a financial nature, your investments must keep pace and do the most for you financially. Those who pick Unit Linked Insurance Plans are making good choices as they ensure life cover and investment, a double-layered safety mesh for your family. You can find this in the HDFC Life Sampoorn Nivesh.
Why and who must buy?
Today, ULIPs, or Unit Linked Insurance Plans, are the popular route for most individuals who are regularly earning a salary and wish to save and invest, yet get financial life cover. Thinking about the future of your near and dear ones is a good move as life is unpredictable. That is why most people buy life insurance, to provide security for their family after they are no more. If you get an investment instrument in the same plan, that's an additional feature that helps you save and grow your capital. For people who wish to have a plan that is especially financially sound, they will opt for a ULIP. Those with dependents would love to have an assured way of knowing that their family will never run out of cash in their absence.
Features of HDFC Life Sampoorn Nivesh
If you wish to consider a ULIP like the HDFC Life Sampoorn Nivesh, then check out these main features:
Flexibility

You have the freedom to select your investment term for Single Pay ranging from 10 to 35 years. For Limited/ Regular Pay, the investment term will be equal to (85 minus your Age at Entry). However, the investment term cannot exceed the Maximum Age at Maturity for the Death Benefit Option you have chosen.

Customisation

Your premium payments can be tailor-made to suit you and you can select single, regular or limited options.

Options in Plans

You get a choice of three benefit options under the larger plan, and you can opt for one that caters to your financial requirements.

Loyalty Perks

After ten years in the plan, policyholders get loyalty additions for the enhancement of their fund's value.

Reduced Charges

Premium allocation charges are decreased when you invest with a higher amount of premium.

Investment Fund Options

You can pick from 10 different fund options. If you meet certain conditions, you can apply for the plan with a Short Medical Questionnaire (SMQ) which has limited underwriting.
Benefits of HDFC Life Sampoorn Nivesh
If you have gone through the features of the HDFC Life Sampoorn Nivesh plan, you may well see that features are benefits too. However, here are the advantages laid out:
Overall Flexibility

With this ULIP, you get flexibility in choosing your plan tenure as well as the fund you wish to invest in spending on your time horizon and risk appetite.

Rewards

Policyholders get rewarded for their loyalty in keeping the ULIP active and paying high premiums with loyalty additions.

Custom-made Plans

This is tied to a plan's flexibility. Policyholders can switch funds if they feel that a particular fund may be more beneficial than the one they currently invest in. This can be done at any time while the policy is active.

Discontinuance

If you discontinue your policy from the fifth year of holding it, there is no charge levied for the same.

Partial Withdrawals

You can make partial withdrawals in these plans, depending on the benefit options you choose.
Secure Your Future with HDFC Life Sampoorn Nivesh
Savings and investment is the key to securing a safe financial future, helping you and your family cope with any financial surprises that crop up. The sure fire way to reach your financial goals is not simply to accumulate wealth but to make it grow. With inflation, you will need more capital in the future than you do now, to meet the same financial goals, besides any other objectives you may have. A ULIP like HDFC Life Sampoorn Nivesh keeps you on the right track for handling future financial challenges.
ARN - MC/04/23/1568
Tax Articles
Subscribe to get the latest articles directly in your inbox
Life & Term Articles
Investment Articles
Here's all you should know about life insurance.
We help you to make informed insurance decisions for a lifetime.
The Unit Linked Insurance products do not offer any liquidity during the first five years of the contract. The policyholders will not be able to surrender or withdraw the monies invested in Unit Linked Insurance Products completely or partially till the end of fifth year.
HDFC Life Sampoorn Nivesh (UIN No: 101L103V03) is a Unit Linked Non Participating Life Insurance Plan. Life Insurance Coverage is available in this product.
Unit Linked Life Insurance products are different from the traditional insurance products and are subject to the risk factors. The premium paid in Unit Linked Life Insurance policies are subject to investment risks associated with capital markets and the NAVs of the units may go up or down based on the performance of fund and factors influencing the capital market and the insured is responsible for his/her decisions. HDFC Life Insurance Company Limited is only the name of the Insurance Company, The name of the company, name of the contract does not in any way indicate the quality of the contract, its future prospects or returns. Please know the associated risks and the applicable charges, from your Insurance agent or the Intermediary or policy document of the insurer. The various funds offered under this contract are the names of the funds and do not in any way indicate the quality of these plans, their future prospects and returns.