HDFC Life ClassicAssure Plus

Investment

HDFC Life ClassicAssure Plus

Investment

HDFC Life ClassicAssure Plus

Investment
For NRI Customers
(To Buy a Policy)
Call (All Days, Local charges apply)

Email ID

Whatsapp
---
(If you're our existing customer)
Call (Mon-Sat, 10am-9pm IST, Local Charges Apply)

Email ID
For Online Policy Purchase
(New and Ongoing Applications)
---
Branch Locator
For Existing Customers
(Issued Policy)
Whatsapp

Call (Mon to Sat, from 10 am to 7 pm, Call charges apply)

Email
---
Fund Performance Check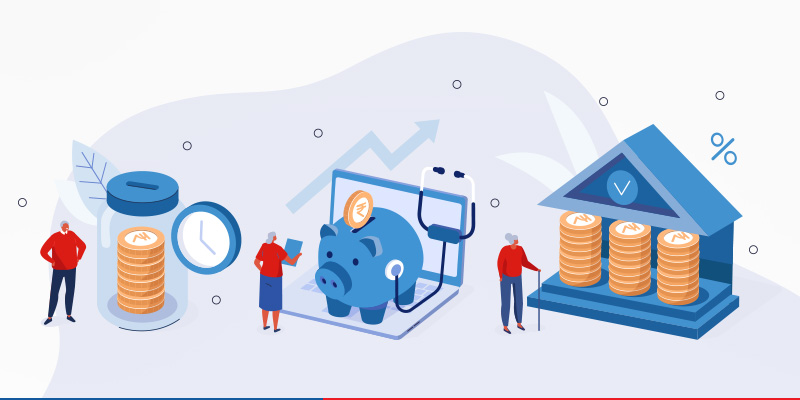 We are often advised to pay off our mortgage before retirement. The logic behind this is pretty simple. The idea is live a hassle-free life when regular salary or income is no longer certain. But what if having a mortgage turns fruitful for your retired life? Do give it careful thought before you leap.
When it pays to have a mortgage in retirement
Suppose you plan to buy a house at 40 with a 30-year fixed-rate mortgage or a home loan. Going by the regular repayment structure, this would go into your post-retirement phase. While it's generally preferable to retire without a mortgage, it also requires you to focus on certain financial as well as emotional factors. The thoughts that should be essentially considered here are:
Will the monthly loan instalment payments be affordable after you retire?

How much financial risk are you willing to eliminate mortgage?
Here, it's important to remember that paying off the mortgage before retirement means less savings for your retired life which might lead you to a financial crunch. Instead, having a reverse mortgage loan can be a smarter choice. Here's how:
A reverse mortgage is a loan that offers an additional source of income to Indian senior citizens with a self-acquired or self-occupied home. Through this, applicants over 60 years of age or a couple above 58 years of age can borrow money mortgaging the said property, provided it is at least 20 years old and is not being commercially used. Unlike the regular home loan or mortgage loan where you pay the EMI on a fixed schedule, here the bank pays a regular amount to the senior citizen against the property mortgaged. While the amount received can be utilized for a smooth and hassle-free retired life, it's also tax-free under the Income Tax Act, 19611, making reverse mortgage loans a comfortable choice for many.  
So, is it worth having a home loan or a reverse mortgage in your retired life? To understand this better, let us delve deeper into the plus and minus side of paying off your mortgage before retirement.
Pros of paying off your mortgage:
Paying off your mortgage is better when
You are keen to have a debt-free life

The loan instalments don't match your retirement budget
Cons of paying off your mortgage before you retire:
Paying off the mortgage before retirement can be a loss when
The retirement corpus gets smaller as you shell out a lump sum

The inflation rate is higher than your fixed rate of mortgage. So, during your retirement, you pay less compared to the ongoing rate.

You need a lumpsum of money to buy a new house or repair the existing one, need to fund your child's education or marriage, or start a business post-retirement.
The choices
Alternatively, you can choose to invest your funds into a sound pension plan using a good pension plan calculator that allows you to assess your future needs and assures you of a guaranteed income in your golden years. This will help you pay off your mortgage in regular instalments even in your retirement years, without worrying about a source of regular income.
The choice is yours
To each his own, they say. Naturally, you are the best judge of your retired life as well. Weigh the home loan interest rate, the estimated retirement income, the expected inflation rate and the amount of retirement income you are willing to sacrifice to get rid of the mortgage. By balancing the pros and cons of paying off the mortgage, and investing in a good retirement plan with the help of a pension plan calculator, it will be easier to choose which choice is the suitable bet for you.
Related Articles:
ARN - ED/10/23/5673
Tax Articles
Subscribe to get the latest articles directly in your inbox
Life & Term Articles
Investment Articles
The above stated exemptions/deductions and tax benefits are subject to the provisions & conditions mentioned in the existing Income Tax Act, 1961. Tax Laws are also subject to change from time to time.