HDFC Life ClassicAssure Plus

Investment

HDFC Life ClassicAssure Plus

Investment

HDFC Life ClassicAssure Plus

Investment
For NRI Customers
(To Buy a Policy)
Call (All Days, Local charges apply)

Email ID

Whatsapp
---
(If you're our existing customer)
Call (Mon-Sat 10am-7pm, Local Charges Apply)

Email ID
For Online Policy Purchase
(New and Ongoing Applications)
---
Branch Locator
For Existing Customers
(Issued Policy)
Whatsapp

Call (Mon to Sat, from 10 am to 7 pm, Call charges apply)

Email
---
Fund Performance Check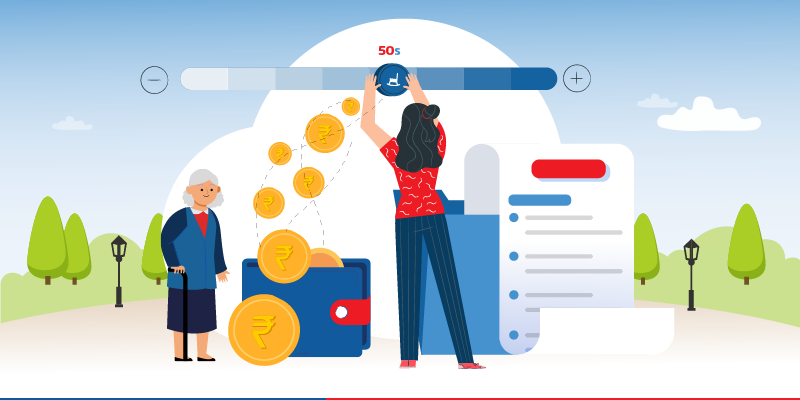 Table of Contents
No matter what life stage you are in or what your financial dreams may be, there is one major milestone that you will have to plan for with great care. And that milestone is retirement. You may want to retire early at the age of 50 or sooner, or perhaps at the standard age of 60. Depending on the nature of your job and your passion for it, you may also want to put off retirement for a few more years, till you are 65 or so.
However, irrespective of the age at which you plan to retire, you need to ensure that you have a steady source of income to rely on. Annuity plans can help you with this. And before you purchase an annuity plan, you need to be clear about the concept of vesting and vesting age in retirement planning.
What is vesting and how does it Work?
In simple terms, vesting is the process of granting the rights for a particular benefit. Let us understand how vesting works in the context of annuities. Typically, there are two phases in an annuity plan, as explained below.
Accumulation Phase:
When you purchase an annuity life insurance plan, you will have to pay premiums to the annuity provider. These premiums can be paid as a lump sum amount, or they can be paid regularly at periodic intervals. This phase during which you invest in the annuity plan by paying premiums is known as the accumulation phase.
Vesting Phase:
Once all the premiums due have been paid, you become eligible for the annuity payouts. In the case of immediate annuity plans, these payouts start immediately after the premium payment term. However, in the case of deferred annuity plans, the annuity payouts are delayed or deferred for a specified number of years. The vesting phase commences once the payouts begin.
Vesting Age in Retirement Plans
The vesting age in retirement plans and annuity plans is simply the age at which you start receiving your annuity payouts. For example, say you are now 35 years old and you decide to purchase a deferred annuity plan. You pay premiums for the first 15 years, till you reach the age of 50. Thereafter, the accumulation phase ends, and your investments continue to grow.
Now, suppose that the vesting age in the retirement plan is 60 years. In this case, you will start to receive your annuity payouts when you attain the age of 60.
To ensure that your post-retirement life is comfortable and financially secure, it is a good idea to choose a vesting age that aligns with the age at which you expect to retire. This way, your annuity payouts will begin just when your salary income stops, thus ensuring that you have a suitable alternate source of income to rely on.
Conclusion
The bottom line is that a vesting period can be quite beneficial for your investments if you are still young and in your prime working years. So, instead of putting off the purchase of an annuity plan for when you are older, you can invest in a deferred annuity plan today and allow your investments to grow over time. This way, you can rest assured that you already have one steady source of income to rely on when you are older and retired.
Related Articles
ARN -  ED/08/23/4373

Tax Articles
Subscribe to get the latest articles directly in your inbox
Life & Term Articles
Investment Articles