HDFC Life ClassicAssure Plus

Investment

HDFC Life ClassicAssure Plus

Investment

HDFC Life ClassicAssure Plus

Investment
For NRI Customers
(To Buy a Policy)
Call (All Days, Local charges apply)

Email ID

Whatsapp
---
(If you're our existing customer)
Call (Mon-Sat, 10am-9pm IST, Local Charges Apply)

Email ID
For Online Policy Purchase
(New and Ongoing Applications)
---
Branch Locator
For Existing Customers
(Issued Policy)
Whatsapp

Call (Mon to Sat, from 10 am to 7 pm, Call charges apply)

Email
---
Fund Performance Check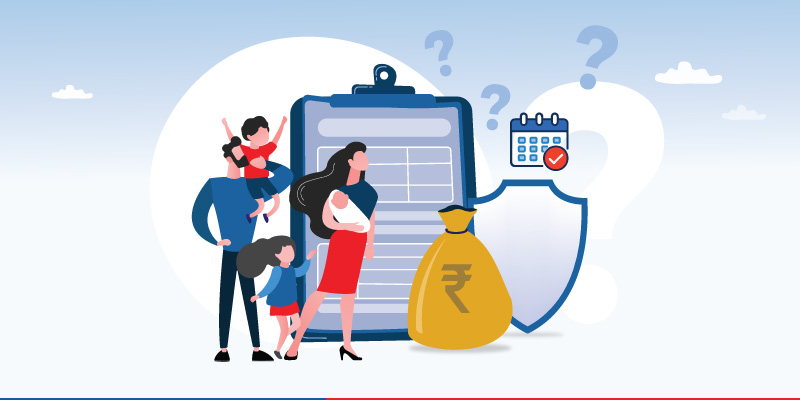 By the time you reach your 40s, you would have most likely taken on various financial responsibilities and debts. Seeing as the 40s are a crucial juncture in life, you might need to make a few key changes in your finances and your lifestyle. This will ensure that you and your family remain financially stable in the years to come.
Here are a few things that you can do to strengthen your financial future when you're in your 40s.
7 Tips for Financial Planning in Your 40s
Financial planning is crucial at every stage of life, no matter what age group you belong to. In your 40s, it should be customised according to the liabilities you have and the goals you still need to achieve. Here are some tips that can help.
Consider Re-evaluating Your Investments

Your risk profile changes as you age. In your 40s, you may not be as comfortable with taking risks as you were in your 20s or 30s. Therefore, it is important to take a step back and thoroughly re-evaluate your investments to ensure that they're in line with your risk profile. For instance, you may consider diverting some funds from your equity investments over to debt instruments. This may help reduce your risk and bring about some much-needed stability to your investment portfolio.

Invest in a Good Life Insurance Plan (If You Haven't Already)

Life insurance plans are among the best investment options in India for investors from different walks of life. They can keep your family financially protected if something untoward were to happen to you, since the death benefit payouts ensure that your family is financially independent even when you're not around to support them. Furthermore, with additional benefits like guaranteed savings (in case of savings plans) or market-linked returns (in case of ULIPs), you can also achieve your long-term goals easily.

Reduce Debt Obligations

If you're servicing any high-interest loans, now may be the right time to clear them off. Reducing your debt obligations can free up your finances. The additional funds that you've unlocked can be used to invest in a few of the best investment options in India. If you're unable to clear off loans entirely, consider making part payments instead. Alternatively, you can also opt for the loan balance transfer feature to move from a high-interest loan to one with a lower rate of interest.

Start Planning For Your Retirement

Since you only have a couple of decades until retirement, it is important to think about your post-retirement life as soon as you enter your 40s. Securing an alternate source of income can help you lead a stress-free and comfortable life after you retire. A deferred annuity plan from a reputed life insurer is one of the easiest ways to get a stable income throughout your retired life.

Have an Emergency Fund in Place

If you haven't already set up an emergency corpus, you should consider creating one immediately. Ideally, you should have at least about 6-months worth of your monthly salary in your emergency fund. You can use the funds from this account to take care of emergency expenses such as unexpected medical bills or unforeseen home repairs without damaging your finances.

Reduce Your Discretionary Expenses

Financial planning is not just about investing in the best investment options in India. It is also about keeping your expenses in control. It is important to enjoy life, but not at the cost of financial stability. Cutting out unnecessary and avoidable expenses can help you reach your financial goals faster if you are having trouble meeting your savings targets.

Draw Up a Will

Leaving your family without a will can make it harder for them to benefit from your savings and investments. With a proper will or a succession plan in place, your family will find it very easy to access funds that you've painstakingly saved up for their security. Your 40s may be the right time to create a clear will if you haven't already. And as you continue to age and get to the next phase of your life, you can revisit it and make changes if necessary.
Conclusion
Financial planning in your 40s is not as hard as it is made out to be. With just a few tips like the ones mentioned above, you can ensure that you and your family live a financially secure and stress-free life. However, if you're not financially very aware, you could always seek the help of a professional advisor to plan your finances.
Related Article
ARN - ED/05/23/2058
Tax Articles
Subscribe to get the latest articles directly in your inbox
Life & Term Articles
Investment Articles