HDFC Life ClassicAssure Plus

Investment

HDFC Life ClassicAssure Plus

Investment

HDFC Life ClassicAssure Plus

Investment
For NRI Customers
(To Buy a Policy)
Call (All Days, Local charges apply)

Email ID

Whatsapp
---
(If you're our existing customer)
Call (Mon-Sat, 10am-9pm IST, Local Charges Apply)

Email ID
For Online Policy Purchase
(New and Ongoing Applications)
---
Branch Locator
For Existing Customers
(Issued Policy)
Whatsapp

Call (Mon to Sat, from 10 am to 7 pm, Call charges apply)

Email
---
Fund Performance Check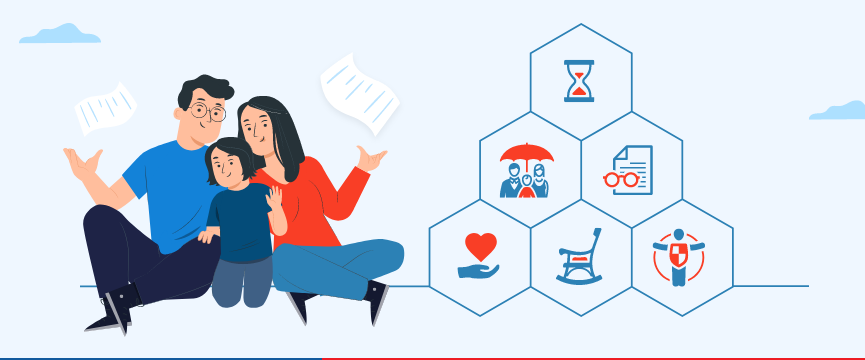 With the cost of living and inflation rates on the rise, building the right kind of financial portfolio is the need of the hour. And one of the many beneficial financial products that you should aim to include in your portfolio is a life insurance savings plan. By purchasing this kind of insurance, you get to enjoy a wide range of benefits.
Here is a closer look at what life insurance savings plans are and the top advantages of investing in these plans.
What is a Life Insurance Savings Plan?
A life insurance savings plan is a financial product that combines the benefits of insurance and savings. The premium that is paid towards such a plan is used to provide a life cover for the policyholder during the chosen tenure, known as the policy term.
In the event of the policyholder's demise during this tenure, the insurance provider pays the amount of life cover (or the sum assured) as a death benefit to the nominee mentioned in the policy. However, if the policyholder survives the policy term, all of the premiums paid plus bonuses and loyalty additions are paid out in the form of a maturity benefit.
Top 5 Benefits of Investing in Life Insurance Savings Plans
Now that you've understood what life insurance savings plans are, let's get to know their top 5 advantages.
Financial Protects for Your Family

The insurance component in a savings plan helps you secure your family's financial future in the event of your demise. The death benefit payout received by your family can be used to take care of their expenses and meet their financial goals.

Guaranteed Returns

Unlike market-linked investment options, life insurance savings plans offer guaranteed returns at the end of the policy tenure (if the policyholder survives this term). Thanks to the assured payout, you don't have to worry about meeting your goals as planned. Also, the amount that you will receive as a maturity benefit is disclosed at the time of purchasing the policy itself. Such transparency enables you to plan your finances in a much better manner.

Customizable Plan Options

Financial goals, priorities and capabilities vary from one individual to another. To meet your unique financial situation, you can customise your life insurance savings plan according to your needs. Almost every aspect of a savings plan can be tailored to satisfy your requirements — right from the death benefit sum assured and the premium payment frequency to the premium payment term and the policy term itself. You can also enhance the benefits of a life insurance savings plan further by opting for riders.

Tax Savings

Life insurance savings plans are also one of the many income tax saving options in India. The premiums that you pay towards such a plan can be claimed as a deduction under section 80C of the Income Tax Act. In each financial year, you can claim up to Rs. 1.5 lakhs as a deduction from the total income.

This effectively lowers your total taxable income and reduces your tax liability for that year. Additionally, under section 10 (10D)* of the Income Tax Act, the death benefit payouts and the maturity benefit payouts (for policies with annual premiums up to Rs. 5 lakhs) are completely tax-free.

Option to Avail of a Loan against the Policy

In addition to being one of the best income tax saving options in the country, life insurance savings plans can also help during financial emergencies. If you find yourself short of funds, you can avail of a loan from your life insurer against your policy. And since it is a secured loan, the rate of interest is usually much lower when compared with unsecured loan options.
Conclusion
If you wish to maximize the benefits offered by life insurance savings plans, you need to invest in them while you're young and healthy. This is because the premiums for such plans tend to increase as you age. By purchasing the life cover sooner than later, you can take advantage of the lower premiums and reduce your overall costs significantly.
Related Article
ARN - ED/05/23/2059
Tax Articles
Subscribe to get the latest articles directly in your inbox
Life & Term Articles
Investment Articles
*#Tax benefits are subject to conditions under Section 10 and other provisions of the Income Tax Act, 1961.
#Tax Laws are subject to change from time to time.
#The customer is requested to seek tax advice from his Chartered Accountant or personal tax advisor with respect to his personal tax liabilities under the Income-tax law