HDFC Life ClassicAssure Plus

Investment

HDFC Life ClassicAssure Plus

Investment

HDFC Life ClassicAssure Plus

Investment
For NRI Customers
(To Buy a Policy)
Call (All Days, Local charges apply)

Email ID

Whatsapp
---
(If you're our existing customer)
Call (Mon-Sat, 10am-9pm IST, Local Charges Apply)

Email ID
For Online Policy Purchase
(New and Ongoing Applications)
---
Branch Locator
For Existing Customers
(Issued Policy)
Whatsapp

Call (Mon to Sat, from 10 am to 7 pm, Call charges apply)

Email
---
Fund Performance Check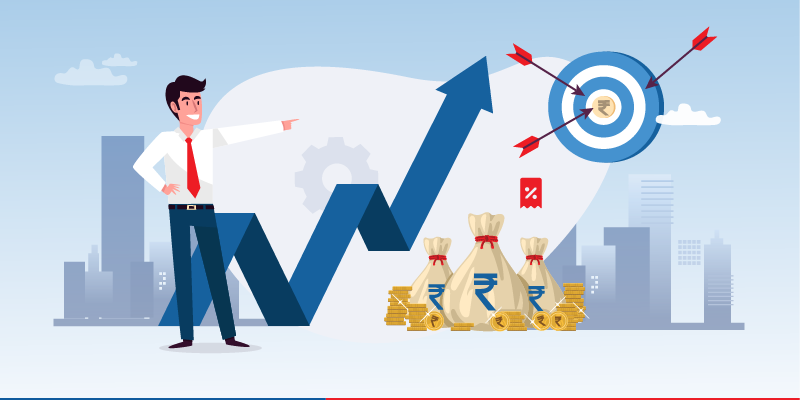 In this policy, the investment risks in the investment portfolio is borne by the policyholder
The decision to invest for future at a young age can bring immense financial security and freedom. The amount of investment choices available today makes it easy to feel overwhelmed and uncertain about where to put your hard earned money. Nevertheless, you can pave the road to a secure future by focusing on stability in your investment strategy.
In spite of this, investments can be a roller coaster ride filled with ups and downs that can leave you feeling uncertain and anxious, that is why you need a safety net to protect you from unforeseen events. Insurance can be like a warm blanket on a cold night, giving you peace of mind that your financial future is secure. In addition to providing financial protection, investing in insurance also offers you added benefits like compounding and growth.
This article will give you a brief idea why early investments are important.
Power of Compounding:

Investing early will give you a greater return, the longer you invest, the more your money can grow.

Achieving Long-Term Goals:

Investments at a young age, helps to achieve long-term financial goals. It helps to build a large corpus and can be used fund a house, your children's education, and retirement.

Risk-bearing capacity:

Younger investors have a higher risk-taking capacity as there is a long time horizon to ride out market fluctuations. They may invest in higher-risk assets like equity to tap into long-term growth.

Tax Benefits:

Contributing to Retirement Annuities and Pension Plans can offer tax benefits, regardless of age. To ensure maximum growth, it is advisable to start contributing early.
Make your own investment strategies
Build Strong Core:

A strong core portfolio is one of the best investment strategies, which involves diversifying your investments across a variety of asset classes, such as stocks, bonds, or term insurance plans. Always invest for a long time with the possibility of steady growth, rather than try to earn quick profits.

Analyze your Finances:

Make sure you understand your finances before choosing a plan, determine how much money you need to support your home and your expenses, and ensure your finances are well planned. In addition to offering both investment and insurance components, ULIP plans might be a good option to manage your personal expenses and maximize your returns on investments. It gives exposure to a variety of investment options and is based on risk appetite and objectives.

Choose your Investment Wisely:

Whether you believe it or not, smart investments are an essential part of getting started with investments. However, you must decide where and how you want your profits to grow to be financially independent. With your investments accruing on the side, you are free to concentrate on growing your business and taking well-calculated risks when necessary.
Summing It Up
Consistency is the foundation of successful investing. Review your finances regularly, stay true to your objectives, and gradually enhance your savings capability. All these factors can make your early investment reach long-term financial goals. Time is on your side - begin your investments early!
Related Article
ARN - ED/04/23/1783
Tax Articles
Subscribe to get the latest articles directly in your inbox
Life & Term Articles
Investment Articles
The Unit Linked Insurance products do not offer any liquidity during the first five years of the contract. The policyholders will not be able to surrender or withdraw the monies invested in Unit Linked Insurance Products completely or partially till the end of fifth year.
Unit Linked Life Insurance products are different from the traditional insurance products and are subject to the risk factors. The premium paid in Unit Linked Life Insurance policies are subject to investment risks associated with capital markets and the NAVs of the units may go up or down based on the performance of fund and factors influencing the capital market and the insured is responsible for his/her decisions. HDFC Life Insurance Company Limited is only the name of the Insurance Company, The name of the company, name of the contract does not in any way indicate the quality of the contract, its future prospects or returns. Please know the associated risks and the applicable charges, from your Insurance agent or the Intermediary or policy document of the insurer. The various funds offered under this contract are the names of the funds and do not in any way indicate the quality of these plans, their future prospects and returns.