HDFC Life ClassicAssure Plus

Investment

HDFC Life ClassicAssure Plus

Investment

HDFC Life ClassicAssure Plus

Investment
For NRI Customers
(To Buy a Policy)
Call (All Days, Local charges apply)

Email ID

Whatsapp
---
(If you're our existing customer)
Call (Mon-Sat, 10am-9pm IST, Local Charges Apply)

Email ID
For Online Policy Purchase
(New and Ongoing Applications)
---
Branch Locator
For Existing Customers
(Issued Policy)
Whatsapp

Call (Mon to Sat, from 10 am to 7 pm, Call charges apply)

Email
---
Fund Performance Check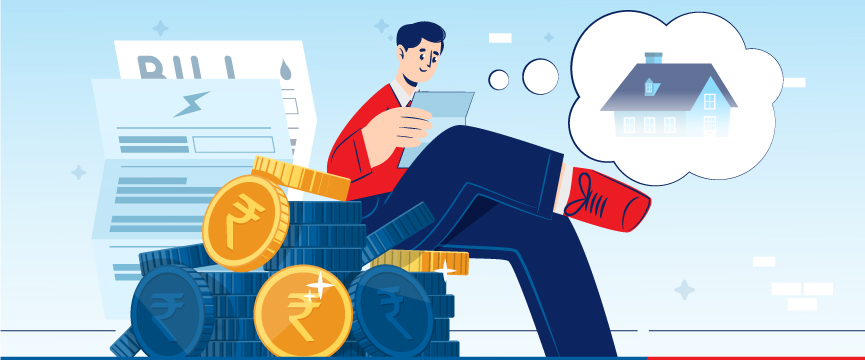 Owning a home is a significant component of creating wealth. When you achieve one of the most important milestones in your life by purchasing a home, you feel a sense of accomplishment. Planning for your ideal house is an exciting endeavour, and getting started early can put you on track to making that dream a reality by the age of 35. This article will go over practical methods and considerations to help you plan for your ideal home and make it a reality within this timeline. Let's dive into the important parts of planning for your dream home before the age of 35.
Creating a Budgeting Strategy
As we grow in our careers, our salaries and expenses rise. As a result, before making a budget, it is critical to study and evaluate expenses. Identify areas where you can cut back on spending and follow a savings strategy to save for your dream home. There are numerous apps available to assist you in creating a budget. You can track your spending by comparing your income to the expenses you incur.
Buying Insurance for Protection
It is critical to safeguard your dream house and your family's financial security. Consider investing in insurance products such as the HDFC Life Sanchay Fixed Maturity Plan. This plan combines guaranteed maturity benefit with life insurance coverage. It provides financial protection against unforeseen catastrophes and ensures that your loved ones are taken care of. You can have peace of mind knowing that your dream house is covered if you include an insurance plan in your financial strategy.
Building a Strong Credit History
When applying for a mortgage, a strong credit score is essential. Learn how to create and maintain a good credit history by making payments on time, keeping credit card balances low, and staying out of debt. An excellent credit score (over 750) not only qualifies you for a house loan, but it also gives you more negotiation leverage for cheaper interest rates. Monitor your credit report on a regular basis and resolve any inaccuracies or anomalies as soon as possible.
Opting for Home Loans
There are numerous home loans available in the market. It is always better to compare options and choose the one that suits you the most. Charges vary at every bank, but you should carefully analyse the costs incurred: borrowing fees, service fees, and break-down fees. When determining your spending, keep your budget and profits in mind. Consider additional fees such as processing fees, pre-closure charges, and late payment penalties. When you compare all components of a home loan package, you will gain insight into the true cost of borrowing.
Save, And Invest Your Money
After you've created a budget and figured areas where you can cut costs, start saving for an emergency fund that covers at least three to six months of living expenses. This fund serves as a safety net in the event of an unexpected occurrence, such as a job loss or a medical emergency, and keeps you from depleting your resources for your dream home. Furthermore, it is critical to set aside a percentage of your savings for investments. Investigate several investing options, such as mutual funds, equities, or real estate investment trusts (REITs), that correspond to your risk tolerance and financial objectives.
Conclusion
Remember, that dream home planning is a process that involves attention, discipline, and careful evaluation. Yes, your income will rise in the future, but so will your expenses as you take on more financial responsibilities. So, educate yourself and learn how to manage your money effectively. You may have to make some sacrifices as well, but it will all be worth it when this dream becomes a reality.
Related Articles:
ARN: ED/07/23/3393
Tax Articles
Subscribe to get the latest articles directly in your inbox
Life & Term Articles
Investment Articles
HDFC Life Sanchay Fixed Maturity Plan (UIN:101N142V04) is a Non-Linked, Non-Participating, Individual, Savings, Life Insurance Plan. Life Insurance Coverage is available in this product.