HDFC Life ClassicAssure Plus

Investment

HDFC Life ClassicAssure Plus

Investment

HDFC Life ClassicAssure Plus

Investment
To Buy Online
---
Branch Locator
For Existing Customers
---
Fund Performance Check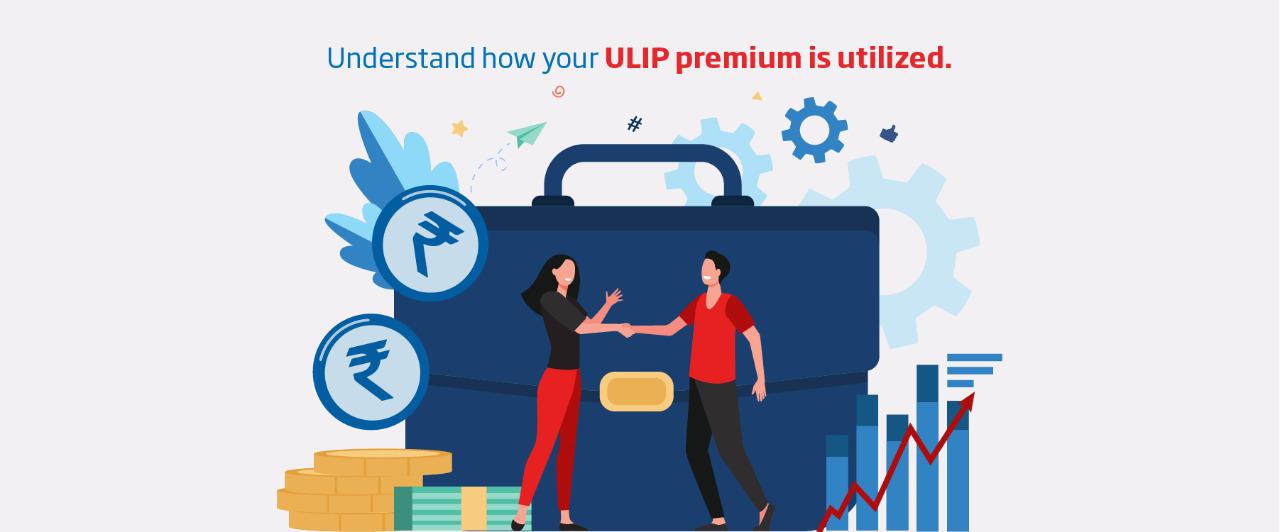 January 23, 2021
2277
In this policy, the investment risk in the investment portfolio is borne by the policyholder.

Unit linked insurance plans are a hybrid investment and insurance product for the same premium. Part of your ULIP premium goes towards your life insurance. The latter part of it goes towards investing in market-linked investment products of your choice. However, when it comes to more details regarding this split, many are curious about how exactly the ULIP premium is utilized. Here is the exact manner in which the premium charged by your insurance company is utilized as an investment as well as insurance through your ULIP. 
Partial premium for insurance:
One part of your premium is invested in providing risk coverage to the nominee in your policy. This is in the form of life cover in the event of your - the policyholder's - death. This insurance premium will aggregate and earn interest over time, especially since ULIPs have a lock-in period of five years. Hence, in the event of the policy holder's death, the same ULIP premiums are used towards a death benefit. This may equate to the value of the fund, be a separate Sum Assured, or be a combination of both of these. Normally, around 105% of the premiums are paid out as a death benefit to the nominee. This will be specified in your policy documents. 
Partial premium for investment:
A part of the premiums is allocated towards market-linked products - typically mutual funds. The premiums are directly invested in funds of one's choosing - be it equity, debt, or hybrid funds that offer both. Based on individual risk profiles, and your pre-existing financial portfolio, you can tune your ULIP investments to balance your income stream. However, if you ever need to switch between funds, ULIPs give you the flexibility to do so. 
When part of their ULIP premiums is paid towards a market-linked fund, the policyholder will be allocated units in that mutual fund based on the amount that has been invested. The total value of all the units across a plethora of fund choices that have been selected by the investor for their ULIP investments will be paid out once the policy matures. 
Keep in mind that there are certain costs associated with the market linked and insurance aspect of ULIPs. These costs are as follows:
Allocating the Premium

: Premium allocation charges are the fees associated with allocating your annual premiums to market-linked funds. These costs reduce after the first few years of purchasing a ULIP. They are dependent upon how frequently one pays their premium and the type of premium payment one opts for. 

Managing the Fund:

: Fund management costs exist whether or not you invest in mutual funds via a ULIP. These are the charges of managing the funds that one invests in and they are deducted from the fund's net asset value. Fund management costs average out at about 1.35% of the fund's value. These costs are higher for equity funds than debt funds. 

Mortality Fees

: Every year, one is required to recover or renew their life insurance coverage issued to them by their unit-linked insurance plan. Many factors like one's medical history, Sum Assured, age, and more of the policyholder play an important role in determining these mortality fees. The fund's units that are invested under one's ULIP are thereby decreased in proportion with the charges associated with your policy. With the HDFC Life Click 2 Wealth ULIP, the total amount of mortality charges*that were deducted throughout the policy will be returned to the policyholder as additions to the total funds' value at maturity. 

Costs of Switching Funds

: As mentioned earlier, with a ULIP you have the option to switch between a variety of funds based on your personal investment horizon, goals, risk tolerance, and market conditions. Hence, ULIPs give you the flexibility to gradually increase your wealth according to what is comfortable for you. The switches across funds can be unlimited for some ULIPs, however, others have a limit after which they begin costing you for switching. However, some ULIPs like HDFC Life Click 2 Wealth allow for unlimited switching without any costs. 

Cost of Discontinuing your ULIP:

The mandatory lock-in period of ULIPs requires that you neither surrender your policy at this time nor avoid paying your premiums in a timely manner. In either of these cases, your investment is transferred to a discontinuance fund. the IRDAI has mandated that discontinuance charges be applied in these situations. 

Partial Withdrawal:

Suppose you complete your lock-in period and now wish to withdraw some of the money in your corpus. You may be allowed a limited number of free partial withdrawals. After this point, an upfront fee is applied towards making a partial withdrawal. Some ULIPs, however, offer unlimited withdrawals. 
The Bottom Line:
Your premiums go towards a life insurance component as well as a mutual fund investment with ULIPs. HDFC Life Click 2 Wealth gives you market linked benefits along with insurance coverage as three different options - a single person life cover, premium waiver option, and retirement planning option. This way you can customize your insurance just like you customize your market-linked investments via your ULIP, to ensure you are truly getting the ideal policy tailored to your needs. 
*Return of Mortality Charges (ROMC) on Maturity. In case of Premium Waiver option, Mortality charges pertaining to only the Life Assured would be refunded. ROMC will not be available for the policies where the Waiver of premium benefit is triggered due to the death of the Proposer.
ARN:ED/11/20/21329
The Linked Insurance products do not offer any liquidity during the first five years of the contract. The policyholders will not be able to surrender/withdraw the monies invested in Linked Insurance Products completely or partially till the end of fifth year.
Tax Articles
Subscribe to get the latest articles directly in your inbox
Life & Term Articles
Investment Articles
Calculators
HDFC Life Insurance Company Limited. CIN: L65110MH2000PLC128245, IRDAI Reg. No. 101.
Registered Office: Lodha Excelus, 13th Floor, Apollo Mills Compound, N.M. Joshi Marg, Mahalaxmi, Mumbai 400 011. Email: [email protected], Tel No: 1800-266-9777 (10 am to 7 pm). The name/letters "HDFC" in the name/logo of the company belongs to Housing Development Finance Corporation Limited ("HDFC Limited") and is used by HDFC Life under an agreement entered into with HDFC Limited.
For more details on risk factors, associated terms and conditions and exclusions please read sales brochure carefully before concluding a sale.
BEWARE OF SPURIOUS PHONE CALLS AND FICTIOUS/FRAUDULENT OFFERS
IRDAI is not involved in activities like selling insurance policies, announcing bonus or investment of premiums. Public receiving such phone calls are requested to lodge a police complaint.