HDFC Life ClassicAssure Plus

Investment

HDFC Life ClassicAssure Plus

Investment

HDFC Life ClassicAssure Plus

Investment
For NRI Customers
(To Buy a Policy)
Call (All Days, Local charges apply)

Email ID

Whatsapp
---
(If you're our existing customer)
Call (Mon-Sat 10am-7pm, Local Charges Apply)

Email ID
For Online Policy Purchase
(New and Ongoing Applications)
---
Branch Locator
For Existing Customers
(Issued Policy)
Whatsapp

Call (Mon to Sat, from 10 am to 7 pm, Call charges apply)

Email
---
Fund Performance Check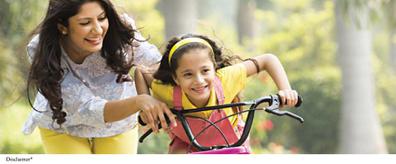 Types of Plans
Typically, you can choose to opt for one of two types of child plans:
1. Traditional Children's Plans:
A traditional child's plan could either be a money back plan, or an endowment plan. An endowment plan offers a one-time pay-out, while a money back plan offers your child survival benefits whenever they achieve an important milestone in their life. For example, your child will get part of the sum assured on reaching adulthood.
2. Unit-Linked Children's Plans:
These plans are like any other unit-linked plan in the market. The plan offers market-linked returns, and you can choose the kind of funds you would like to invest your money in. If anything were to happen to you during the tenure of the plan, the sum assured will be given to your child in a lump sum payment.
Choosing the Right Plan
Now that you have a better understanding of the kind of child insurance plansavailable in the market, let's take a look at a few tips that can help you choose the ideal plan for your child.
1. Prioritise Your Goals:
The first step to finding a good plan for your child is by understanding what your little one's financial requirements are. Take some time to figure out how much a post-graduate degree abroad would cost, or how much a specialised vocational course may cost and plan accordingly.
2. Check the Premiums:
While it is important that you should be able to afford and sustain the payment of premiums for your child's plan, you need to remember that lower premiums may not offer you all the benefits you require. Make a list of what you hope the child's plan will help your little one achieve, and then shortlist all the plans that can help you meet those goals. Comparing premiums amongst plans that offer the same benefits is more important that simply comparing the premiums of different kinds of plans.
3. Get a Head Start:
The earlier you invest in a child plan, the better it is for you and your child. If your plan is spread out over a longer tenure, your premiums could be lower. The longer you invest, the more your child will receive on the plan's maturity.
4. Understand Inflation:
While coming up with a financial plan for your child's future, it would be a mistake to ignore the impact of inflation. Generally, educational inflation tends to be higher than regular inflation, so you may need to pick a plan that offers you higher returns in the long run to be able to finance your child's educational needs.
A child's plan is one of the easiest ways for you to ensure that your little one's goals and dreams will be fulfilled. To start investing in your child's future, click here.
Related Articles:
How to Choose Child Insurance Plans
Tax Articles
Subscribe to get the latest articles directly in your inbox
Life & Term Articles
Investment Articles