HDFC Life ClassicAssure Plus

Investment

HDFC Life ClassicAssure Plus

Investment

HDFC Life ClassicAssure Plus

Investment
Online Buy Support
---
Branch Locator
Policy Holder Services
---
Fund Performance Check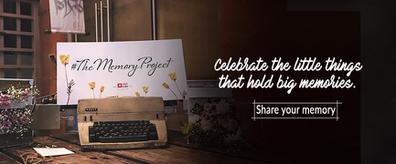 July 22, 2019
1581
The loss of a loved one can seldom be described in words and the pain can often linger for months, sometimes years.
Surviving through the death of a close person can take a huge emotional toll. But sometimes, memories of everyday gestures, reminiscences of traditions and traits and the emotional tug of objects left behind can be harnessed to help family and friends cope with the death of a loved one. An eccentric habit, a favourite song, a quirky eating habit or even simply a regularly used perfume can trigger remembrances that let loved ones live on in our midst long after they are gone. HDFC Life's 'The Memory Project' was born out of this simple yet unique realisation.
For the last three years, The Memory Project has been bringing people together to celebrate lives of departed dear ones through the emotional medium of art and music. Three editions of the Project have been successfully held over the years, each helping people connect with the memories of loved ones lost and provide a communal and individual sense of coping with grief. These evenings, bound by remembrances of objects, feelings, stories, traits and traditions have helped several people cope with grief and make peace with their loss. In the third edition, The Memory Project aimed to build a deeper connect with people who have lost their loved ones, and build a safe space for their memories to be cherished in. With a two pronged approach, on ground and digital, the third edition of the Memory Project decided to focus on the 'celebration of little things'.
Celebrating the little things
While HDFC Life has always been an empathetic partner to its customers' joys and sorrows, this year the company decided to go a step ahead and invite customers and fans to share their stories and photos of loved ones they had lost at www.thememoryproject.in. They were invited to share 'the little things' that defined their special relationship with the departed beloved. The shortlisted fans were then invited for an evening of music, art and poetry at Famous Studios, Worli, on 29 September.
Working through the 5 stages of grief
The evening was divided into five different phases that mark the five stages of grief a person goes through on the loss of a close person. Shock, denial, anger, depression and acceptance - each emotion a person goes through after the death of a loved one was sought to be captured through the evocative medium of verse and music.
It was an evening that would not be easily forgotten by those who attended, even as it helped them process their own feelings through a range of emotions expressed through performances. With his soul-stirring performance, talented pianist Sahil Vasudeva expressed the emotion of shock that is felt after the passing of a loved one. Performing artist Dasha Fogel skilfully expressed the emotion of denial experienced after the loss of a loved one through her artistic movements, and then renowned drummer Sambit Chatterjee took to his drums to express the emotion of anger that follows denial. A beautifully crafted spoken word poem delivered by Amandeep Singh recreated the sense of sorrow felt after the rage subsides, while Rudy Wallang and Tipriti Kharbangar of indie band Soulmate's stirring music helped guests find their path to healing. A heart-warming performance by Parvaaz frontman Khalid Ahmed cut through the darkness of negativity with a ray of acceptance.
The story so far
HDFC Life's The Memory Project has been conceived from the idea that often, feelings or incomparable sadness and loss remain unexpressed after the death of a loved one. These feelings need an outlet or a community for sharing in order that they can be processed and internal peace and harmony achieved. The Memory Project aims to help people go beyond sorrow and cherish the lives of their loved ones lost.
In its first edition, the Project focused on the objects and the emotional memories associated with the death of loved ones and helped bring light and joy into people's lives through an evening of storytelling sessions, musical performances, art and pictures.
In its second edition, spoken word performances and melodious renditions by talented artistes brought to life the values, traits and traditions left behind by our lost loved ones.
Art from the heart
It was for the third edition that The Memory Project decided to get a closer look at the oeuvre of the artists who brought alive the five stages of grief to help the audience assimilate their own emotions and come to terms with their loss. Each of the talented artistes had their own story of loss to share. Some have lost a younger sibling too early in life, some others have lost a cherished grandparent. All of them said they have channelized their memories of the loved ones and the grief on their deaths into an inspiration for their art. Watch to see how Khalid Ahmed, Rudy Wallang and Sambit Chatterjee harnessed their personal stories of grief into a journey of superlative performance art.
Go through the different memories, and share your own at thememoryproject.in
ARN: ED/10/19/16235
Recent Posts
Subscribe to get the latest articles directly in your inbox
Popular Post
HDFC Life Insurance Company Limited. CIN: L65110MH2000PLC128245, IRDAI Reg. No. 101.
Registered Office: Lodha Excelus, 13th Floor, Apollo Mills Compound, N.M. Joshi Marg, Mahalaxmi, Mumbai 400 011. Email: [email protected], Tel No: 1800-266-9777 (10 am to 7 pm). The name/letters "HDFC" in the name/logo of the company belongs to Housing Development Finance Corporation Limited ("HDFC Limited") and is used by HDFC Life under an agreement entered into with HDFC Limited.
For more details on risk factors, associated terms and conditions and exclusions please read sales brochure carefully before concluding a sale.
BEWARE OF SPURIOUS PHONE CALLS AND FICTIOUS/FRAUDULENT OFFERS
IRDAI is not involved in activities like selling insurance policies, announcing bonus or investment of premiums. Public receiving such phone calls are requested to lodge a police complaint.