HDFC Life ClassicAssure Plus

Investment

HDFC Life ClassicAssure Plus

Investment

HDFC Life ClassicAssure Plus

Investment
For NRI Customers
(To Buy a Policy)
Call (All Days, Local charges apply)

Email ID

Whatsapp
---
(If you're our existing customer)
Call (Mon-Sat 10am-7pm, Local Charges Apply)

Email ID
For Online Policy Purchase
(New and Ongoing Applications)
---
Branch Locator
For Existing Customers
(Issued Policy)
Whatsapp

Call (Mon to Sat, from 10 am to 7 pm, Call charges apply)

Email
---
Fund Performance Check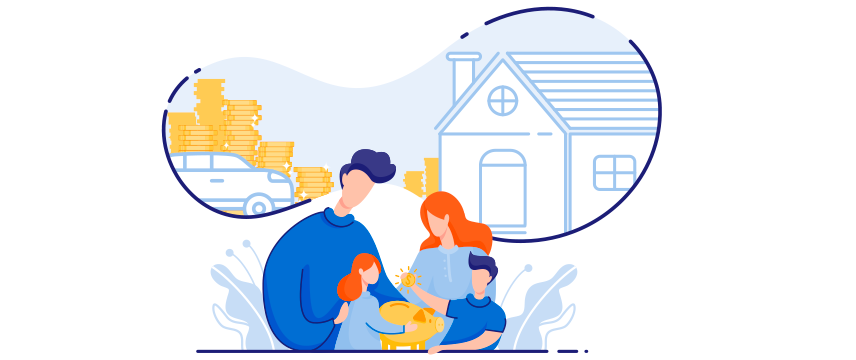 1. Living Alone
In your twenties, you may move out of your house with fresh job prospects in different locations. You may seek out a roommate to live with or rent out a flat for yourself. Either way, living alone comes with its fair share of heavy expenditure. Expenditure expresses itself as rent, grocery bills, electricity costs, subscriptions to OTT platforms, commute costs, and more. Living alone costs a lot more than your rent may reveal to you upfront. So it's important to be prepared with a corpus that you can use for your day to day living expenses. Additionally, ensure you are saving at least 30% of your income while living alone as well. These funds serve as useful for other life milestones.
2. Starting a Family
One of the biggest life milestones that require extensive financial planning is that of starting a family. Before bringing children into your family, having adequate savings in place to provide for them, their education, and lifestyle is absolutely crucial. Many couples keep aside savings years in advance before they choose to start their own family. This is also the time to consider life insurance as an investment in the future of your family. Life insurance provides the necessary financial cover your family members may need in case of an emergency and in the event of you no longer being around to support them.
3. Rainy Days
The phrase "saving for a rainy day' originated with the goal of fostering saving for a time when you may need to make use of the assets the most. Rainy days are otherwise classed as 'emergencies' such as a slowed economy, sudden job loss, unexpected accidents, and more. The point of saving is to create that corpus that will help you and any loved one sustain themselves through a potential rough patch. Emergencies can show up in any shape or form, so being prepared is the best way to deal with them.
4. Child/Late Education
Education is among the top expenditures one is likely to make in their lifetime. Most parents want to send their children to colleges abroad where they get access to world-class faculty, diverse classrooms, and state of the art resources. In some cases, you may find yourself wanting to carry out your postgraduate diploma later in life for a career and/or interest related reason. Education can feel like it costs an arm and a leg without adequate savings in place. The ideal corpus for your education savings starts years in advance, so start now itself.
5. Retirement
Retirement should always feel smooth sailing and stressful and you shouldn't have to scramble to secure finances at the last minute. Depending upon what age you've decided to retire by, an online calculator can estimate the quantity of savings you should have for that time. The number is usually quite high and requires taking active decisions towards saving early on during your career. Retirement savings are something you should be able to secure for yourself as it is a tough stage to get help in. If anything, your rainy-day corpus comes in handy during retirement eventually.
Conclusion
Life offers many milestones where savings are essential. One of the easiest ways to build a savings corpus while protecting your loved ones from the financial hardship of you not being around is HDFC Life's Sanchay Plus. This Flexibility scheme offers you assured returns with the option of receiving your maturity benefits either as a lump sum payout or as regular payments periodically.
Opt for the HDFC Life's Sanchay Plus lifelong income option*, which guarantees a steady income till you turn 99. Alternatively, you could also go for the long-term income option. In this case, your periodic income payouts from the HDFC Life's Sanchay Plus will span a duration of 25 to 30 years. Saving and receiving an income replacement was never easier.
ARN:ED/09/20/20577
Tax Articles
Subscribe to get the latest articles directly in your inbox
Life & Term Articles
Investment Articles