HDFC Life ClassicAssure Plus

Investment

HDFC Life ClassicAssure Plus

Investment

HDFC Life ClassicAssure Plus

Investment
To Buy Online
---
Branch Locator
For Existing Customers
---
Fund Performance Check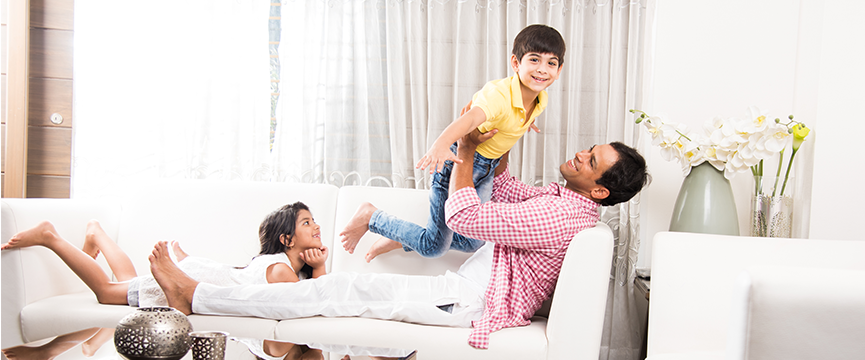 August 27, 2020
1987
Former president of the US, Barack Obama, famously said, "Any fool can have a child. That doesn't make you a father. It's the courage to raise a child that makes you a father." Being a dad means being active and engaging. According to several research findings, a child's well-being, education, behaviour and mental strength all depend on their dad's involvement in their upbringing. Children raised by an involved father tend to have healthy self-esteem and a high degree of emotional intelligence. But what are the common characteristics of a good father? Here are the 7 markers of a great dad:
# 1. Teaches life skills
From teaching your children to fixing bike tires to changing a car tyre. And from putting up a shelf to servicing the car. A great dad always ensures that he has taught his kids how to do countless important tasks for themselves. British writer C.S. Lewis while talking about Scottish writer George MacDonald's famous fantasy novel Phantastessays, "An almost perfect relationship with his father was the earthly root of all his wisdom." Besides emphasizing on the need to owning a tool bag, a good father ensures that his kids are resourceful and well-prepared for any situation.
# 2. Spends quality time
Be there through thick and thin. Consistency is the key to having a good relationship with your child. Noted sociologist Dr David Popenoe once said, "Fathers are far more than just second adults in the home. Involved fathers bring positive benefits to their children that no other person is as likely to bring". For any relationship, it is important to spend quality time. But for a child, nothing helps him/her develop into a well-adjusted adult than the time they spend with his/her father.
French author and novelist Antoine Francois Prevost said, "The heart of a father is the masterpiece of nature". It is important to be involved with your children at various stages of their lives, and more. As a father, you will have to adapt small changes in your role with the age of the child. Additionally, a father needs to understand the subtle changes when raising a boy versus raising a girl. While for boys, their dad is a role model but for a girl, her father is a superhero. A father teaches his child what it means to feel loved and cared for.
# 3. Treats kids as friends
There is a Sanskrit saying, "Alayethpanchavarshanidashavarshanithadayeth. PrapthethushodashevarsheputhrammithravadhAchareth". Loosely translated it means, "Indulge a child for the first five years of his life, for the next ten years deal firmly with the child. Once the child is sixteen, treat him as a friend". Be engaged in your child's life on a daily basis. An ideal goal would be for a parent to receive a call from their child for no reason at all.
A father should ideally be one of the first people to know about some new happening in his child's life. Take time to understand his/her dreams and hopes. Be curious, attentive, understanding, present and engaging. A child should want to talk to his/her father about whatever is on his/her mind and the father should have stories and fatherly wisdom to offer. Take delight in your child. Put yourself in his/her shoes and let them be heard, respected and valued.
# 4. Teaches them the value of relationships
As a dad, you will have to be a role model for your child. In addition to shaping a child's self-esteem and sense of identity, fathers also influence how a child looks at relationships with other people. Children are always watching their parents. So the way a father treats others, be it family, or friends is how a child most likely will. Always be on your best behaviour in your child's presence - no swearing, complaining, or picking fights! Do not be afraid to show family and friends how much you care.
# 5. Makes them financially literate
If a child can manage his/her money, then as a parent you have done well. While emphasizing on the value of honest and hard work, it is also important that a father teaches his children to manage their finances. Younger they are, easier it is to mould. Although not very prevalent in Indian culture, you can start helping young children understand the concept of money. Giving them pocket money to do additional chores like washing the car, cooking breakfast or doing a home improvement project. If they've worked hard for their money and you can better underline the value of it. Fathers should teach a child how to operate his/her bank account, balance a cheque book, and read literature on finance.
# 6. Values his life partner
One of the most essential things that a father needs to do is treat their mom like a queen. A great father respects, values and thinks highly of his children's mother. Studies have shown that when fathers are affectionate and supportive, it greatly affects a child's cognitive and social development. It also instils an overall sense of well-being and self-confidence. To be a good father you need to ensure that you always treat your spouse with tenderness and care. Validate her for who she is, with all her imperfections. Children learn from actions, not just thoughts.
# 7. Provides for his family
A good father always has healthy work ethics. You need to ensure that you are a steady provider. Work towards seeing that the family has all the necessities of life. A great dad has to build a strong foundation to help raise his kids to be the best version of themselves. He has to ensure that whether it's education, work or love that's proving difficult, his kids have the tenacity to keep going.
To conclude
Raising children is a crazy, exhausting, wonderful rollercoaster of an experience. An Australian poet Pam Brown once said, "Dads are most ordinary men turned by love into heroes, adventurers, story-tellers, and singers of song." The best fathers know there is nothing more rewarding than raising a son or daughter that you can be proud of. The best fathers also plan for their kids" future even as they shape their present. As an aware parent, a sound financial plan like HDFC Life Click2Wealth will help you secure your child's future, even as you safeguard your wealth to ensure that all your goals along the way are met.
Remember, there is no "right" way to parenting. Be confident that you've done all you can. What matters is your love and affection for your children.
ARN: ED/07/20/19906
Tax Articles
Subscribe to get the latest articles directly in your inbox
Life & Term Articles
Investment Articles
Calculators
HDFC Life Insurance Company Limited. CIN: L65110MH2000PLC128245, IRDAI Reg. No. 101.
Registered Office: Lodha Excelus, 13th Floor, Apollo Mills Compound, N.M. Joshi Marg, Mahalaxmi, Mumbai 400 011. Email: [email protected], Tel No: 1800-266-9777 (10 am to 7 pm). The name/letters "HDFC" in the name/logo of the company belongs to Housing Development Finance Corporation Limited ("HDFC Limited") and is used by HDFC Life under an agreement entered into with HDFC Limited.
For more details on risk factors, associated terms and conditions and exclusions please read sales brochure carefully before concluding a sale.
BEWARE OF SPURIOUS PHONE CALLS AND FICTIOUS/FRAUDULENT OFFERS
IRDAI is not involved in activities like selling insurance policies, announcing bonus or investment of premiums. Public receiving such phone calls are requested to lodge a police complaint.