HDFC Life ClassicAssure Plus

Investment

HDFC Life ClassicAssure Plus

Investment

HDFC Life ClassicAssure Plus

Investment
For NRI Customers
(To Buy a Policy)
Call (All Days, Local charges apply)

Email ID

Whatsapp
---
(If you're our existing customer)
Call (Mon-Sat 10am-7pm, Local Charges Apply)

Email ID
For Online Policy Purchase
(New and Ongoing Applications)
---
Branch Locator
For Existing Customers
(Issued Policy)
Whatsapp

Call (Mon to Sat, from 10 am to 7 pm, Call charges apply)

Email
---
Fund Performance Check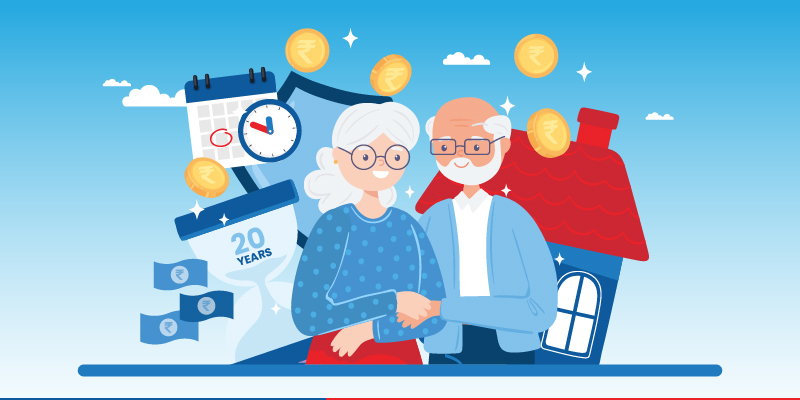 In this policy, the investment risks in the investment portfolio is borne by the policyholder
Most young professionals dream of a time when they can hang up their work boots and retire. Many of us have a list of travel plans and other dreams we'd like to accomplish when we have more time. You must carefully plan your retirement finances to achieve all your goals. Let's see how a 20-year retirement plan helps you fulfil your retirement dreams.
What Is a 20-Year Retirement Plan?
A 20-year retirement plan helps you build a corpus for retirement over two decades. It provides investment avenues, guaranteed returns and life coverage, protecting your future and family's finances. HDFC Life Click 2 Retire* Unit-Linked Insurance Plan (ULIP) lets you choose investment options based on your risk appetite and financial goals. It enables investors to adjust their fund allocation in the future to meet dynamic needs.
How Does a 20-Year Retirement Plan Work?
Let's better understand how a 20-year retirement plan works with an example. Shruti is a 35-year-old mother of two. She and her husband both enjoy higher management roles in MNCs. They earn a steady income that allows them to enjoy a high standard of living. They intend to retire by 65 and spend the rest of their time doing charity work and travelling across India. Shruti plans for her retirement with the HDFC Life Click 2 Retire policy. The plan offers her market-linked and guaranteed benefits along with insurance coverage. Shruti knows that her income allows her family to enjoy a lavish life. The insurance coverage lets her rest assured that her family will receive a payout to maintain financial stability if anything happens to her. She pays a premium of INR 2 lakhs every year for 20 years. The amount gets invested in various funds that provide steady returns. After twenty years, when the plan matures, Shruti can withdraw up to 60% of the corpus. She uses the remaining 40% to purchase an immediate annuity that provides guaranteed income for life. The income helps her fulfil her goals of giving to charity and travelling across India.
Why Choose a 20-Year Retirement Plan?
Let's better understand why you should opt for a 20-year plan. 
Builds Financial Discipline
When you select a 20-year plan, you build financial discipline. Regular investments encourage you to save and put money away for the future. A 20-year plan allows you to plan to meet your long-term financial goals.
Guaranteed Returns
A 20-year retirement plan offers guaranteed benefits, securing your financial future. The added insurance coverage ensures your loved ones maintain financial stability even if something happens to you.
Investment Flexibility
The HDFC Life Click 2 Retire plan offers the flexibility to select how your money gets invested and grows. If you're risk-averse, you can opt for guaranteed vesting benefits on maturity or limit your investment to safe avenues like debt funds.
Tax Benefits
The HDFC Life Click 2 Retire plan provides tax benefits based on prevailing laws.
Things to Consider Before Selecting a 20-Year Retirement Plan
Evaluate the following considerations before selecting a 20-year retirement plan.
Your Goals
Determine your retirement age and goals. Do you want to retire at 50? Would you like to travel or pursue a hobby in your golden years? Depending on when you want to retire and what you'd like to achieve, you can select a plan that aligns with your goals.
Current Finances
Evaluate your assets, income sources, liabilities and existing investments. Understand how much you still need to secure your retired life. Select a plan that helps bridge the gap between how much you have and what you need.
Risk Appetite
Companies offer various kinds of retirement plans. Some enable you to invest in market-linked instruments, and others use the power of compounding to grow your corpus exponentially for guaranteed returns. Evaluate your risk appetite. Think about whether you can afford high-risk, high-reward investments. If you're risk-averse, guaranteed returns could be better. Select a plan that suits your risk appetite.
Account for Inflation
Consider the impact of inflation on your finances while selecting a retirement plan or pension scheme. Ensure you choose a policy that helps you beat the inflation rate to enjoy a secure financial future. It should let you maintain your lifestyle and standard of living once you retire.
Insurance Coverage
Retirement plans help you and your spouse or other dependents enjoy a comfortable life. Evaluate the insurance coverage offered by retirement plans. Understand your Human Life Value (HLV) and select an option that safeguards your family's financial future.
Selecting the ideal retirement plan requires careful consideration. Understand your goals and dreams. Then, evaluate the 20-year retirement options available and choose one that aligns with your needs. A 20-year retirement plan offers adequate time to build a significant corpus to help you meet your goals. While planning for the future, the earlier you start the better.
Related Article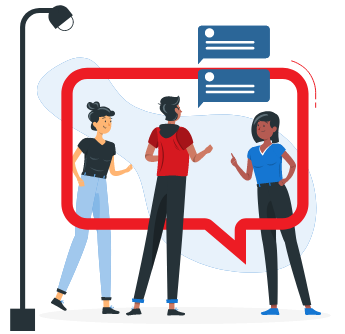 Not sure which insurance to buy?
Talk to an
Advisor right away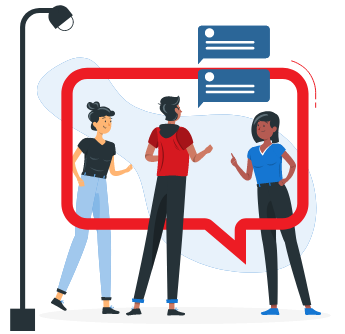 We help you to choose best insurance plan based on your needs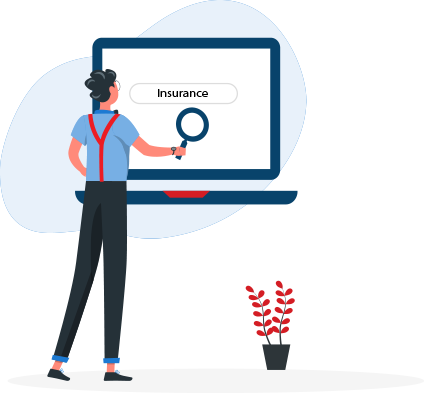 *HDFC Life Click 2 Retire (UIN No: 101L108V04, Form No: P501) is a Unit Linked Pension Product.
The Unit Linked Insurance products do not offer any liquidity during the first five years of the contract. The policyholders will not be able to surrender or withdraw the monies invested in Unit Linked Insurance Products completely or partially till the end of fifth year.
Unit Linked Life Insurance products are different from the traditional insurance products and are subject to the risk factors. The premium paid in Unit Linked Life Insurance policies are subject to investment risks associated with capital markets and the NAVs of the units may go up or down based on the performance of fund and factors influencing the capital market and the insured is responsible for his/her decisions. HDFC Life Insurance Company Limited is only the name of the Insurance Company, The name of the company, name of the contract does not in any way indicate the quality of the contract, its future prospects or returns. Please know the associated risks and the applicable charges, from your Insurance agent or the Intermediary or policy document of the insurer. The various funds offered under this contract are the names of the funds and do not in any way indicate the quality of these plans, their future prospects and returns.