HDFC Life ClassicAssure Plus

Investment

HDFC Life ClassicAssure Plus

Investment

HDFC Life ClassicAssure Plus

Investment
For NRI Customers
(To Buy a Policy)
Call (All Days, Local charges apply)

Email ID

Whatsapp
---
(If you're our existing customer)
Call (Mon-Sat, 10am-9pm IST, Local Charges Apply)

Email ID
For Online Policy Purchase
(New and Ongoing Applications)
---
Branch Locator
For Existing Customers
(Issued Policy)
Whatsapp

Call (Mon to Sat, from 10 am to 7 pm, Call charges apply)

Email
---
Fund Performance Check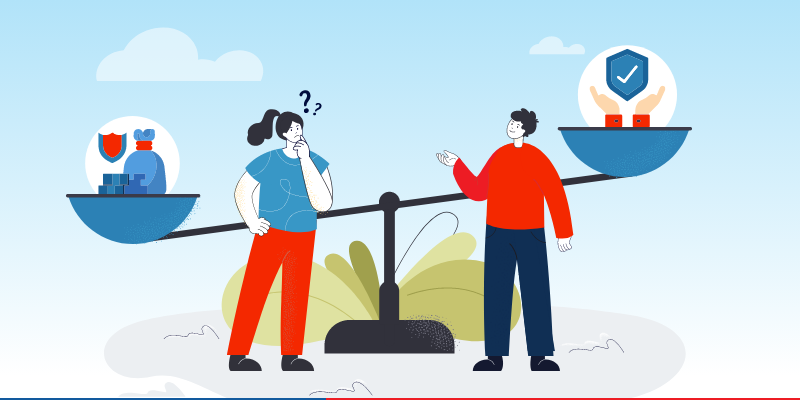 Table of Content
Every insurance product comes with its fair share of pros and cons. This makes it difficult for most of us to decide what to opt for, especially with financial advisors endorsing a variety of options and investment philosophies based on their individual understanding. Even a product as simple and straightforward as term insurance continues to draw comparisons with more contemporary and complex instruments like ULIPs, which only adds to the confusion of new investors.
If, like many others, you too have been wondering whether to invest your money in a ULIP or buy a term insurance plan instead, here's everything you need to know about the two products that will help you make up your mind.
What is Term Insurance?
As the name suggests, term insurance provides life cover for a specific period of time. You have the flexibility to choose this term, and it could be anything between 5 years to your entire life. Since these are plain insurance plans, their premiums are highly affordable. However, if you stop paying the annual premium at any point, the policy will end. Additionally, it's important to note that there is no payout at the end of the term should you outlive the policy. The insurance covers only one risk – death.
What are ULIPs?
ULIPs, or Unit Linked Insurance Plans, provide you with life cover along with an investment avenue. One part of the premium you pay is used as mortality charges to offer you insurance, and the other part is invested in various investment options such as bonds, debts, equities, or a hybrid fund. When it is time to receive the payout upon maturity of the plan, you'll be entitled to the sum assured and/or the fund value of the unit-linked investments.
The Benefits of Term Insurance and ULIPs
Both term plans and ULIPs offer a number of unique advantages. Let's see how these advantages compare to each other:


| | | |
| --- | --- | --- |
| Advantage | Term Plan | ULIP |
| Affordability | The premiums for term plans are some of the lowest in the market. | A ULIP has a number of charges associated with it, so the premiums can be considerably higher than that of term insurance. |
| Financial Security | The sum assured will go to your nominee in case something were to happen to you. | Should anything happen to you, the sum assured will be provided to your nominee. Additionally, the money that is invested could earn yields based on market conditions and help you fulfil long-term financial goals. |
| Tax Benefits | Under Section 80C of the Income Tax Act, life insurance premiums up to Rs. 1.5 lakh per annum are exempt from taxes. And under Section 10 (10D), the death benefit received by beneficiaries is fully exempt from any taxes. | All payouts received are exempt under section 10D of the Income Tax Act, 1961. Additionally, you are entitled to tax rebates for premiums paid under section 80C. |
| Investment Flexibility | Unfortunately, term plans don't allow you to invest money for the future, and there is no payout should you outlive the policy. | ULIPs are accompanied by a range of diverse investment options like market funds, debts, equities, and so on. You can pick any depending on your risk appetite and other financial considerations. You can even switch from one fund to another in order to earn the most returns. |
The Winner?
Term insurance plans are the most risk-free way to secure the future of your loved ones in case something happens to you. They are specifically useful if you are looking to do that at low premiums and for a high sum assured. On the other hand, ULIPs offer investment opportunities along with life cover. Unlike term insurance, you can enjoy a maturity benefit and fulfil long-term goals, thanks to the returns on investment.
Both policies serve different purposes, and therefore, you should not pick one over the other. Adding both to your financial portfolio will not only help you secure the financial future of your family but also build a corpus for your retirement and other future needs. That is why it's wise to supplement your term plan with a ULIP, or vice versa. To protect your loved ones, click here. And to fulfil all your financial goals, clickhere.
Tax Articles
Subscribe to get the latest articles directly in your inbox
Life & Term Articles
Investment Articles