HDFC Life ClassicAssure Plus

Investment

HDFC Life ClassicAssure Plus

Investment

HDFC Life ClassicAssure Plus

Investment
For NRI Customers
(To Buy a Policy)
Call (All Days, Local charges apply)

Email ID

Whatsapp
---
(If you're our existing customer)
Call (Mon-Sat, 10am-9pm IST, Local Charges Apply)

Email ID
For Online Policy Purchase
(New and Ongoing Applications)
---
Branch Locator
For Existing Customers
(Issued Policy)
Whatsapp

Call (Mon to Sat, from 10 am to 7 pm, Call charges apply)

Email
---
Fund Performance Check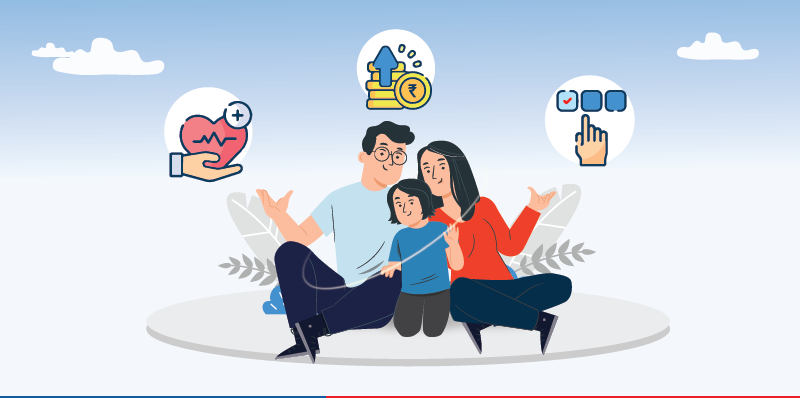 A 'plus' to your insurance plan
So what's new in the HDFC Life C2P+ plan and what are the additional features available? Let's have a look:
Affordability:
While HDFC Life C2P is an affordable plan, HDFC Life C2P+ has retained this feature; you can get a life cover of Rs 1 crore for a mere Rs 535 per month* under HDFC Life C2P+.
Customisability:
HDFC Life C2P offers death benefit along with tax benefits****. HDFC Life C2P+ goes beyond the realm of mere online term plans and offers additional customisability. This means that one can opt from various options on how death benefit is provided to nominee in case of policy holder's demise. These options are:
Life Option: Nominee will receive a lump sum on death.
Extra Life Option: Nominee receives a lump sum as well as an additional one-time payment in case of accidental death.
Income Option: A part of the death benefit is paid out as a lump sum and the rest is paid to nominee in the form of a monthly income spread out over a period of 15 years.
Income Plus Option: The entire death benefit due is paid to nominee and he also receive a monthly income equal to 0.5 per cent of the sum assured for the next 10 years. One can choose to receive a flat income or have a 10 per cent increase in income each year till income is due.
Life Stage Protection:
Life Stage Protection is a new addition to HDFC Life C2P+. Available under the life option of HDFC Life C2P+ for customers aged below 45, you can use this feature to increase your sum assured with every important milestone in your life. As an example, when you get married, you can increase the policy cover by 50% or maximum of Rs 50 lakhs; on the birth of your first child, you can further increase the cover by 25% or maximum of upto 25Lakhs and subsequently on the birth of the second child, you can do the same. After the age of 45, you have the opportunity to decrease your risk cover based on your family circumstances as well.
No Medicals:
If you are under 45 and a non-smoker, you do not need to undergo a medical test if the sum assured is less than Rs 50 lakh, however there can still be medical test requirement basis your medical history.
For greater flexibility over the course of your life in terms of sum assured and premium paid, HDFC Life C2P+ is the ideal option. It is a plan that adds more value to an already excellent HDFC Life C2P plan.
 

C2P

C2P+

Minimum Entry Age

18 years

Remains the same

Maximum Entry Age

55 years

Has been further increased to 65 years

Maximum Maturity Age

65 years

With the 10 years added in the entry age, Maturity age has also been increased to 75 years

Minimum Sum Assured:

Rs 10,00,000

Keeping ever-increasing inflation as concern, we assure minimum sum of Rs 25,00,000

Maximum Sum Assured:

Rs 10,00,00,000

Because your nominee should never adjust in life so there is no upper limit on sum assured

Minimum Annualized Premium

Rs 2000

When minimum sum assured is inc

reased by 15,00,000, minimum annual premium is just Rs 3000

Policy Terms

10/15/20/25/30 years

Protection should be provided for a longer period. Hence range for policy term is 10 to 40 years (subject to meeting the maximum maturity age)

Premium Paying Options

Regular Pay Only

In C2P+, you have multiple premium paying options: Regular pay- you pay premiums throughout the chosen policy term OR Limited pay- you pay premiums for your chosen policy term less 5 years OR Single pay – you pay premium once

Premium Paying Frequency

Annual only

We understand your financial concerns and hence you can pay on multiple frequencies - Single, annual, half-yearly, quarterly and monthly**

Tax Benefit Under 80C

Yes

Yes

Tax Exemption on Benefits Received under 10 (10D)

Yes

Yes

Life Option

pays lump sum on death

pays lump sum on death

Extra Life Option

N.A.

Not just death benefit but additional accidental death benefit

Income Option

N.A.

Handles money for your nominee. 10% of Death benefit is paid on death and the remaining 90% is paid as monthly income(0.5% of Death Benefit) for 15 years

Income Plus Option

N.A.

Nominee might need money in both forms - lumpsum and monthly payouts for routine expenses. 100% of Sum Assured is paid on death and a monthly income equal to 0.5% of Sum Assured becomes payable for a period of 10 years. The monthly income can be level or increasing at 10% p.a. as chosen by the policyholder..

Life Stage Protection

N.A.

Flexible coverage based on special events in your life. Increase your Insurance CoverMarriage, Birth of 1st child and/or 2nd child***
| | | |
| --- | --- | --- |
| ***Events# | Additional Sum Assured Subject to maximum (percentage of Sum Assured) | Additional Sum Assured |
| Marriage | 50% | Rs. 50,00,000 |
| Birth of 1st child | 25% | Rs. 25,00,000 |
| Birth of 2nd child | 25% | Rs. 25,00,000 |
*Premium amount for Regular Pay, Male, non smoker, 25 years of age, 30 year policy term & under Income Option, exclusive of taxes.
**Subject to our prevailing operational rules, it may be required for Monthly Frequency to be taken with ECS/SI and to pay first 3 months premium in advance
****Tax benefits are subject to changes in tax laws
Similar Articles:
Life Insurance Plans Comparison
Tax Articles
Subscribe to get the latest articles directly in your inbox
Life & Term Articles
Investment Articles