HDFC Life ClassicAssure Plus

Investment

HDFC Life ClassicAssure Plus

Investment

HDFC Life ClassicAssure Plus

Investment
For NRI Customers
(To Buy a Policy)
Call (All Days, Local charges apply)

Email ID

Whatsapp
---
(If you're our existing customer)
Call (Mon-Sat, 10am-9pm IST, Local Charges Apply)

Email ID
For Online Policy Purchase
(New and Ongoing Applications)
---
Branch Locator
For Existing Customers
(Issued Policy)
Whatsapp

Call (Mon to Sat, from 10 am to 7 pm, Call charges apply)

Email
---
Fund Performance Check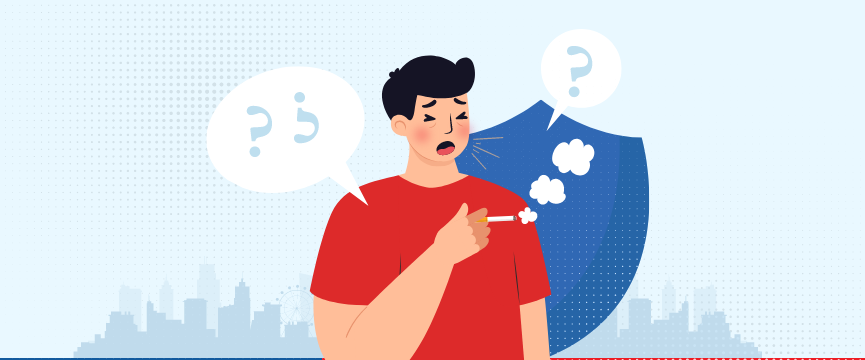 In 2016, 267 million Indians above the age of 15 used tobacco products. Tobacco usage often leads to chronic issues like cancer, cardiovascular disease, stroke, and lung disease. The WHO reports that tobacco use is responsible for almost 1.35 million deaths in India every year. Given the negative impact tobacco can have on a person's life, it comes as no surprise that insurers profile smokers as high-risk and provide them with separate term plans.
Who Is Considered a Smoker?
Your insurer will ask you the following three questions when you buy term plan online to understand if you are a smoker:
Do you consume nicotine and/or tobacco products?
Have you used a tobacco product in the past four years?
Have you ever consumed a tobacco product?
If you answer any of the questions with yes, your insurer classifies you as a smoker. There are further sub-classes that you might get put under:
Preferred Smoker

Individuals who smoke but are fit and do not have any other health issues are preferred smokers. The premiums they pay for term plans are comparatively lower.

Typical Smoker

Smokers with minor but lingering health issues are typical smokers. They might have to pay a higher premium than preferred smokers.

Table-rated Smoker

People who smoke and have other obvious health issues fall in this category. Often, insurers will charge these individuals a higher premium to offset their risk.
What if I start Smoking later?
If you have already purchased a term plan and become a smoker later on, you do not have to inform your insurer. However, it's always best to be honest to avoid potential issues later.
For example, if you do not inform your insurer that you have become a smoker and something happens during the policy term, it may appear like fraud to the insurance company. They might delay the payout until they can verify the claim request. Once you inform the insurance company, they may let you continue with your policy or might re-evaluate it and increase your premium.
What happens if I Lie about Smoking?
When you buy term plan online or offline, you enter a legal contract with the insurance company. As with all contracts, you should provide accurate information to avoid the insurer cancelling your policy. If you are dishonest about your smoking habits and the insurance company discovers that you lied, they will cancel the existing policy, leaving your family without the financial protection you hoped to give them.
What happens if I Quit Smoking?
In India, most insurers do not allow you to change your term insurance status from smoking to non-smoking. If you quit smoking, it will likely not have any impact on your premium or policy. You can opt to continue with your plan as is or after quitting for a few years, you can re-apply for a new term plan as a non-smoker. If you choose the second option, you must be honest about your smoking habits in the past and accurately state for how long you've been tobacco-free. If you can qualify as a non-smoker, you could enjoy a benefit on premiums.
However, since you're older than you were when you purchased your previous policy, the premium benefit might be negligible or get cancelled out. Some insurers allow you to apply for reconsideration of your plan as long as you have not consumed any tobacco products for a few years. They may consider reducing your premium if you are tobacco-free, but it will likely still be higher than if you were a non-smoker from the beginning.
Whether you're a smoker or not, you must secure your family's financial future with a term plan. These policies provide life coverage, ensuring your family will be taken care of even if something were to happen to you. When you purchase a policy, you must be honest about your lifestyle habits and medical conditions. Your insurer will provide policy terms and conditions based on the information you provide. If they find out that you were knowingly dishonest, they will cancel your policy and might even file a complaint of insurance fraud against you. The best way to secure your family's finances is by being honest.
Image Source - https://unsplash.com/photos/ryBnRg4c3L0
Disclaimer
HDFC Life does not promote smoking. The content is not intended to provide health advice to individuals about their smoking habits.
Related Articles
ARN - ED/09/22/28831
Tax Articles
Subscribe to get the latest articles directly in your inbox
Life & Term Articles
Investment Articles