Why you need this Plan ?
Provide financial security at an affordable price
Ensure your family has comprehensive security always
Maintain the family's standard of living even in one's absence
Cover against the 3 uncertainties - death, disease and disability
PROTECT YOUR LOVED ONES WITH LIFE INSURANCE COVER IN A FEW SIMPLE STEPS
Features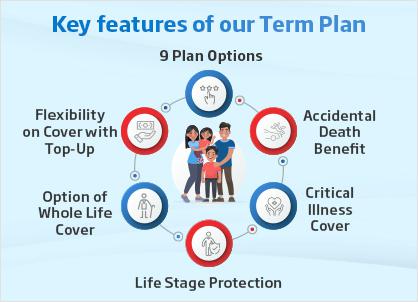 Provide financial protection to you and your family at an affordable cost 

Customize your online term plan with a choice of 9 plan options

All future premiums are waived on Accidental Total Permanent Disability (available under all options) and on diagnosis of Critical Illness (available under 3D Life & 3D Life Long Protection options) 

Protect yourself for whole of life with Life Long Protection & 3D Life Long Protection options

Flexibility to choose your policy and premium payment terms

Life Stage Protection feature offers to increase insurance cover on certain key milestones without medicals 

Flexibility to increase your cover every year through top-up option 

Special premium rates for female lives

Attractive premium rates for non-tobacco users 

Tax benefits* as per prevailing tax laws 

*Tax benefits are subject to change from time to time

* Total Premiums Paid means total of all the premiums received, excluding any extra premium, any rider premium and taxes.
Benefits
Benefits
HDFC Life Click2Protect 3D plus provides you with 9 plan options
Advantages

HDFC Life Click 2 Protect 3D Plus
Accidents happen! Add a little "extra" to your term plan and protect your family in your absence with HDFC Life Click 2 Protect 3D Plus - Extra Life Option. Life cover of Rs. 1 Cr at just Rs. 36/day*
*Online Premium for Extra Life, Male Life Assured, 25 years of Age, Lumpsum Benefit of Rs. 1 Crore for premium payment term of 40 years, Annual Frequency, Exclusive of Taxes. (Annual Premium Of Rs. 12783/365= Rs. 35.02/day)
Eligibility
| | | | | | |
| --- | --- | --- | --- | --- | --- |
| Eligibility Criteria | Life Option | 3D Life Option, Extra Life Option, Income Option, Extra Life Income Option | Income Replacement Option,Return of Premium Option | Life Long Protection Option | 3D Life Long Protection Option |
Min Age at Entry

18 Years

18 Years

18 Years

25 Years

25 Years

Max Age at Entry

65 years

Min Policy Term

Single Pay : 1 month Regular Pay, Limited Pay : 5 years

5 years

5 years

Whole of Life

Whole of Life

Max Policy Term

(85 years - Age at Entry)

(85 years - Age at Entry)

40 years

Premium Payment Mode

Single Pay$, Regular Pay,
Limited Pay : 5 years to (84 - Age at Entry)

Single Pay$, Regular Pay,
Limited Pay : 5 years to (84 - Age at Entry)

Single Pay, Regular Pay,
Limited Pay : 5 years to 39 years

Limited Pay : (65 - Age at Entry) or (75 - Age at Entry)

Limited Pay : (65 - Age at Entry)

Premium Payment Frequency

Single, Annual, Semi-Annual, Quarterly, Monthly

Single, Annual, Semi-Annual, Quarterly, Monthly

Single, Annual, Semi-Annual, Quarterly, Monthly

Annual, Semi-Annual, Quarterly, Monthly

Annual, Semi-Annual, Quarterly, Monthly

Min Age at Maturity

23

23

23

Whole of Life

Whole of Life

Max Age at Maturity

85

85

85

Minimum Basic Sum Assured

Rs. 10,000
For Income and Extra Life Income options, the minimum income term shall be 1 month and the maximum income term will be 20 years.
All ages are expressed as on last birthday
$Single pay option is not available under 3D Life Option
FAQs
Downloads
Product Brochure Download
Things to know
Are You Making The Common Mistake Of Considering Term Plan As An Investment?
Many people typically buy a financial product only when they get returns. As a consequence, they consider term insurance plans as an investment. The truth is that a term plan is a pure insurance product that provides financial protection to your family which pays the family when the insured's eventuality, such as death or critical illness, occurs. Here's why you should not view online term plans as investments.
Explained! The Differences Between Buying A Term Plan Online And From An Advisor
Now that you have decided to buy a term plan, the next question on your mind will be whether to approach an advisor or buy the plan online all by yourself. We tell you how these two approaches work and which one you should use given the circumstancess.
Why Buying The Term Plan Later Will Be Costlier Than You Think
We have all heard the saying "stitch in time saves nine" referring to the importance of doing things on time or face the consequences of the delays. The age old wisdom works pretty well when it comes to delays in buying life insurance, especially term plans. Mostly people wait for events like marriage or parenthood to buy a term plan when the need to protect their loved ones dawns on them. However, buying a term plan later in life is more disadvantageous than it may appear.
This is to state the obvious. Without a high life insurance coverage term plan you and your family remain exposed during a phase of life when, in your absence, your savings will not be enough for your family to meet regular expenses and future needs.  If the worst were to happen, your investments would also have to undergo premature liquidation. This effectively is a huge cost your family will have to pay at a time of great need.If you buy a term plan when young, your premiums are lower compared to buying them later. This is because of lower mortality charge levied by the life insurance company which increases with age. So, more the delay in buying the term plan, higher the premium you will end up paying. On the other hand, if you buy a term plan early on, besides paying a low premium, you enjoy this advantage throughout the term of the plan.If you buy a term plan at early age then most of the medical tests are waived off or are lighter in nature. However, as you get along with the years, medical conditions surface typically from the late 30's to 40s. At this stage, medical tests are comprehensive and in the event of detection of complications, you will need to pay a higher premium. Also, you could be charged a higher premium if you have been suffering from ailments in the period leading up to buying the plan.
Postponing the purchase of a term plan leads to certain consequences which few people anticipate. With time you have other financial obligations such as meeting regular obligations like home and car loan EMIs, school education expenses of your children. This means there will be competing demands for your money by many important heads of expenses. The term plan premium payment only adds to the difficulty.
As you progress in life, your income and savings go up. It is important that this savings is deployed in investments in progressively increasing amounts to meet all future needs with ease. This process is likely to get disturbed if your finances get stretched thanks to premium obligations. Remember, the life insurance cover needed in later years will keep rising as you are likely to have increasingly higher living expenses and aspire for upgraded goals like foreign education for children, instead of studies in India. 
Clearly, the cost of a delay in securing your family with a term plan is much more than what meets the eye initially. There is little doubt that you owe to your family the stitch in time especially when it comes to securing them. 

HDFC Life Click 2 Protect 3D Plus
Accidents happen! Add a little "extra" to your term plan and protect your family in your absence with HDFC Life Click 2 Protect 3D Plus - Extra Life Option. Life cover of Rs. 1 Cr at just Rs. 36/day*
*Online Premium for Extra Life, Male Life Assured, 25 years of Age, Lumpsum Benefit of Rs. 1 Crore for premium payment term of 40 years, Annual Frequency, Exclusive of Taxes. (Annual Premium Of Rs. 12783/365= Rs. 35.02/day)
Stay updated with HDFC Life
Get HDFC Life updates in your mailbox