HDFC Life ClassicAssure Plus

Investment

HDFC Life ClassicAssure Plus

Investment

HDFC Life ClassicAssure Plus

Investment
For NRI Customers
(To Buy a Policy)
Call (All Days, Local charges apply)

Email ID

Whatsapp
---
(If you're our existing customer)
Call (Mon-Sat, 10am-9pm IST, Local Charges Apply)

Email ID
For Online Policy Purchase
(New and Ongoing Applications)
---
Branch Locator
For Existing Customers
(Issued Policy)
Whatsapp

Call (Mon to Sat, from 10 am to 7 pm, Call charges apply)

Email
---
Fund Performance Check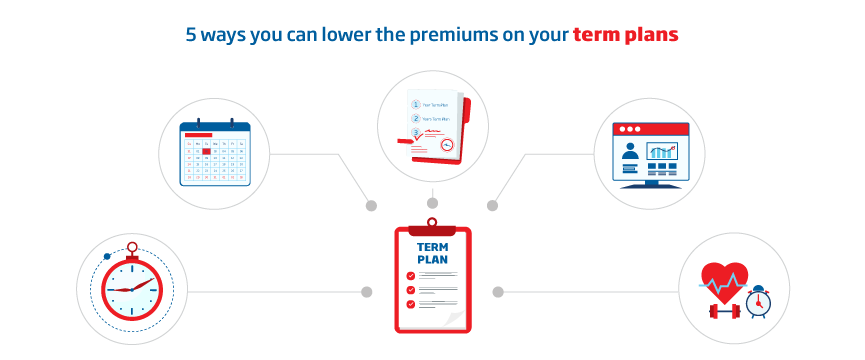 Benefits of Term Insurance
Term plans offer key benefits for those that opt for the policy:
Death Benefit Lump Sum: A lump sum amount is paid to the beneficiaries in case of the death of the policyholder during the term granted. This allows the beneficiaries to keep up their lifestyle and fulfill their daily needs which is especially important in the event that the policyholder is a primary breadwinner in the family.

Wide Coverage: The policy in question can account for sudden death, death due to accident, or death due to illness or disability. This is a wide coverage and will leave less room to worry.

Tax Benefits: The premium paid for life insurance policies is-exempt from tax up to a lakh and a half rupees in a given Financial Year under section 80 C of the Income Tax Act of India (1961).
How to reduce your premiums?
Any insurance plan that one opts for should be seen as an investment, especially with the monthly or annual premium payments. However, it is possible to further reduce the premium payments with a few simple steps:
Be proactive: the earlier you invest in term insurance, the more advantages you can reap from the plan. Age plays an important role in term insurance, therefore a person in their 20s and a person in their 30s could opt for the same plan, yet the latter would be requird to have a higher premium to be paid in comparison. Hence, the 20 year old can get the same policy and afford it for a longer period of time in comparison to a 30 year old.

Yearly payments: Instead of opting for monthly or biannual payments, one should choose to pay annually. This option may actually help save money. While the payments made in quicker succession are easier on the pocket due to the smaller sum, these premium payments can add up and can actually prove to be a larger sum than if one were to make a yearly premium payment. It may be a larger sum, but it could be more helpful in the long run.

Term of the policy: The period one opts to keep the policy active for, can impact the payments made for the same. Therefore, policy term is a key factor in saving money via premiums.

Take care of yourself: If you are prone to illness or have taken up any habits that could affect your health in the long run such as smoking or drinking. Or you live a high-stress life, you need to look out for your own health to stay at arms length from any disease or disability you could be susceptible to. Additionally, any of these habits or conditions could increase your risk quotient which would push the insurer to increase the premium that needs to be paid. The healthier you are, the lower the premium.

Opt for online: The internet has become a saviour since the onset of the COVID-19 pandemic, allowing the world to adapt to a new lifestyle altogether. With mulitple chatbots available for HDFC Life, accessibility is not an issue. Opting for HDFC Life Click2Protect Life is a great way to get started. This way, you stay safe at home while all the information is a click away.
HDFC Life Click 2 Protect Life (UIN No.: 101N139V01) is a Non Linked, Non Participating, Individual, Pure Risk Premium/Savings Life Insurance Plan. Life Insurance Coverage is available in this product.
ARN: ED/03/21/23136
Tax Articles
Subscribe to get the latest articles directly in your inbox
Life & Term Articles
Investment Articles