HDFC Life ClassicAssure Plus

Investment

HDFC Life ClassicAssure Plus

Investment

HDFC Life ClassicAssure Plus

Investment
For NRI Customers
(To Buy a Policy)
Call (All Days, Local charges apply)

Email ID

Whatsapp
---
(If you're our existing customer)
Call (Mon-Sat, 10am-9pm IST, Local Charges Apply)

Email ID
For Online Policy Purchase
(New and Ongoing Applications)
---
Branch Locator
For Existing Customers
(Issued Policy)
Whatsapp

Call (Mon to Sat, from 10 am to 7 pm, Call charges apply)

Email
---
Fund Performance Check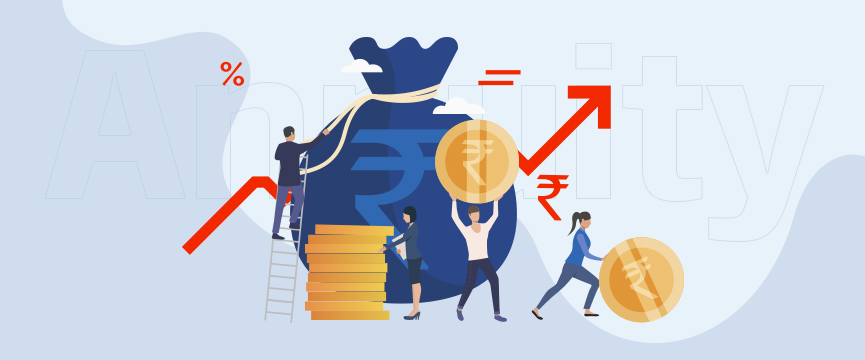 Retirement is a major milestone in life — one that everybody hopes to experience and enjoy after many years of working hard. Once you have actively retired, you will no longer have a primary source of income from work. So, to make your post-retirement life enjoyable, you need to ensure that you have a steady and reliable source of adequate income in place.    
Annuity plans can help you achieve this financial goal easily. Let's take a closer look at what they are and how they work.    
Annuity: An Overview
In the simplest terms, an annuity is a fixed, predetermined sum of money that is paid out annually for the rest of the recipient's life. An annuity plan is a type of life insurance policy that gives you the benefit of a life cover as well as the advantage of regular annuity payouts. You may choose to receive your annuity payouts on a monthly, quarterly or annual basis.
You can purchase an annuity plan by making a lump sum payment. Alternatively, you can regularly contribute to your annuity plan during your working years, and receive stable annuity payouts after you retire. Depending on when the annuity payouts begin, there are two types of plans that you can choose from — immediate annuity plans and deferred annuity plans.
A. Immediate Annuity
As the name indicates, this is a type of annuity plan where the annuity payouts start immediately after you invest in it. Typically, you will have to make a lump sum payment to purchase this plan. You can also choose to make regular premium payments instead. Once the premium payment term is complete, you will start receiving regular annuity payouts from your insurance provider.
In some cases, the payouts may start within 12 months from the last (or lump sum) premium payment. Due to the timing of the annuity payouts, this type of annuity is best suited for you if you are closer to retirement and need an immediate source of alternate income.
B. Deferred Annuity
In a deferred annuity plan, you start by paying regular premiums during your working years. Thereafter, the annuity payouts are delayed by a few years. In other words, the vesting period is longer in deferred annuity plans. Due to the delay in the start of the annuity payouts, this type of plan may be suitable if you have quite a few years left until retirement.
Deferred Annuity vs. Immediate Annuity
Check out the key differences between deferred and immediate annuity plans, as summarised in the table below, so you can make an informed choice between the two.
| | |
| --- | --- |
| Immediate Annuity | Deferred Annuity |
| Generally funded with a lump sum payment | Generally funded with regular premium payments over a specified tenure |
| Annuity payouts start immediately (within 1 to 12 months) | Annuity payouts start after a few years |
| Better suited for people closer to retirement | Better suited for people in their prime working years |
| May have lower annuity payouts | May have higher annuity payouts |
Conclusion
Both deferred and immediate annuity plans offer unique advantages to policyholders. You can assess your post-retirement financial requirements as well as your spouse's needs, and choose an annuity plan accordingly. Before you select a type of plan between the two, ensure you keep the deferred annuity vs immediate annuity comparison in mind, so you can make an informed decision. 
Related Articles
ARN - ED/05/23/2139
Tax Articles
Subscribe to get the latest articles directly in your inbox
Life & Term Articles
Investment Articles