HDFC Life ClassicAssure Plus

Investment

HDFC Life ClassicAssure Plus

Investment

HDFC Life ClassicAssure Plus

Investment
For NRI Customers
(To Buy a Policy)
Call (All Days, Local charges apply)

Email ID

Whatsapp
---
(If you're our existing customer)
Call (Mon-Sat 10am-7pm, Local Charges Apply)

Email ID
For Online Policy Purchase
(New and Ongoing Applications)
---
Branch Locator
For Existing Customers
(Issued Policy)
Whatsapp

Call (Mon to Sat, from 10 am to 7 pm, Call charges apply)

Email
---
Fund Performance Check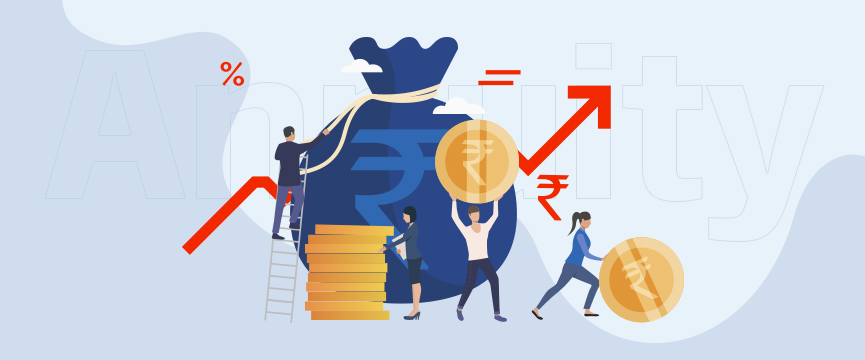 Table of Contents
In addition to term insurance, savings plans and investment plans, life insurance companies in India also offer annuity plans. These plans provide you with a stable and guaranteed1 source of income regularly at the frequency chosen by you. Depending on when these annuity payouts begin, there are two types of annuity plans that you can opt for — immediate annuity and deferred annuity plans.
While immediate annuity plans give you the benefit of annuity almost immediately, deferred annuity plans work differently. Here's a comprehensive overview of deferred annuity plans, their features and benefits.
What is Deferred Annuity?
A deferred annuity plan is a financial product that provides you with a regular sum of money for life. Unlike immediate annuity plans, the payout in a deferred annuity starts at a specified future date.
How Does Deferred Annuity Work?
Let's say that you wish to financially secure your post-retirement life. You're currently 30 years of age and you wish to start receiving annuities only once you reach 60 years. Since you don't need an additional source of income before you retire, you decide to purchase a deferred annuity plan.
According to the terms of the plan, you may be required to pay a monthly premium of say Rs. 5,000 for 20 years (till you attain 50 years of age). This premium payment term of 20 years is known as the accumulation phase. Once the accumulation phase is over, you don't have to pay any premiums for the next 10 years.
However, the annuity payouts also do not begin yet. Only once you attain 60 years of age will the payout phase of the annuity plan begin. At this point, you will start receiving regular annuity payouts on a monthly, quarterly or yearly basis as an annuity for the rest of your life.
Features and Benefits of Deferred Annuity Plans
Here's a quick overview of some of the key features and benefits that deferred annuity plans offer.
Flexible Deferment Periods


With deferred annuity plans, you get the freedom to choose the number of years by which you wish to defer the payout phase. However, the maximum deferment period may vary depending on factors such as the type of plan and the premium payment option you choose.  

Guaranteed Source of Income


Unlike market-linked investment options, the returns from a deferred annuity plan are guaranteed

1

. They are not dependent on volatile factors like interest rates or market performance. Also, the amount of annuity that you're likely to receive in the future is disclosed beforehand. This allows you to plan your finances in a better manner well in advance.

Bigger Payouts


A deferred annuity plan earns interest and grows in value both during and after the accumulation phase. This allows you to receive substantially bigger payouts when the withdrawal phase of the plan begins.

Different Premium Payment Options


Deferred annuity plans also let you choose the mode of premium payment. For instance, you can opt for the single premium payment option or the regular premium payment option. In a single premium payment, you only need to pay a single lump sum amount. In regular premium payment, you will have to pay the premiums regularly on a monthly, quarterly, half-yearly or annual basis.

Multiple Payout Options


Just like the premium payment option, deferred annuity plans come with multiple payout options. You can choose to receive the payout as a lump sum amount or via regular payments for life at the chosen frequency.
Conclusion
Deferred annuity plans are one of the best investment options currently available for securing your post-retirement life. However, it is essential to know that the payments that you receive from a deferred annuity plan are classified under the head 'Income from Salaries' and taxed as per the income tax slab rates applicable to you.
 ARN- ED/08/23/4359
Tax Articles
Subscribe to get the latest articles directly in your inbox
Life & Term Articles
Investment Articles
1. Guaranteed Benefit is paid on survival during policy term provided all due premiums are paid during the premium payment term.