HDFC Life ClassicAssure Plus

Investment

HDFC Life ClassicAssure Plus

Investment

HDFC Life ClassicAssure Plus

Investment
For NRI Customers
(To Buy a Policy)
Call (All Days, Local charges apply)

Email ID

Whatsapp
---
(If you're our existing customer)
Call (Mon-Sat 10am-7pm, Local Charges Apply)

Email ID
For Online Policy Purchase
(New and Ongoing Applications)
---
Branch Locator
For Existing Customers
(Issued Policy)
Whatsapp

Call (Mon to Sat, from 10 am to 7 pm, Call charges apply)

Email
---
Fund Performance Check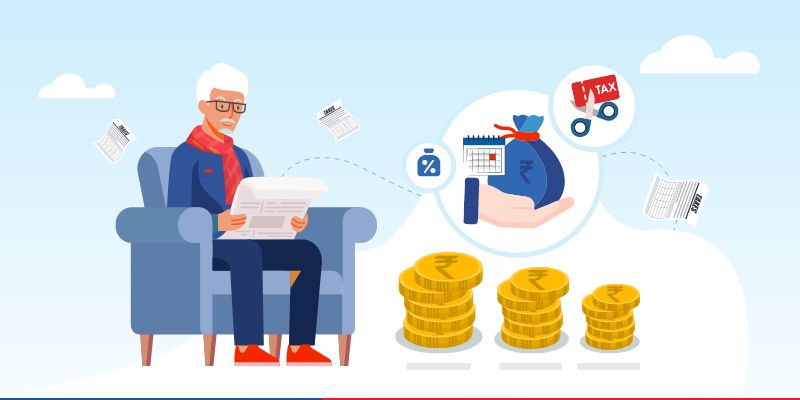 Pension plans, also known as annuity plans, provide a regular flow of income to those who have retired. You, the policy holder, can choose the exact date on which you want to start receiving your pension. Most plans also come with an insurance cover that can be claimed in the unfortunate case of the policy holder's demise.
Apart from future security and insurance protection, investing in a pension plan also qualifies for some tax benefits under Section 80CCC. Let's take a look at the various plans you can choose from and the kind of benefits they offer:
Immediate Annuity:

This is a guaranteed pension plan, which means you will receive a regular stream of income in exchange for a one-time lump sum investment. This income will start flowing in immediately and provide you with a fixed amount of money per month.

The biggest tax benefit of an immediate annuity plan is that while the interest is taxed as ordinary income, the principal is exempt from taxes as it is a return of your investment. However, once you have received the principal amount in full, the payments will be fully taxable. The good thing about this is that the income tax rate will be based on the income earned at the time. Assuming that you withdraw the money after retirement, the rate will be relatively low.

Deferred Annuity:

A deferred annuity plan delays payment of income till the time you choose to receive it. There are two phases in a deferred annuity plan: Accumulation Phase and Income Phase.

In the Accumulation Phase, you will pay the premium at regular intervals to the plan provider. When the Income Phase begins, you will be able to withdraw 1/3rd of the money saved, while the remaining amount will be used to purchase an annuity product, which will create a source of regular income for the rest of your life.

The tax benefit of a deferred annuity is that it lets your income grow tax-free during the Accumulation Phase. This means you will not have to pay any taxes on the money that accumulates during the time of premium payment.

It is never too early to start planning for your future. Now that you know all the tax benefits attached to pension plans, you should invest in the plan of your choice as soon as possible to enjoy a steady and carefree life after retirement.

Tax Articles
Subscribe to get the latest articles directly in your inbox
Life & Term Articles
Investment Articles