All
Products
Articles
NRI
Individual
Group
HDFC Life ClassicAssure Plus

Investment

HDFC Life ClassicAssure Plus

Investment

HDFC Life ClassicAssure Plus

Investment
Online Buy Support
---
Branch Locator
Policy Holder Services
---
Fund Performance Check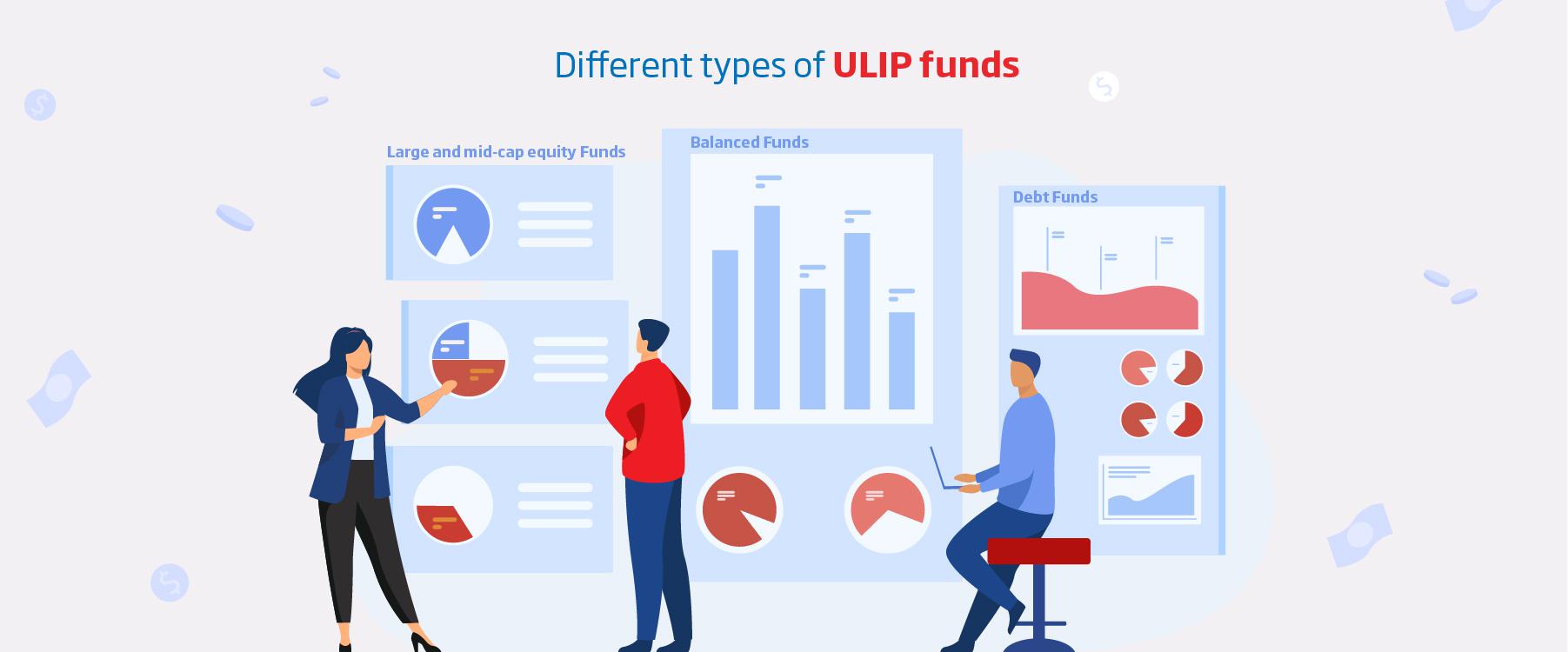 January 22, 2021
105960
Know all about the different types of ULIP funds in the market
When it comes to expanding your investment portfolio, there are way too many options on the table now. Some have a high-riskprofile and some have a higher guarantee on returns. 
All said and done, as investors we always have the appetite for products that fit both the above-mentioned factors. That is why you should look for ULIP funds. ULIP - Unit Linked Insurance Plans are one among the versatile funds to invest in. They are subject to risks associated with the capital market. 
A ULIP Fund works quite like an insurance policy like the name suggests, but it's unique in many ways. It is a dual-benefit instrument that provides the policyholder with insurance cover while taking units of the premium and investing them in the capital market which creates wealth. ULIPs are best suited for those looking for long term investment plans that act on both fronts, and the best part is the income earned on these investments are tax-free. 
Before we get into the details, let's go back to the basics and tell you a little about the different types of ULIP Funds. 
Large and mid-cap equity funds 
They are high risk investments that mostly deal in company stocks and equities. For all those we have the appetite for high risk, this is the go-to product since the focus is on appreciation of the fund. 
Investing in stocks and shares comes with its own risk since it depends much on the economic health, the company and everything tangential to its financial growth. For those looking for high returns on theirlong-term investments, the equity market is the go-to place. While in the case of ULIP Equity fund, if you have the appetite for high risks and are willing to bet against the odds, then try HDFC Life Click 2 Wealth. If you are planning for the future, be it for yourself or your loved ones or even your kids, then this is for you.
Debt funds
Also known as bond and income funds, these hold medium risk, and are primarily focused on fixed income/ debt instruments like corporate bonds, government bonds and securities with a medium reward and 20-70% equity exposure. 
All those looking for a steady source of income post retirement would prefer to choose a ULIP fund. While the equity investments do carry a higher risk profile, debt funds are dependent on bonds and securities, which look at medium risk and rewards. A secure and conservative way of investment that works in the favour of those looking at a strong retirement plan. 
Balanced Fund
This is the most stable and preferred ULIP which combines equity instruments like company stocks and shares with fixed income instruments like bonds which puts it at a medium to high risk profile. 
Unlike the above two, a balanced fund is more focused on insurance and wealth in a more systematic manner, where there are pre-set limits of equity and debt investments with a 50:50 ratio. If you are looking for a stable income and protection plan then try the Saving & Investment plan from HDFC Life. 
Liquidity Funds
The low risk funds of a ULIP which is also known as Cash Funds to Money Market Funds which is focused on short term market instruments like bank deposits, commercial papers and treasury bills. These are for those who aren't willing to risk their money on any type of equity or bonds. While cash funds are also short-term investments where you look to secure a polity for a shorter period than 5 years maybe. 
With ULIP funds, you always have the option to redirect your funds according to the market conditions and also reap the benefits of your insurance plans. Say you want to secure an early retirement, opting for a ULIP fund would be a wiser option when you don't want to get into the stock trading options. But what is that you need to look at when it comes to ULIP funds? 
You should understand one thing first, ULIPs are long term investments since they hold your insurance plans too. With tenures reaching to 10, 15 or even 25 years. So, before you choose a ULIP fund, ask yourself, what's the objective for it? 
You need to do a one-time premium payment when it comes to a ULIP fund. 
Have a good financial plan in place, be it for you or your loved ones while choosing ULIP Funds.
Keep in mind the risks involved with each fund and do your own research when it comes to company stocks and government bonds. 
You should reallocate your earning according to the market condition to get the most out of your fund. 
Conclusion:
Do your math. Do your own research, even after listening to your financial advisor. ULIPs are smart long-term investments and it not only gives you a cover but also the flexibility to grow your wealth in the process. HDFC Life Click 2 Wealth is a good place to start your ULIP and the best time is right now. 
The Linked Insurance products do not offer any liquidity during the first five years of the contract. The policyholders will not be able to surrender/withdraw the monies invested in Linked Insurance Products completely or partially till the end of fifth year.

ARN: EC/06/2017/9792
Recent Posts
Subscribe to get the latest articles directly in your inbox
Popular Post
HDFC Life Insurance Company Limited. CIN: L65110MH2000PLC128245, IRDAI Reg. No. 101.
Registered Office: Lodha Excelus, 13th Floor, Apollo Mills Compound, N.M. Joshi Marg, Mahalaxmi, Mumbai 400 011. Email: [email protected], Tel No: 1800-266-9777 (10 am to 7 pm). The name/letters "HDFC" in the name/logo of the company belongs to Housing Development Finance Corporation Limited ("HDFC Limited") and is used by HDFC Life under an agreement entered into with HDFC Limited.
For more details on risk factors, associated terms and conditions and exclusions please read sales brochure carefully before concluding a sale.
BEWARE OF SPURIOUS PHONE CALLS AND FICTIOUS/FRAUDULENT OFFERS
IRDAI is not involved in activities like selling insurance policies, announcing bonus or investment of premiums. Public receiving such phone calls are requested to lodge a police complaint.