Child plans basically help in financial planning for your child's future needs at the right age. As a parent you can secure your child's future with plans that encompass children insurance plans and children education plans.
It is one of the best ways to save enough with regular investments for your child's future for needs like higher education which can be costly.
Financial protection features in child plans ensure that your child gets the best in the future even in your absence.
HDFC Life's YoungStar Plans encompass child insurance plans and education policies from HDFC Life.
They provide the ideal combo of protection and savings thanks to the many features of these children plans and make them perfect birthday gifts for your child
HDFC Life Click 2 Wealth
HDFC Life Click 2 Wealth is a Unit Linked, Non-Participating, Life Insurance plan that offers market linked returns, charges minimally, provides valuable financial protection for you and your family.
BENEFITS
Minimal charges
8 Fund option to choose from
Flexibility to choose your policy Term
Tax Benefits
Many Families covered by
HDFC Life Click 2 Wealth 
3 Reasons Why a Child Insurance Plan is Essential
A child is a parent's greatest joy. Being a good parent is a tremendous task. You worry about the well-being of your children. You hope that the decisions you make regarding your child are the right ones. You nurture your children into becoming responsible adults. If unfortunately something untoward were to happen to you, it is instrumental that you plan for the prospects of your family. You should equip your family with all the means to lead a comfortable life. It is better not to underestimate the needs of your family. To foster your child's future prudently, it is essential you have a child's insurance plan. Here are just three of the most important reasons why you need a good child insurance plan:
Educating Your Child

Something basic and essential that every child needs is an education. When it comes to educating your child you should not have to compromise. The further you educate your child, the better their prospects are. However, the price of education is on the rise. Private schools and good colleges sometimes cost a great deal of money. Having a child's insurance plan can help with the costs of educating your child.

There are simple things like extracurricular activities that your child may partake in. They may be budding sportsmen and women or young Picassos. You want your child to dream big and achieve those dreams. Do not let money be a hindrance to your child pursuing their passions. A child insurance policy will allow you to create a fund that your children can draw on for their benefit.

Creating a Corpus

Your child will one day be married. On such a joyous occasion you will want the celebrations to be full-fledged. This is not a situation where you want to skimp on spending. It would be ideal if you were to sponsor all aspects of the ceremonies. If you have a daughter you must cover expenses like fine jewellery and an exquisite bridal trousseau. If you have a son you may want to contribute toward the nuptials. You do not want to find yourself in a situation where you are unable to afford your own child's wedding. This is truly a time of elation for your child. Do not let a lack of money get in the way of your child's happiness.

Your child may learn how to drive. You may want to surprise you child with a scooter, motorcycle, or car. It is important you have the means to account for such expenses. Your child will someday think of buying their own house. This is an incredibly important purchase and to encourage this kind of independence you may want to help pay for the property. Creating a corpus for your child is one of the greatest gifts you can give them. This is one reason a child insurance policies are indispensable.

Responsible Young Ones

The best thing that you can do for your child is to set a great example yourself. Children learn by example. Apart from Superman, Spider-Man, Batman, Wonder Woman and other superheroes, children idolise their parents. Children learn and emulate the behaviours they see in their parents, and it is important that we remember that they are impressionable young human beings.

The decisions you make as parents will have a great impact on the kind of people your children will turn out to be. It is common knowledge that you cannot be rash and reckless when it comes to your children. Buying an insurance plan for your child is a very sound decision. When children see you, their parents, using your good judgement, they too will make good decisions in the future.

The good news is that you can purchase an insurance plan for your child from HDFC Life. You can build a corpus for your child to draw from and teach your child fiscally responsible behaviours. The biggest benefit is that once you have a child insurance plan, you can ease your biggest tensions regarding your child's life and their future. Rest assured when you purchase a child insurance plan, you are making one of the best decisions possible regarding the well-being of your child and the rest of your family.
Child Insurance Plans
Benefits of Child Plans
While planning and managing your family's finances, you devote a reasonable amount of time on your child's future. Major requirements like child's higher education need substantial savings, given the rapid rise in education costs. This involves regular investments made over many years so that you can accumulate the required savings. Equally important is the need to secure the child's future in the event of your untimely absence. The issue then arises that given the paucity of time most parents have, can all financial requirements related to child's future be met by one financial product? Luckily, life insurance companies offer child plans or children plans that combine financial protection for the child along with a child education plan. If you find the idea of this combination of protection and children education plan attractive, you need to be aware of the key benefits of children plans.
Protection with waiver of premium
A children insurance plan, like other life insurance policies provide life insurance coverage to dependents. In this case, the protection is meant for the child. The life insurance amount from the child plan can be used to meet the immediate and regular needs besides meeting future needs of the child in the event of the untimely demise of the insured parent.
Providing for immediate needs
To provide for the child's regular needs, the life insurance coverage from children plans provide the money to help the family meet regular expenses such as those related to school education.
A children future plan also provides money for higher education. In case of the untimely demise of the insured parent, many child plans have what is a called premium waiver feature that ensures that the child plan remains in force for the remaining part of the policy term. The policy premium is paid by the life insurance company. The money invested so far, remains invested till the end of the policy term and then money is paid to the child which can take care of higher education expenses.
Regular investment for child's higher education
A children's plan works equally well if the unfortunate event doesn't take place. You invest regularly throughout the term thanks to your premium payments. If you opt for a child investment plan in the unit linked insurance plan (ULIP) category where a portion of the premium is invested in buying units of a fund, money growth may well be high. This typically takes place when you invest in ULIP equity funds. Over the long tenure of the ULIP, the value of the units grow well since equity investments typically provide high returns over 8-10 years, or more. As you near the time when you need to use the money, you can move the money to a lower risk ULIP fund and ensure that the gains that you have made over time are secured. The movement of your money to another ULIP fund is typically done free of cost.
This is the icing on the cake. Besides the protection benefits and helping you save substantial amounts, a children education plan helps you save tax. You are not only eligible for annual deduction from your total income of upto Rs 1.5 lakhs under Section 80C of the Income-tax Act, 1961, for premiums paid for child plans but you also benefit from tax free maturity proceeds under Section 10(10D) of the Income-tax Act, 1961, subject to fulfilment of the terms and conditions stated therein. Like every parent, if you dream big for your child's future, you must do the small things right. This means a plan to have financial protection in place in case of the unfortunate event and ample savings for child's future needs if things stay on course.
What Is Child Education Plan?
We all know how higher education costs have been rising in India. For young parents this is a great worry. How does one accumulate ample savings in order to meet the high education costs in the future? Help is at hand if one considers child education plans offered by life insurance companies. A child education plan or children education plan helps you save ample amounts through the regular premiums paid for this purpose. Typically, in a children education plan, a portion of the premium is earmarked for providing financial protection to the child. The other portion is used to invest the money so that it grows well during the long term of the children's plan. These two aspects of a children plan ensures that the there is adequate provision for a child's higher education in case of unfortunate event as when the term of the child education plan is over. Another important aspect of child education plan is you get tax benefits both for premium paid up to Rs 1.5 lakhs under Section 80C of the Income-tax Act, 1961, and for maturity proceeds under Section 10(10D) of the Income-tax Act, 1961, subject to fulfilment of the terms and conditions stated therein. This ensures that the growth of the money under a child education plan is tax-efficient as well.
Why Do You Need A Child Education Plan?
As a young parent it is very difficult for you to put a finger on what exactly will be the cost of your child's higher education. Therefore, it is important for you to have ample savings that will easily cover the costs. At the same time, the challenge is to also ensure that your investments for this purpose grows well enough to outsprint runaway increase in higher education costs as has been prevalent in the last one decade. It is here that a child education plan, offered by life insurance companies, comes to your help.
Save big with small investments
Unlike children's expenses like school fees, higher education costs can't be met from regular income. These large amounts can only be saved over long periods. This actually is of great help since it helps you achieve this big goal in small steps of regular investments through your premiums for the child plan.
Build your wealth by staying invested
Most of us are aware of how a regular investment that grows steadily over a period of time can help us accumulate large amounts. In a child education plan, this happens naturally since they have terms of at least 10 years, and can go upto 20 years, in most cases. This means you don't have to try anything fancy to save enough for your child.
Get empowered with investment discipline
Many people find it difficult to inculcate a sense of discipline when it comes to investments. Thanks to the need for regular premium payment in a child education plan, you effortlessly get to establish a discipline for regular investments. This not only helps you get started investing for your child's higher education but also helps you increase your investments as your income goes up. Child education plan or childrens plan is a great tool to save money for your child's higher education. Remember, this is one stage in your financial life where you will never want to fall short of money.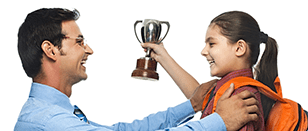 HDFC Life Youngstar Super Premium
Creating a corpus for your child is one of the greatest gifts you can give them. HDFC Young Star Super Premium helps you provide for your child's dreams.
FAQs
Stay updated with HDFC Life
Get HDFC Life updates in your mailbox