Why you need this plan ?
Potential of benefitting from market-linked returns
Stay invested longer to achieve your financial goals
Achieve financial growth as well as protect your family
START PLANNING YOUR INVESTMENT HERE
Explore HDFC Life Click 2 Invest
Features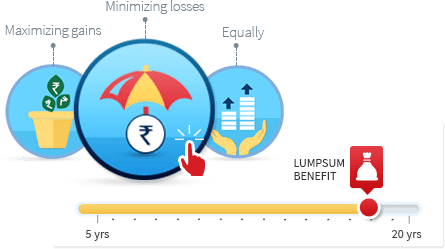 11 fund options to choose from as per your investment style

Premium Payment options of

Single

Limited: 5 years, 7 years, 10 years

Regular: same as your policy term

Flexibility to choose your policy term from 5 to 20 years

Tax Benefits1 under Section 80C and Sec 10(10D) of Income Tax Act 1961 

1Subject to provisions as per Income Tax Act, 1961. Tax Laws are subject to change.
Benefits
Here is what you can avail of with HDFC Life Click 2 Invest-ULIP

Death Benefit
In case of the Life Assured's unfortunate demise, we will pay to the nominee the highest of the following:

Sum Assured,
Fund Value,
105% of the premium(s) paid.

The policy will terminate thereafter and no more benefits will be payable.

Maturity Benefits
On survival till the end of policy term, you will receive your Fund Value as Maturity Benefit.

Charges
Premium allocation charge – Nil.
Policy administration charge – Nil.
Fund Management Charge –

0.80% p.a. of the fund value, charged daily for Secure Managed Fund.
1.35% p.a. of the fund value, charged daily, for all other funds.
0.50% p.a. of the fund value for Discontinued Policy Fund.

Mortality Charge – levied every month for providing you with the death benefit in your policy. This charge will be taken by cancelling units proportionately from each of the fund(s) you have chosen
Discontinuance charge – Nil. Please note it is always advisable to pay premiums for the full premium paying term and stay invested for the full policy term in order to enjoy maximum benefits.

HDFC Life Click2Invest ULIP
A small investment can rise up substantially over a period of time. HDFC Life Click 2 Invest - ULIP, offers 8 fund options to optimise return on your investment.
Eligibility
SUM ASSURED
Single Premium
SUM ASSURED
Regular and limited premium.Entry age <=55 yrs
SUM ASSURED
Regular and limited premium.Entry age >=55 yrs
MIN
Single: ₹ 24,000
Half Yearly: ₹ 6,000
Monthly: ₹ 1,000
Annual: ₹ 12,000
Quarterly: ₹ 3,000
MAX
No limit, subject to underwriting
All ages mentioned above are age last birthday. The minimum entry age and the policy term selected shall be such that the maturity age limits are met.
For more details on risk factors, charges, terms and conditions, please read the Product Brochure carefully and/or contact our customer service at 1800-266-9777 before taking a decision.
FAQs
Downloads
Product brochure download
Things to know
3 reasons to make time your best friend and make your money grow on the fast lane
A great way of looking at a term life insurance plan is to consider it as an expense on the financial safety of your family, and thereby, make it a part of the household budget. That way, you could actually consider ways to reduce its cost without compromising on the quality of the safety net it provides to your family. Here is how you can lower the premium of your term plan even as you enjoy the best life insurance coverage.
Early start helps big savings

Most of the life goals, such as buying a house, child's higher education and wedding, your retirement and so on, require savings over a long time, as the sum involved is substantial.

Provides freedom to take higher investment risk

With less time at hand, your ability to absorb losses from higher risk investment reduces, as you don't have time to recoup losses.

Helps your money grow faster

If you invest Rs 10,000 per month for 10 years, your money grows to Rs 18.12 lakh at 8 per cent return per annum.
Common mistakes people make while evaluating their risk appetite
Understanding your risk appetite is an essential pre-requisite for your investment planning. It requires you to have a basic understanding of your long-term life goals. You also need to judge your ability to handle unfavourable outcomes. An accurate assessment of your risk-taking ability will help you make appropriate investment choices. For this, you need to avoid the common mistakes people make while assessing their risk appetite.

HDFC Life Click2Invest ULIP
A small investment can rise up substantially over a period of time. HDFC Life Click 2 Invest - ULIP, offers 8 fund options to optimise return on your investment.
The difference that tax benefits make in giving ULIPs an edge over mutual funds
When you are working hard and wish to make your money work hard for you, it becomes essential to stop any leakages in your savings kitty. Paying income tax is inevitable, but if your investment planning is right, you can plug many tax leakages and enhance your overall returns and savings. Unit linked insurance plan (ULIP) is one such product that comes with tax benefits which make it more rewarding than other equity investment products, namely equity mutual funds including tax saving equity linked savings scheme (ELSS).
One aspect where ULIPs score over mutual funds, except ELSS, is the deduction from income of the investment amount of up to Rs 1.5 lakh under Section 80C. This effectively adds to the return from your ULIP funds. So, if you utilise this deduction limit annually, you can save tax up to Rs 46,350/- every year. This savings is effectively directed to the goal for which the ULIP is earmarked, such as retirement. Barring ELSS and retirement mutual funds, no other mutual fund investment provides this benefit. At the same time, there are many other benefits of ULIPs not related to taxation that help them score over these investments. Even of the tax front, there is a crucial area where ULIPs score over ELSS. This holds true for those investing in high to moderate equity investment ULIP funds for their long term goals.
If you have invested in equities through mutual funds, then you might want to de-risk your corpus a few years before reaching your goal, so that both your capital and gains are preserved. This is typically done in a lower risk investment such as debt mutual fund. However, just in case you need the money before 3 years, the entire capital gains gets added to your income and is taxed at the rate applicable to you. For instance, let's assume that you have saved Rs 20 lakh in an equity fund over the years. Suppose you transfer the money to a debt fund two years before the money is needed. If the debt fund provides 8% returns annually, on liquidating the investment, you need to pay income tax of Rs 99,840 due to short-term capital gains, if you are in the highest tax bracket of 30%. This is because capital gains made before completion of three years in a debt mutual fund is treated as short term capital gains. Things might be a little better if you stay invested for more than three years in the debt mutual fund as you will have to pay 20% long term capital gains tax with inflation indexation benefit for the cost of acquisition of the units. Now, compare this experience with ULIPs. A switch to ULIP debt fund or any other fund would be tax-free since the maturity amount is tax free under Section 10(10D) of the Income Tax Act, 1961 subject to conditions specified therein.
ULIPs compete with many other growth investments alternatives such as mutual funds. On matters related to taxation of investment, returns and redemption proceeds, it has some distinct advantages over mutual funds including the tax saving ELSS, especially when it comes to saving for specific needs. Investors would do well to make the most of them.
The above mentioned tax benefits are subject to changes in the tax laws. The tax benefits described above reflect our understanding of the current legislations. It is advisable to re-confirm the same with your tax consultant at your end.
Stay updated with HDFC Life
Get HDFC Life updates in your mailbox