HDFC Life ClassicAssure Plus

Investment

HDFC Life ClassicAssure Plus

Investment

HDFC Life ClassicAssure Plus

Investment
For NRI Customers
(To Buy a Policy)
Call (All Days, Local charges apply)

Email ID

Whatsapp
---
(If you're our existing customer)
Call (Mon-Sat, 10am-9pm IST, Local Charges Apply)

Email ID
For Online Policy Purchase
(New and Ongoing Applications)
---
Branch Locator
For Existing Customers
(Issued Policy)
Whatsapp

Call (Mon to Sat, from 10 am to 7 pm, Call charges apply)

Email
---
Fund Performance Check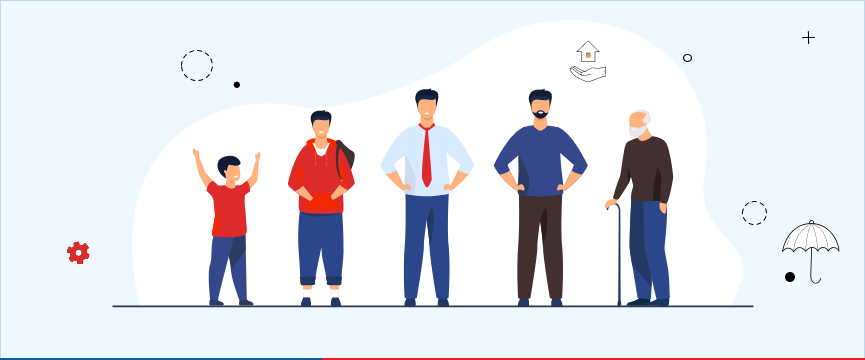 What is the age limit to buy a term insurance policy?
Terms plans are pure life insurance products. They provide a high sum assured at relatively affordable premiums. These policies do not offer any investment or savings component, making them light on the pocket. Many young Indians do not understand the importance of term plans, so they avoid purchasing them until they are around 40 and have several financial responsibilities. The more you delay purchasing insurance, the more expensive it becomes. Insurance companies also have an age limit that prevents individuals over 65 from buying policies. Let's learn more about term insurance age limits.
What is the Term Insurance Age Limit?
As people age, they often face health issues that can become fatal. As your health deteriorates, insurance companies view you as a higher risk. They will likely increase your premium to cover their costs. Companies also restrict who they sell insurance to based on the customer's age. Most term insurance providers do not sell new policies to individuals over 65. In many cases, they will not provide coverage to anybody over 75. These limitations mean you can only opt for 10-year tenure if you purchase a plan when you're 65.
Given the age limit on term insurance, let's look at the best time to purchase a term policy.
When is the Best Time to Purchase Term Insurance?
In Your 20s
Most 20-somethings have just started working. They are still finding their feet in the world and often have limited financial responsibilities. In India, many young individuals stay with their parents and have to manage only their daily expenses. Most people assume they do not require a term policy, but that isn't true. Individuals can purchase a plan once they turn 18 to enjoy coverage for longer at a pocket-friendly cost. Insurance companies offer competitive premiums to young and healthy individuals. You can opt for 40-year tenure and remain covered until you retire. Even if something happens to you in your 20s, the payout will help your parents repay any student or vehicle loans in your name.
In Your 30s
By the time you reach 30, you might have chosen a life partner and started a family. You now have the added responsibility of saving up for your child's higher education, looking after your spouse and retired parents and more. Purchasing a term plan during this decade helps provide for your dependents. Premiums at this stage are still affordable as long as you don't have health risks. The payout from your policy provides your loved ones with the financial stability required as they deal with a difficult time.
In Your 40s
As you enter your 40s, you start to worry more about your finances and planning for retirement. Your child has likely started school and may want to pursue hobbies or classes that require a significant investment. Your career has advanced enough to provide a comfortable life, but your family could struggle without your income. A term plan at this stage helps you secure your child's higher education in India or abroad if something happens to you. It also provides the finances your family needs to alleviate any debt you may leave behind.
In Your 50s
It's almost time to hang up your working boots. You may fear that it's too late to get insured. Don't worry. You can purchase a term plan in your 50s and early 60s. You might have all your finances in order, but a term policy allows you to leave a good legacy for your loved ones. You may also have children who still depend on you, and the payout from the policy could provide the support required at a difficult time.
As you can see, there's never a wrong time to purchase a term plan. Everybody under the age of 65 can opt to buy a policy to secure the family's finances and leave a legacy their loved ones will remember. Term plans that offer a return of premium option also help you save up for some long-term goals. Some companies have term plans that provide coverage until 99. Check your options and find the policy that best suits your needs before you pay the premium.
Why should you buy a Term Plan at an early age?
Term plans are designed to secure the policyholder's family from financial troubles in case the policyholder dies an untimely death. For this, a specific premium at a pre-defined rate has to be paid at regular intervals for a certain period. These insurances usually come with lower premiums for young buyers compared to the older generation. While the term insurance pays death benefits to the policyholder's nominees if the unforeseen happens, certain plans return the premiums paid in a lump sum at maturity if the policyholder survives through the term. Hence, a young policyholder can get life coverage, protect their family's financial future and also can get back a handsome amount at a much more affordable premium rate.
Technically, buying a term plan at an early age provides you with two major benefits.
Flexibility: Younger you are, the lesser the probability of having ailments or getting diagnosed with critical illnesses. Thus, the insurer is more interested in offering you term plans with greater benefits. Buying the insurance at an early age thus earns you flexibility and minimizes the chance of your policy application getting rejected.
Low premium: A young buyer is potentially healthy and disease-free, compared to the older generation, with a longer life span. Thus, it's beneficial for the insurer too, to offer him a policy that has long coverage at a low premium rate. For the policyholder also, it is a gain to get one's entire life covered and his family financially secured at an affordable premium, that remains constant for the entire policy period.
What is the Minimum and Maximum Term Insurance Age Limit?
Term insurance offers a death benefit to the policyholder's family, in case the unforeseen happens. This is a lumpsum amount that is paid to the family by the insurer if the policyholder dies within the policy term. However, you can't buy a term insurance plan whenever you like. To ensure maximum gain for both parties, the insurance companies offer life insurance for a specific age bracket. The minimum age at which you are eligible to buy term insurance is 18 years. The maximum age at which you are entitled to buy the policy is 65 years. Beyond this, it is considered that the buyer is more prone to critical health conditions.
Related Articles
ARN - ED/05/23/2370
Tax Articles
Subscribe to get the latest articles directly in your inbox
Life & Term Articles
Investment Articles