HDFC Life ClassicAssure Plus

Investment

HDFC Life ClassicAssure Plus

Investment

HDFC Life ClassicAssure Plus

Investment
For NRI Customers
(To Buy a Policy)
Call (All Days, Local charges apply)

Email ID

Whatsapp
---
(If you're our existing customer)
Call (Mon-Sat, 10am-9pm IST, Local Charges Apply)

Email ID
For Online Policy Purchase
(New and Ongoing Applications)
---
Branch Locator
For Existing Customers
(Issued Policy)
Whatsapp

Call (Mon to Sat, from 10 am to 7 pm, Call charges apply)

Email
---
Fund Performance Check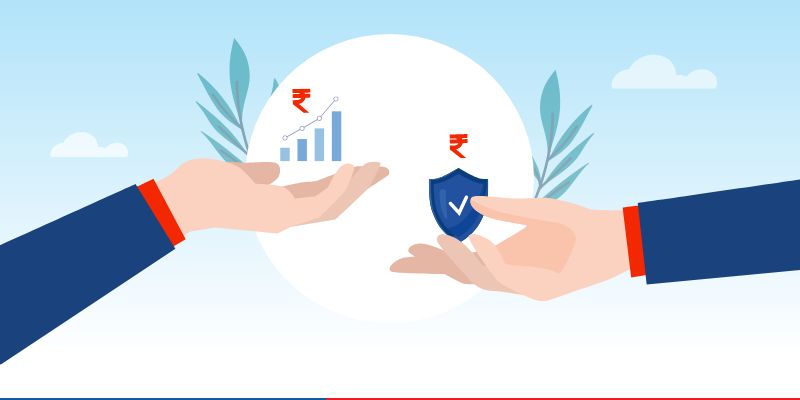 Table of Content
Before you purchase anything, you often take a moment to evaluate your options. From cars to flour, you consider the cost, features and benefits before you make your decision. The same rings true for insurance. Before you purchase a plan, you must compare the various options available and select wisely. While comparing insurance plans, you might come across the terms participating insurance and non-participating insurance policies. Let's look at what these terms mean and how they can impact your decision.
What is a Participating Term Insurance Plan?
A participating or par policy provides the policyholder with profit-sharing benefits. Say you purchase a policy from a life insurance company. Over the financial year, the company earns certain profits. If you have a participating plan, you receive a portion of these profits as a benefit against your policy. You receive the benefits as a bonus or dividend. You could receive the payouts every year and can use the money to:
Offset your premium payment for the following year
Earn interest by depositing the amount with the insurer
Since most term plans do not offer any maturity benefit, opting for a participating policy allows you to enhance your return of premium payout, should you opt for it.

What is a Non-Participating Term Insurance Plan?
A non-par or non-participating policy does not provide dividend payouts. As a policyholder, you cannot partake in sharing the insurance company's profits. Non-participating policies do not offer additional annual payouts. However, most non-participating plans come with a guaranteed maturity benefit. Policyholders will still receive this guaranteed payout at maturity, irrespective of the profits earned by the company.
Key Difference between Participating and Non-Participating Plans
The crucial difference between participating insurance and non-participating plans is the share in profits. Participating policies allow the insured individuals to enjoy the profits earned by the insurer. Non-participating policies, on the other hand, do not offer such benefits. You must remember that participating plans provide payouts based on the profits earned. When profits are low, the payout will also be low. There's no guarantee as to how much you may earn as part of your profit-sharing.
Guaranteed Vs. Non-Guaranteed Benefits
Participating and non-participating plans offer different kinds of benefits. With a participating policy, you deal with non-guaranteed benefits. The payouts are not assured. Non-par policies provide guaranteed benefits. You can rest assured that you shall receive the guaranteed payment on maturity, irrespective of the policyholder's profit the previous year.
A Quick Comparison
We can better understand the differences between these two plans by comparing crucial points of difference:
| | | |
| --- | --- | --- |
|   | Participating Policy | Non-Participating Policy |
| Meaning | As a policyholder, you receive a portion of the insurance company's profits as an annual dividend payout. These plans are also called par or with-profit policies. | You do not receive any profits or dividends from the insurance company. These plans are also known as non-par or without-profit policies. |
| Non-Guaranteed Payments | You receive a bonus or dividend every year. The amount will change each time, and the benefit is not guaranteed. In a year of poor performance, the profit could be minimal. | Since there's no profit-sharing, there are no non-guaranteed payments. |
| Guaranteed Payments | The bonus is not a guaranteed payment. The amount depends on the insurance company's performance and profit earned during the financial year. | The plan offers a guaranteed maturity and death benefit payout. The individual does not have to worry about market fluctuation or the insurance company's performance. |
You can choose between a par or non-par policy based on your individual needs. What you cannot deny, however, is that you must purchase a life insurance policy. Term plans provide high sum assured amounts at affordable premiums, making them a great choice. You can safeguard your family's financial future by selecting a term plan that offers a return of premium on maturity, ensuring you do not lose the premium amounts you pay every year.

If you want to invest for the future, you can opt for a guaranteed savings plan or Unit-Linked Insurance Policy (ULIP). These investment tools provide both life coverage and investment avenues, allowing you to build a significant corpus for the future while safeguarding your family's finances in the present. Before you select between non-participating and participating insurance, you must understand what kind of policy suits your financial requirements.
Related Articles:
ARN - ED/09/22/28781
Tax Articles
Subscribe to get the latest articles directly in your inbox
Life & Term Articles
Investment Articles