HDFC Life ClassicAssure Plus

Investment

HDFC Life ClassicAssure Plus

Investment

HDFC Life ClassicAssure Plus

Investment
For NRI Customers
(To Buy a Policy)
Call (All Days, Local charges apply)

Email ID

Whatsapp
---
(If you're our existing customer)
Call (Mon-Sat, 10am-9pm IST, Local Charges Apply)

Email ID
For Online Policy Purchase
(New and Ongoing Applications)
---
Branch Locator
For Existing Customers
(Issued Policy)
Whatsapp

Call (Mon to Sat, from 10 am to 7 pm, Call charges apply)

Email
---
Fund Performance Check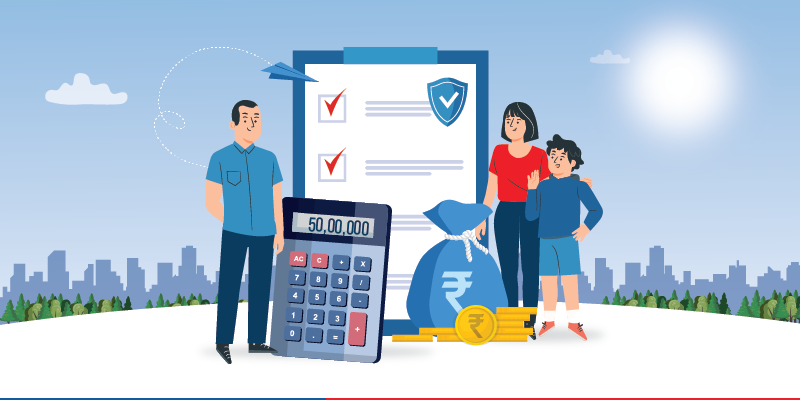 Life is full of unseen circumstances and as such, we all must strive to remain financially prepared for the same at all times. Insurance plans serve as extremely crucial hedges against such risks and protect your loved ones from the unforeseen circumstances of life. Term insurance plans are offer the sum assured to the policyholder's nominee(s) in the event of her/his demise before the term maturity. Although traditional term plans do not offer any maturity proceeds in the event of survival of the policy holder, they form an integral part of any successful financial portfolio since they are very economical. Following are the important benefits of term plans that you must know about:
1. Affordable premiums
Term policies are pure life insurance products, so they offer high coverage at pocket-friendly prices. A healthy 25-year-old man who doesn't smoke can get life coverage of Rs. 1 crore for a 30-year tenure at less than Rs. 800 per month.
2. Return of Premium options
Insurance companies today offer Return of Premium term plans that provide a small maturity benefit. If the policyholder survives the tenure, they receive an amount equivalent to all premiums paid at maturity.
3. Death benefits
Term plans are unique in the sense that these plans guarantee the payment of benefits as they entitle the policy holder's nominee(s) to receive the sum assured in the event of the policy holder's demise during the plan term. Therefore, a term insurance plan covers the basic requirement of financial security and safety of the future requirements of your loved ones.
4. Additional riders
Generally, term insurance plans come with additional riders that can be purchased optionally and offer extra-coverage together with the main plan benefits that exist already. This means that the policy holder can purchase additional coverage for factors like critical illness, accidental disability etc. This enhances the existing benefits of the plan.
5. Premium-payment frequency
Generally, the insurers offering term plans offer quite flexible premium-payment terms. This means that the policy holder can pay the premium in a frequency chosen as per her/his convenience. The frequency can be monthly, bi-annual, annual or even a one-time lump sum payment.
6. Flexibility in cover
The coverage, when chosen after due deliberation and after considering all the parameters like financial goals, payable premiums, frequency of payment etc, should be sufficient for meeting all the desired aspirations for you and your family. In one's absence, the loved ones must be able to maintain the lifestyle that covers their financial future. Thus, it is essential that the plan that you choose offers specific benefits.
7. Income Tax benefit
A term plan comes with tax benefits because the payable premiums as well as the main plan benefits (sum assured and the maturity proceeds) are eligible for tax-exemption under Sections 80C and 10D of the Income Tax Act, 1961*.
Why Choose a Term Insurance Plan?
Term policies offer high life coverage at pocket-friendly premiums. Choosing a term policy when you're young allows you to secure your family's financial future, regardless of what life has in store for you. When you opt for a term policy, you can rest assured that the payout will enable your loved ones to maintain their standard of living and pay off outstanding debts. You can also choose a plan that offers disability and critical illness riders to provide you with financial stability and security when you need it most.
Related Articles: 
ARN -  ED/04/23/1700
Tax Articles
Subscribe to get the latest articles directly in your inbox
Life & Term Articles
Investment Articles