HDFC Life ClassicAssure Plus

Investment

HDFC Life ClassicAssure Plus

Investment

HDFC Life ClassicAssure Plus

Investment
For NRI Customers
(To Buy a Policy)
Call (All Days, Local charges apply)

Email ID

Whatsapp
---
(If you're our existing customer)
Call (Mon-Sat 10am-7pm, Local Charges Apply)

Email ID
For Online Policy Purchase
(New and Ongoing Applications)
---
Branch Locator
For Existing Customers
(Issued Policy)
Whatsapp

Call (Mon to Sat, from 10 am to 7 pm, Call charges apply)

Email
---
Fund Performance Check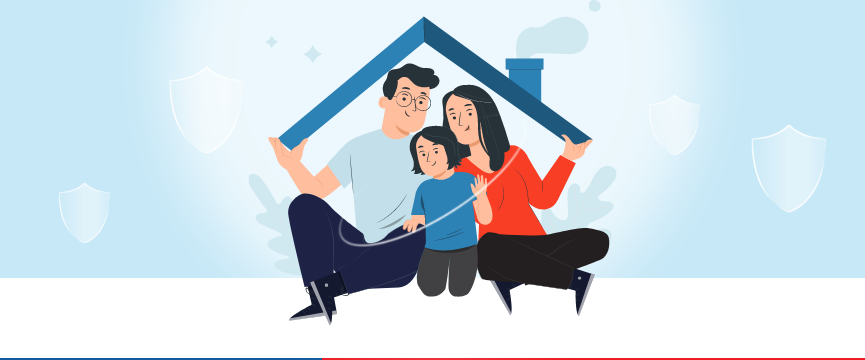 For most people, buying a house is a huge financial goal. People spend years saving up their money and looking for the perfect place to call home. In today's market, it's almost impossible for a young family to pay for a house on their own steam. Most people opt for a home loan to help them achieve their dream. Should you opt to take a loan, you must remember that the lender will not provide you with the whole amount. Apart from the 20% down payment, you will also have to pay the stamp duty and other registration charges. The loan provider will provide you with up to 80% of the value of the property. They will allow you to choose a loan term that extends up to 30 years but will charge you interest every year. You will have to pay the loan back over time with the help of Equated Monthly Instalments or EMIs. As a general rule of thumb, the EMI for your home loan should not be more than 50% of your monthly income. By following this principle, you can avoid stretching your budget beyond reason.
Why Should I Cover My Home Loan?
Paying your EMIs when you have a steady income is easy. But, have you thought about how your family will get by if something happens to you? If you're the primary earner or breadwinner, your salary helps your family survive and thrive. Without it, they might default on the loan. If this happens, the lender could repossess the property. So not only will your family be left in financial distress, but they could also end up without a home. With all this in mind, securing your home loan with a term plan makes complete sense.
Your term insurance plan provides you with financial security when you need it the most. If you aren't around to provide for your family anymore, the term policy payout will help them repay the loan.
Why Term Plans?
There are a few different ways in which you can secure your loan. There are specific loan care products available in the market. But, most people opt for a term plan instead. Here's a look at why a term policy is the best choice to secure your home loan:
Higher Cover for Affordable Premiums

Term plans are pure protection plans. They do not offer additional maturity benefits, making them the most affordable life insurance product in the market. You can get a life cover of INR 2 crores for just INR 1,000 per month with a term insurance plan. Ideally, opt for a life cover that is a little more than your home loan amount. The payout from the policy will enable your nominee to pay off the loan without any worries.

Fixed Benefit Amount

If you opt for a loan cover insurance plan, the cover amount depends on the pending loan payments. So, the cover amount decreases over time. When you purchase a term plan, the sum assured remains the same, irrespective of your loans. Since these policies offer a fixed benefit, they are often viewed as the safer option to secure your home loan.

Transfer Support

At some point, you may choose to switch your home loan from one lender to another. If you do this, it could affect your interest rate and EMI amounts. Since a loan insurance policy depends on the loan and repayment, you could end up with a lot of paperwork to complete the transfer. Thankfully, term plans are not contingent on other details. So even if you transfer your loan from one lender to another, your term plan will continue to provide the same amount of cover.
Home Loan Protection Plan vs. Home Loan-Linked Term Plan
You can choose to protect your finances and your home loan with a home loan insurance plan or a term plan. Both offer their own benefits and disadvantages. Let's see the crucial points where they differ:
Coverage Amount

A home loan protection plan is closely linked to your loan amount. The sum assured decreases along with your outstanding loan amount. If something happens to the policyholder towards the end of the loan repayment term, the sum assured would not amount to much.

Term plans, on the other hand, offer a fixed sum assured payout. The amount does not depend on the outstanding loan amount. Regardless of when something happens, the entire sum assured gets paid.

Beneficiary

For home loan insurance plans, the lender becomes the beneficiary. So, if anything happens to the policyholder before they finish repaying the loan, the insurance payout goes to the lender.

With a term plan, the beneficiary can be a family member. The policyholder picks a beneficiary at the time of purchasing the policy. The beneficiary can choose how they want to use the payout.

Delayed EMIs

In case the homeowner delays an EMI payment, they become liable to pay an additional interest amount. Unfortunately, the home loan insurance plan does not increase the sum assured amount to accommodate the new interest. In case something happens to the policyholder, their family members will have to pay the additional amount from their pocket.

Policyholders can pick a sum assured amount slightly more than the value of the home loan. In case of any defaults, the amount will still help them cover the additional interest.

Individuals who opt for a home loan should consider their options before choosing between home loan insurance and term insurance. Those who already have adequate life coverage through term or life insurance plans can opt for a home loan protection plan. If they do not have any life coverage yet, opting for a term plan might be the better choice.
Frequently Asked Questions About Protecting Your Home Loan
Q: Can I use my existing term plan to protect my home loan?
A: While you can do this, you should not. The term insurance plan that you purchased earlier could be to secure your family's financial future. You can buy another term insurance plan with the sole focus on protecting your home loan. The premium amount and tenure you choose will both depend on your loan details.
Q: What sum assured amount should I choose?
A: Your sum assured amount should be equal to your loan and interest repaying amounts. You can opt for a policy that offers higher coverage. But, you should avoid agreeing to anything lower. If your policy cannot help your family repay the loan, it might not be worth it.
Q: What kind of tenure will work best?
A: The tenure of your term plans depends on multiple factors. When you use a term insurance policy to protect your home loan, you need to reconsider your policy tenure. Always opt for a plan tenure that is equal to or more than your loan tenure.
Similar Articles:
ARN – ED/11/22/30445
Tax Articles
Subscribe to get the latest articles directly in your inbox
Life & Term Articles
Investment Articles