HDFC Life ClassicAssure Plus

Investment

HDFC Life ClassicAssure Plus

Investment

HDFC Life ClassicAssure Plus

Investment
For NRI Customers
(To Buy a Policy)
Call (All Days, Local charges apply)

Email ID

Whatsapp
---
(If you're our existing customer)
Call (Mon-Sat, 10am-9pm IST, Local Charges Apply)

Email ID
For Online Policy Purchase
(New and Ongoing Applications)
---
Branch Locator
For Existing Customers
(Issued Policy)
Whatsapp

Call (Mon to Sat, from 10 am to 7 pm, Call charges apply)

Email
---
Fund Performance Check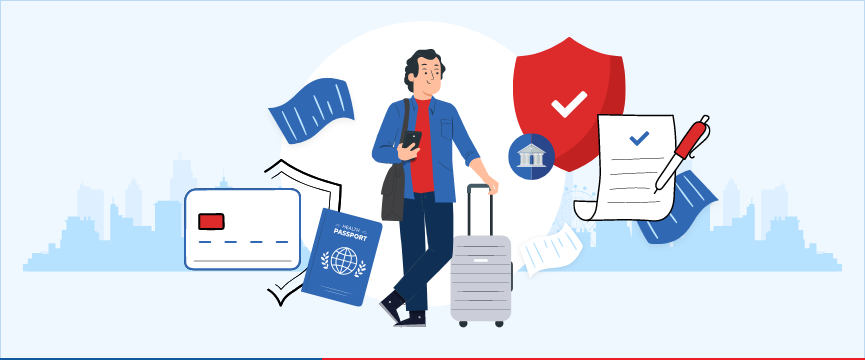 Table of Content
Life is full of uncertainties and every person must remain prepared for the same at all times. One way of securing the finances and thus, the future of your loved ones is by taking out a term insurance plan. It not only safeguards your capital reserves but also guarantees a stress-free lifetime ahead. Every person is eligible for this protection and NRIs (Non-Resident Indians) are no exception to this.
Indian Diaspora forms a vibrant and important part of the populace in many countries globally and also makes up for an important economic segment. As such, the term insurance policy, that any NRI purchases must be completely as per her/his specific needs and requirements.
An NRI can easily take out a suitable term insurance plan and there are two ways in which this can be done. The person can purchase the policy while she/he is on a visit to India. The whole procedure is simple and is executed in the same manner as it is for an Indian citizen. Alternately, an NRI can also purchase the insurance policy from the current place of residence. This can be done via mail order and requires detailed verification (that can be done by Indian embassy officials and a notary).
Term insurance policies for NRIs have flexible terms and conditions and the main corpus (sum assured) varies from Rs 2 Lacs to 1 Crore. The applicable premiums are variable, depending upon terms of the policy, the frequency of premium payments, age, health conditions etc. The term durations are also variable and range from anywhere between 6 months to 25 years. To purchase the plan, the person must be in the age group of 18 years to 60 years (although some policies may have an upper age capping of 55 years). The payment of premiums can be done online (through net-banking) and for this, the policyholder must be an account holder in the specified banks (names of these banks are listed in policy documents).
The required documents for NRIs for purchasing the policy are:
Passport copy (attested)

The form for proposal/application form

Documents specifying the health conditions/check up reports

Age proofs

Income proofs

An amount (equal to the first calculated premium) also needs to be paid
For NRI policy holders, there is a specified grace period if they default on a premium payment. Therefore, if for any reason, you have missed out on a premium payment, you can pay the same within the grace period. There are certain insurers who offer the option of complete policy renewal for NR policy holders, subject to mandatory health check - ups and factors like timely premium payments in the past etc.
HDFC Life offers various term insurance plans for NRIs that offer guaranteed coverage and affordable premiums. The plans offer flexible terms and conditions and have been formulated for extensive benefits for the subscribers. For details, click on the mentioned link:  https://www.hdfclife.com/term-insurance-plans.
How to Procure Term Insurance?
NRIs can opt to purchase term insurance in two ways. They may either procure a term plan while they're visiting India or from the country of their residence. Let's look at how each procurement process works:
While In India

Purchasing a term plan for NRIs in India is quick and easy. The NRI simply needs to find an insurer they like and ask to purchase the policy. Once they complete the formalities, the policy is considered as a regular term plan purchased by Indian citizens. But, NRIs need to disclose their country of residence. Most insurers have a list of countries where they will not offer insurance. Additionally, if the NRI lives in a place where there is political instability, they may be subject to higher premiums.

From the Country of Residence

The process to purchase term insurance for an NRI from abroad is slightly complicated. They have to buy the policy via Mail Order Business. The process requires the NRI to get verified by a notary and an Indian diplomat. Most NRIs require verification from an Indian embassy official for verification. Indian students who are studying abroad may ask their dean or supervisor to help them with the verification process.
Policy Tenure and Coverage
Policy Tenure

While buying term life insurance from India for NRIs, they must also select their tenure. NRIs can opt for a policy term that is as short as 6 months or as long as 25 years. Most insurers today also provide whole-life insurance plans for NRIs. To purchase term insurance as an NRI, you must be at least 18 years old and you cannot be older than either 55 or 65, depending on your insurer's guidelines. While opting to purchase term insurance, you need to pick your tenure carefully. Experts advise policyholders to ensure they are covered until they turn at least 65. So, opting for a 25-year plan when you're 40 or a whole-life plan at any point before that is ideal.

Coverage

While purchasing term insurance, NRIs have the option to choose the kind of coverage or sum assured they want. Picking an adequate amount for your nominee is crucial. You need to ensure that the payout helps them look after certain expected expenses or any debt you may leave behind. Opting for a higher amount will ensure that inflation doesn't significantly diminish your nominee's spending power. You could also choose an insurance policy that automatically increases the sum insured by a certain percentage every few years. Or, choose a policy that enhances the sum insured at crucial life moments such as the policyholder's marriage or once they welcome a child.
Features of NRI Term Plans
Wide Policy Term Choice

Several insurance providers offer term insurance plans to Non-Resident Indians (NRIs). The term of these policies can be as short as six months or as long as 25 years. NRIs must be at least 18-years-old to be eligible to purchase a policy. In most cases, individuals cannot buy a term plan if they are over 60 or 65.

Customisable Amounts

When it comes to term insurance plans, the most crucial feature to consider is the sum insured. NRIs can opt for amounts as low as INR 2 lakhs or as high as INR 5 crores. Some insurance providers do not have a cap on the maximum sum insured. You can pick the sum insured based on your family's financial needs.

Easy Payments

To allow NRIs to keep their policies active even when they're out of India, insurance providers accept payments via internet banking. They can also use foreign remittance or their NRO, NRE or FCNR accounts to make regular premium payments. Additionally, NRIs can choose how often they would like to make premium payments. Annual cycles often work the best.

Quick Documentation

NRIs applying for a term plan need to provide a few documents with the application form. You must provide a copy of your passport along with documents that provide details about your age and income. While purchasing term insurance plans, NRIs also have to provide documents relevant to their past medical history. The insurance provider will use these details to decide the premium amount they can offer.
How Does NRI Term Insurance Work?
Term insurance for NRIs works like a regular term policy for Indian citizens. NRIs pay their premium amounts at regular intervals to enjoy the peace of mind that comes with having life cover. The policy provides life coverage for a certain period, unless the NRI has opted for a whole-life policy, in which case the coverage continues, irrespective of the individual's age or policy tenure. If anything happens to the NRI during the policy term, their nominee receives the payout benefit as per the guidelines outlined in the policy documents.
Documents Required to Buy Term Insurance for NRI
To apply for a term insurance policy, the NRI must provide:
Duly filled application form
Copies of the front and back of the applicant's passport
Income proof
Age proof
Residence proof
Copies of medical records, where applicable
Foreign Account Tax Compliance Act (FACTA) form
FAQs
If you still have questions about term plan for NRIs in India, we have the answers you need:
Q: Can NRIs buy term insurance plans in India?
A: Yes, NRIs are free to purchase term policies in India. They must check whether their chosen plan will provide the needed cover in their country of residence. Ideally, they should get written approval from the insurance provider.
Q: Can I buy multiple term plans?
A: Yes, many people opt to purchase multiple plans for enhanced protection.
Q: Once I purchase the policy, can I change the frequency of premium payments?
A: In most cases, yes, you can opt to change the frequency with which you pay your premiums. But you may have to wait until your policy is up for annual renewal before you make the switch. Always check your individual policy provider's requirements.
Q: What happens if I become an NRI after I purchase a term plan in India?
A: If you have an existing plan, you need not worry. You can write to your insurance provider to ask if they will keep your plan active once you move. You will have to provide details about where you're going. Most policy providers will allow you to continue with the term plan.
Related Articles
ARN - ED/11/22/30447
Tax Articles
Subscribe to get the latest articles directly in your inbox
Life & Term Articles
Investment Articles