HDFC Life ClassicAssure Plus

Investment

HDFC Life ClassicAssure Plus

Investment

HDFC Life ClassicAssure Plus

Investment
For NRI Customers
(To Buy a Policy)
Call (All Days, Local charges apply)

Email ID

Whatsapp
---
(If you're our existing customer)
Call (Mon-Sat 10am-7pm, Local Charges Apply)

Email ID
For Online Policy Purchase
(New and Ongoing Applications)
---
Branch Locator
For Existing Customers
(Issued Policy)
Whatsapp

Call (Mon to Sat, from 10 am to 7 pm, Call charges apply)

Email
---
Fund Performance Check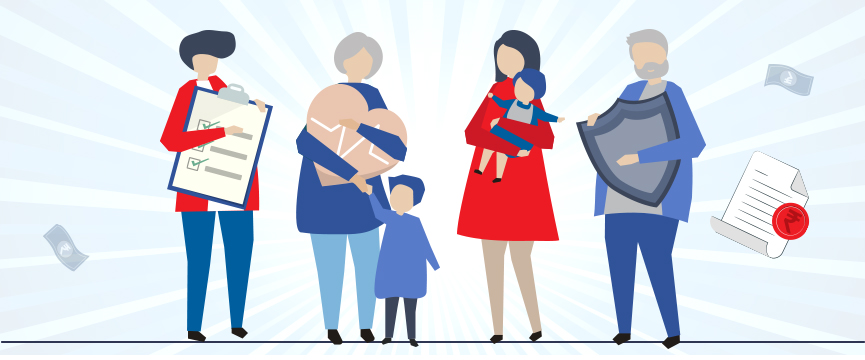 Most people purchase term insurance plans to leave behind a corpus for their dependents to help them live comfortably in their absence. However, this does not make term insurance an exclusive product for those with insufficient savings. Rather, term plans are equally important for high net-worth individuals (HNIs).
In India, HNIs are people with liquid assets valued anywhere between Rs. 5 Lakhs to Rs. 5 Crores. These liquid assets may be held as cash, bank deposits, or brokerage account balance. Moreover, apart from liquid assets, HNIs also have stocks and bonds investments exceeding a certain threshold.
4 Ways in Which Term Insurance Plans Benefit HNIs
If, as an HNI, you think a term cover is not worth investing in, there are various reasons why you should rethink this stance. Here are some of the ways in which a term insurance plan can benefit you.
Safeguard the Uncertain Future
The future is always riddled with uncertainty. From business lows to stock market turndowns, economic changes in the future might affect your wealth and worth. Opting for a term plan helps ensure that this doesn't compromise your family's lifestyle or goals. The death benefit payout from the plan will keep your family financially protected in case of your demise during the policy's tenure.
Tax Benefit Capitalisation
HNIs also reap term insurance tax benefits1 as per the prevailing tax laws. The premiums paid for term insurance plans are tax deductible up to Rs. 1.5 lakhs u/s 80C of the Income Tax Act. However such deduction can be claimed only to the extent of the premium amount being less than 10% of the sum assured.  Moreover, the death benefits paid out under a term insurance plan are also tax-free u/s 10(10D) of the Act. Further, deduction u/s 80D for premium paid for riders3 on a particular illness specified by the insurance provider that are a part of the term insurance plan are deductible up to Rs 25,000 (Rs 50,000 for senior citizens) under Section 80D of the Income Tax Act, 1961.
Covering Loan Payments
From starting a business venture to buying a home, as an HNI, you may have several outstanding loans. Paying for these loans while you're alive and earning is easy, but in the event of your untimely death this payment burden will be shifted to your dependents. Term plans help avoid this by giving your beneficiaries a lump-sum that's enough to cover debt expenses.
Additional Protection via Riders
You can also enhance the financial protection offered by the base term insurance plan by purchasing add-on riders for an additional rider premium. These riders, like accidental death benefit rider, critical illness rider, waiver of premium rider and income rider offer extra benefits in case of specific emergencies or incidents.
Things HNIs Need to Consider Before Buying a Term Insurance Plan
As a HNI, your insurance requirements will be different from regular applicants. Thus, you should keep the following pointers in mind while making a choice:
Consider the high-profile lifestyle expenses of your family, your existing debts and liabilities, and future responsibilities before choosing a life cover option.
Pick a beneficiary order to ensure that your term plan payout remains within your family even if the primary beneficiary dies before you.
Insurers generally offer special riders3 like smart exit benefits, maturity benefits, life stage benefits, etc. Compare insurers and pick one that best meets your financial and coverage needs.
Conclusion
Many high net-worth individuals may feel like the wealth they've accumulated is sufficient to support their families in their absence. However, with an uncertain future and steadily rising inflation levels, nothing is given. Even if you feel that a term plan's death benefit won't do much for your family, it is still a worthy safety net you should consider. With term insurance tax benefits1, add-on riders3, and a return on premiums option, you can enjoy a comprehensive approach to insuring yourself and managing your finances.
Related Article:
ARN - ED/08/23/3594
Tax Articles
Subscribe to get the latest articles directly in your inbox
Life & Term Articles
Investment Articles
Here's all you should know about life insurance.
We help you to make informed insurance decisions for a lifetime.
Tax benefits are subject to conditions under Sections 80C, 80D, Section 10(10D) and other provisions of the Income Tax Act, 1961.
The afore stated views are based on the current Income-tax law. Tax Laws are also subject to change from time to time. The customer is requested to seek tax advice from his Chartered Accountant or personal tax advisor with respect to his personal tax liabilities under the Income-tax law.
For all details on Riders, kindly refer to the Rider Brochures available on our website.