Why you need this Plan ?
Ensure financial stability for your loved ones forever
Maintain your family's standard of living even in your absence
Provide complete protection to your dear ones at an affordable price
PROTECT YOUR LOVED ONES WITH LIFE INSURANCE COVER IN A FEW SIMPLE STEPS
Explore HDFC Life Click 2 Protect Plus
Features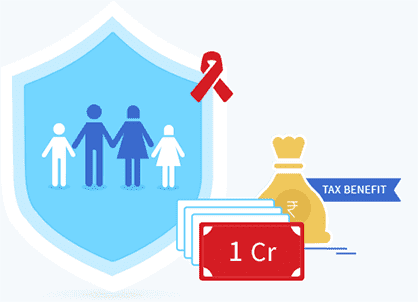 Pick your cover option from 4 options – Life Option, Extra Life Option, Income Option and Income Plus Option

Provide monthly income to your folks in your absence under Income and Income Plus Option

Increase your insurance cover at the key milestones of your life under Life Option

Add riders for protection against Accidental Disability or Critical Illness to your term plan to stay extra secure

Flexible policy term options.

Flexible premium paying term options

Avail tax benefits*

*Tax benefits are subject to changes in tax laws.
Benefits
Benefits Available Under HDFC Life Click 2 Protect plus

Death Benefit
Death Benefit under the plan is:
For Single Premium Policy: Higher of :

125% of Single Premium
Sum Assured

For Regular Premium Policy: Higher of :

10 times the annualized premium
105% of the total premiums paid as on date of death
Sum Assured

Life Option
Death Benefit shall be payable in the form of a lump sum upon death

Extra Life Option (Accidental Death Benefit)
Death Benefit shall be payable in the form of a lump sum and an additional benefit equal to the Sum Assured shall be payable in case of accidental death.

Income option
Under Income Option, the Death Benefit is paid in the following manner:

a. 10% of the Death Benefit paid as a lump sum upon death
b. Remaining 90% of the Death Benefit shall be paid as monthly income over next 15 years (0.5% of Death Benefit every month for 15 years)

Income plus option
Under Income Plus Option, the Death Benefit is paid in the following manner:

a. 100% of the Death Benefit shall be paid as a lump sum upon death
b. In addition, a monthly income equal to 0.5% of the Sum Assured shall be payable for a period of 10 years. The monthly income can be level or increasing at a simple rate of 10% p.a. as chosen by the policyholder.
Eligibility
| | | | | |
| --- | --- | --- | --- | --- |
| Eligibility Criteria | Life Option |  Extra Life Option | Income  Option | Income Plus Option  |
Min Age at Entry

18 Years

Max Age at Entry

65 years

Min Policy Term

5 years

10 years

Max Policy Term

(85 years - Age at Entry)

40 years

Premium Payment Mode

Single Pay,
Regular Pay#,
Limited Pay* : 5 years, 10 years, 12 years and (Policy term - 5) years

Premium Payment Frequency

Single, Annual, Half yearly, Quarterly, Monthly

Min Age at Maturity

23 years

Max Age at Maturity

85 years

75 years

Minimum Basic Sum Assured

Rs. 25 Lakhs

Maximum Basic Sum Assured

There is no limit on maximum sum Assured, subject to satisfactory underwriting
#Regular pay means when premium paying term is equal to policy term
*Limited pay means when premium paying term is less than policy term
Age has to be taken as of "last birthday" basis
For more details on risk factors, terms and conditions, please read the
Product Brochure
carefully and/or consult Financial Consultant before taking a decision
Frequently Asked Questions
✅
What is an ideal insurance cover?
The ideal life insurance cover which should be at least 5-10 times your annual income. Simply put, you should have enough life insurance cover so that your family can cover the liabilities and manage for at least 5-7 years without your income.
✅
I have a company cover - do I need a term plan?
People have enormous faith in the life insurance cover that their employer provides for them. Our research insights tell us that cover provided by the employer typically is equal to the annual income. This isn't adequate. Also, this insurance lasts as long as you are employed with the organization. If you change jobs, start a company of your own or become a freelancer, you won't have the same insurance cover. If these events happen when you are older, the cost of insurance will be higher too.
✅
Till when do you need the cover? What should be an ideal policy term?
Your insurance policy should cover a person till the age he intends to retire. Till a few years ago, this was 60 years. However, in our new age we may have late marriages and having children at a higher age mean responsibilities do not end at 60. Experts suggest a life cover till 65 years, though it may vary according to circumstances.
We will not recommend you a short-term cover of 15-20 years that ends when you are in your 40s. The premium will be very low because you will be insuring yourself for the non-risky years. 40s are perhaps the time when you should have the best possible coverage. If you take fresh insurance at that age, it will be very expensive. You might even be denied a policy because of your health.
✅
Why HDFC Life Click2Protect Term Insurance Plan?
Looking for an easier way to insure yourself and secure your loved ones happiness? You know that the solution is a term insurance plan and you seek a plan that is convenient to buy and is affordable. Your search ends here. HDFC Life is happy to present the perfect plan for your protection needs HDFC Life Click 2 Protect! HDFC Life Click 2 Protect is a term insurance plan. This plan provides for a payment of a lump sum in the event of your unfortunate death during the policy term.
✅
Do I need to do anything else after making the payment?
You simply have to complete the verification call that may be made to you by HDFC Life and send your documents. In case there is a requirement for a medical examination or any other underwriting requirement, the company will keep you updated.
✅
Will I have to undergo a medical test?
The requirement for a medical test may or may not arise depending on the underwriting requirements and your health disclosures. Your medical tests will be short and basic (some examples are: blood test, urine test etc.) and rest will depend on your health status. This will be communicated to you by HDFC Life if the requirement arises.
✅
How much time will be taken for processing after you get my documents?
It will take approximately 5 to 10 working days to issue your policy after all your KYC or Financial documents, medical results (if medicals are done) are received. Once we receive your documents, your policy will go through our underwriting processes. In the meantime, HDFC Life may contact you from time to time for any medical/underwriting or further requirements. After all these processes are cleared, your policy will be issued and documents will be couriered to you. Do remember to put in your exact pin code, communication address which will help us deliver your documents correctly.
✅
Why can't HDFC Life issue the policy there and then? Why will HDFC Life ask for further details when the online form is exhaustive or long?
It is important that every person pays the correct premium amount and gets the correct life insurance cover. This will differ from person to person, depending on their risk profile in terms of their financial and health disclosures. HDFC Life always carries out its underwriting procedures thoroughly and carefully before the policy is issued so that when you actually need the money at the time of the claim, it is done in an efficient and hassle free manner and no problems arise for you. Because of this, we also have one of the highest claim settlements in the industry.
✅
Where can I contact / write to know the status of my application?
You can write to us at onlinequery@hdfclife.in or call our toll free number 1800 266 9777​
✅
Can I buy one more online policy?
Yes, you can buy another online policy in your name if you believe you need more life cover. However, the acceptance of the same will be subject to underwriting approval.
✅
What is your claim settlement process?
At HDFC Life we lend a helping hand by enabling faster settlement of claims and help the family financially at the time of distress. For any assistance or query relating to reporting claims (Death Claims / Critical Illness Claims) your family member may get in touch with us by emailing us at claims@hdfclife.com and we will get back to you with the details that will be required to process a claim. To help you arrange the documents we have drawn up a list of documents that you may be required to send along with the claims form. This list is for your reference only and the complete list may vary for each claim. You can view this list at the following url:
https://www.hdfclife.com/CustomerService/Claims-Claims.aspx
Call us on - 1860 267 9999 (Local charges apply) for any assistance / documentation required for processing claims.
Downloads
Product Brochure Download
Things to Know
4 simple steps to reduce the premiums for term plan
A great way of looking at a term life insurance plan is to consider it as an expense on the financial safety of your family, and thereby, make it a part of the household budget. That way, you could actually consider ways to reduce its cost without compromising on the quality of the safety net it provides to your family. Here is how you can lower the premium of your term plan even as you enjoy the best life insurance coverage.
How to find out life insurance cover your family truly needs
One of the many dangers of having no or less-than-adequate life insurance is that, in your absence, your family members and dependants could struggle to meet current expenses and future needs. Therefore, it is necessary to find out the right life insurance amount so that your family continues to lead a normal life even when you are not there.
Widen your risk cover by attaching riders
When you buy a term plan, you provide a basic protection cover to your family against any threat to your life; and the insurance company pays the sum assured to your nominee in the event of your death. But besides life, there are many other risks that loom over your family and threaten their future. This includes risks to your income and health. While it's impossible to cover each of these risks, the good news is that you can cover some of the major ones through riders that can be attached with a term plan. By buying them, you widen the financial security net for your family.
We offer riders for such events

HDFC Life Critical illness plus rider
HDFC Life Critical Illness Plus Rider offers a lump sum benefit equal to the sum insured, if the life assured survives for a period of 30 days following the diagnosis of any of the specified 19 critical illnesses.

HDFC Life Income Benefit on Accidential Disability Rider
HDFC Life Income Benefit on Accidental Disability Rider - In the event of total permanent disability due to an accident, you will be paid a regular monthly income equal to 1% of Sum Assured for a fixed period of 10 years.
HOW CAN WE HELP YOU
Contact Our Relationship Manager
Contact Our Relationship Manager
Mon-Sat 9:30 A.M to 6:30 P.M IST
Locate A Branch Near You
There has been changes in branch operation timings due to COVID 19
Stay updated with HDFC Life
Get HDFC Life updates in your mailbox