HDFC Life ClassicAssure Plus

Investment

HDFC Life ClassicAssure Plus

Investment

HDFC Life ClassicAssure Plus

Investment
To Buy Online
---
Branch Locator
For Existing Customers
---
Fund Performance Check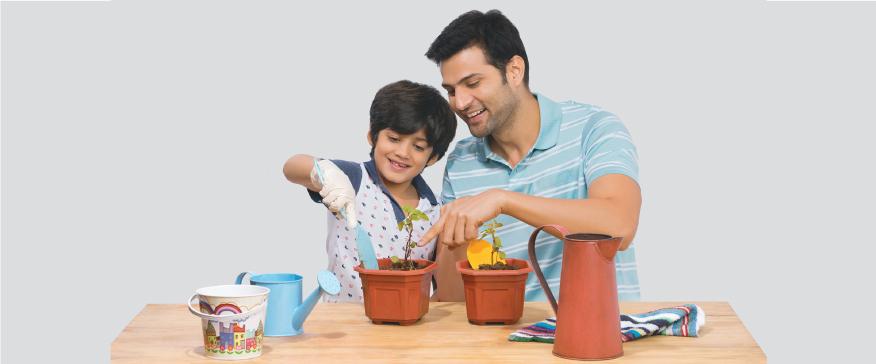 October 30, 2018
1947
Moreover, children are distinct from other age groups in several important ways. For one thing, they are entirely dependent on their adult caretakers or guardians for health services. Children are incapable of making decisions about health care, purchasing services or insurance. As such, we cannot expect children to develop any opinions about the appropriateness of services. Children are also unable to voice preferences or to influence decisions that their parents make on their behalf. Hence, it is the responsibility of adults to represent their interests and to ensure that their needs are met at all times.
This is where health insurance plays such an important role. Being insured gives a significant cover in times of any contingency. The financial angle to various diseases and their treatments is very important. If the guardians or parents are not prepared financially to deal with the incurred costs, it can leave a big dent in their savings. They may even have to seek alternate and cheap detours and this can severely impact the well being of the children in the long run.
In various studies and surveys conducted in India and abroad, it has been found that financial literacy rate among parents directly impacts their decisions for securing health insurance for their children. This trend has varied from time to time and factors like a stable income, ethnicity, and level of awareness have played a significant role in this. In India, among various groups, child health insurance was considered an alien concept and various segments of population, especially ones who border on marginalized and lower middle class income groups were the chief among them. Although governmental initiatives and efforts by various NGOs have brought in significant change, yet much needs to be done on this front. With rapidly changing times and rising levels of financial responsibility, a wider coverage of health insurance for children is expected in India and this is a much awaited development.
Need for Health Insurance Plans for Children
Many people today mistakenly believe that health insurance is crucial only for the elderly. The truth is, even children require health insurance. Here's a look at some vital reasons why you must purchase health insurance for your children:
Young children do not have a strong immune system. In fact, their immunity continues to develop until their mid-teens. So, young children are more likely to catch an illness than middle-aged adults. With a health insurance policy, you can help deal with the financial costs of getting your child treated after an unforeseen illness.
Children have slower reflexes and they aren't as good at sensing danger as adults, which makes them prone to injury. Accidents and collisions could require short stays in the hospital, which your child's medical insurance plan will help look after.
Many children today are exposed to various environments that put them at risk of developing health problems. Allergic reactions to food or pollen or dust could lead to health issues such as asthma or skin problems later. With a child medical insurance policy, you can get your little one the help they need with ease.
Benefits of Buying Health Insurance for Children
When you purchase health insurance for your child, you benefit from:
Comprehensive Medical Cover
Health policies for children provide coverage in a wide number of situations. They help with the cost of hospitalisations, vaccinations, out-patient consultations and more. Depending on the type of policy you purchase, you can even get free health check-ups for your child.
A health insurance policy helps cover the rising cost of medical treatments. So, you won't have to dip into your savings or borrow money. A child medical insurance plan allows you to keep your finances secure in emergencies.
Cashless Hospitalisations
When your child is unwell, you can only think about helping them get better. With a child health plan, you can get cashless treatments at network hospitals. You won't have to worry about making payments upfront. Instead, your insurer will settle the bill directly with the hospital, leaving you free to look after your child.
Most importantly, when you opt for a health policy, you can get your child the healthcare they require without worrying about the cost.
Types of Health Insurance Plans for Children
There are two basic types of health insurance plans for children:
1. Individual Plans
Here, you purchase a separate policy for your child. They have their own sum assured amount and premium. The policy can be customised to suit them and their personal health needs.
2. Family Floater Plans
Most often, families add their children to their existing family floater health plan. Here, the sum assured amount gets shared amongst all the individuals covered under the policy.
Benefits of Family Floater Health Plans
Should you opt for a family floater health plan, you benefit from:
With a family floater policy, you only have to track one policy for your entire family. Filing claims or paying premiums becomes quick and easy.
Family floater policies offer special discounts when you add new members. When you add a child, you may get a discount on the premium from your insurer.
Most family floater plans have a fixed premium for the policy duration, so you don't have to worry about fluctuating rates.
You can opt to purchase certain add-ons with your family floater plans depending on your needs and the health requirements of covered family members.
You can enjoy tax deductions when you pay the premium for a health plan that covers you, your spouse, your children and your senior citizen parents.
Benefits of Individual Child Health Insurance Policies
With an individual child medical insurance policy, you benefit from:
Since young children often pose low risk to health companies, you can pay a very low premium for your child's health coverage.
It's easy to purchase add-ons and customise your child's health policy based on their unique health needs.
When your child has their own policy, they will likely enjoy a No-Claim Bonus (NCB) for several years. Your insurer will either lower your premium or increase your child's sum assured amount for the following year if they get through a policy year without filing a single claim.
Factors to Consider When Buying Health Insurance for Children
Before you purchase a child medical insurance policy, you need to carefully consider:
As with all insurance plans, you need to ensure that the sum assured you opt for is adequate to cover any emergency health treatment that your child may require. If you do not get adequate coverage, you could end up having to pay for treatments from your own pocket.
Every health plan comes with a list of inclusions and exclusions. Before you purchase the policy, you should ensure that you check these lists properly. As far as possible, find plans that offer more coverage than others.
You can opt to purchase a variety of add-ons to boost the coverage offered by your child's health plan. Make sure you pick only the add-ons you require as unnecessary add-ons will only increase your premium.
To enjoy cashless claims, you must get your child treated at network hospitals only. Check your insurer's network and ensure that your preferred medical facility is listed. If not, you will have to file for reimbursement claims, which could take more time.
HDFC Life offers various health insurance plans that seek to safeguard your finances and provide a beneficial cover in times of any health-related contingency. For details, click on the mentioned link: https://www.hdfclife.com/health-insurance-plans
ARN – ED/01/22/27146
Related Articles
Tax Articles
Subscribe to get the latest articles directly in your inbox
Life & Term Articles
Investment Articles
Calculators
HDFC Life Insurance Company Limited. CIN: L65110MH2000PLC128245, IRDAI Reg. No. 101.
Registered Office: Lodha Excelus, 13th Floor, Apollo Mills Compound, N.M. Joshi Marg, Mahalaxmi, Mumbai 400 011. Email: [email protected], Tel No: 1800-266-9777 (10 am to 7 pm). The name/letters "HDFC" in the name/logo of the company belongs to Housing Development Finance Corporation Limited ("HDFC Limited") and is used by HDFC Life under an agreement entered into with HDFC Limited.
For more details on risk factors, associated terms and conditions and exclusions please read sales brochure carefully before concluding a sale.
BEWARE OF SPURIOUS PHONE CALLS AND FICTIOUS/FRAUDULENT OFFERS
IRDAI is not involved in activities like selling insurance policies, announcing bonus or investment of premiums. Public receiving such phone calls are requested to lodge a police complaint.