Meet our relationship manager
submit
Explore HDFC LIFE Group Variable Employee Benefit Plan
Features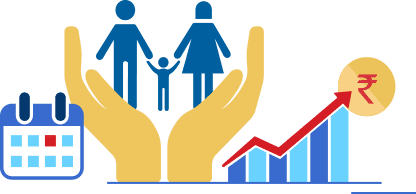 Guaranteed1 Minimum Return of 1% per annum for the entire term of the policy

Additional interest rate declared by us at the start of every financial quarter

Income Tax Benefits2 to you and your employee as per applicable tax laws

Choice of individual member level account in case of superannuation scheme

1The Assured benefit will be in the form of a 1% p.a. guaranteed return on the account value at the start of the year, adjusted suitably for the cash flows occurring during the year.

2Subject to provisions, as per Income Tax Act 1961. Tax benefits are subject to changes in tax laws.
Benefits
Benefits Available Under HDFC Life Group Variable Employee Benefit Plan
This product is flexible, transparent and is designed to achieve the objectives of managing the Gratuity, Leave Encashment, Superannuation and other employee benefit schemes in the most efficient manner.

HDFC Life Click 2 Protect 3D Plus
Avail 5.5% discount on premium for policies bought online directly* across 9 plan options with HDFC Life Click 2 Protect 3D Plus
HOW CAN WE HELP YOU
Contact Our Relationship Manager
Contact Our Relationship Manager
Mon-Sat 9:30 A.M to 6:30 P.M IST
Locate A Branch Near You
There has been changes in branch operation timings due to COVID 19
Stay updated with HDFC Life
Get HDFC Life updates in your mailbox