Meet our relationship manager
submit
Explore HDFC Life Pradhan Mantri Jeevan Jyoti Bima Yojana Plan
Features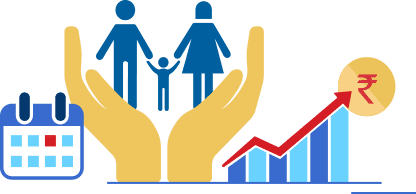 Participating Banks will be the Master Policyholder while Savings Bank account members will be the members under the scheme

For all Savings Bank account holders whose age is between 18 to 50 years

Offers Rs 2 Lakhs renewable life insurance cover for your family, in your absence

Life insurance worth Rs. 2 lacs at just Rs. 330 per annum

The premium will be deducted from the account holder's saving bank account through 'auto debit' facility.
Benefits
Benefits Available Under the HDFC Life Pradhan Mantri Jeevan Jyoti Bima Yojana Plan
One year renewable group life insurance cover to all eligible the savings bank account holders of the bank who opts for the scheme

The plan offers Death Cover of Rs 2 Lakhs to the eligible members for a fixed premium of Rs 330
Eligibility
MINIMUM
ENTRY AGE
18 yrs
(age last birthday)
MAXIMUM
ENTRY AGE
New Member
50 yrs
(age nearest birthday)
Renewals
54 yrs
(age nearest birthday)
MINIMUM
MATURITY AGE
19 yrs
(age last birthday)
MAXIMUM
MATURITY AGE
55 yrs
(age nearest birthday)
SUM
ASSURED
PREMIUM
PREMIUM
FREQUENCY
^Premium is exclusive of Service Tax
HOW CAN WE HELP YOU
Contact Our Relationship Manager
Contact Our Relationship Manager
Mon-Sat 9:30 A.M to 6:30 P.M IST
Locate A Branch Near You
There has been changes in branch operation timings due to COVID 19
Stay updated with HDFC Life
Get HDFC Life updates in your mailbox