Explore Group Pension Plan
Features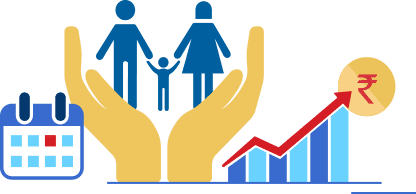 Effective way to build an employee superannuation benefit fund
Option to setup the policy with a single policy account or with individual member level accounts
Flexibility to pay premiums regularly or as single premium
Benefits
Benefits Available Under HDFC Life Group Pension Plan
Build a retirement corpus for the individual members
Guaranteed minimum floor rate of 0.5% for the entire term of the policy
Bonus credited at the end of every financial year
Ease of claim settlement
Downloads
Product Brochure Download

HDFC Life Click 2 Retire
Your retired life is for you to enjoy, not for you to worry about taxes. With HDFC Life Click 2 Retire you can plan your retirement for just Rs 2000 per month and avail tax benefits.
Stay updated with HDFC Life
Get HDFC Life updates in your mailbox
This site best viewed at 1366 px X 768 px using the latest Firefox, IE, Chrome, Safari versions.
Disclaimer :
1. This is applicable with the HDFC Life Critical Illness Plus Rider. A lump sum benefit equal to the Sum Insured shall be payable, if the life assured survives for a period of 30 days following the diagnosis of any of the specified 19 critical illnesses.
HDFC Life Insurance Company Limited. In partnership with Standard Life.                                                                                                                                                                                                                                                                                                             Insurance is the subject matter of the solicitation. For more details on risk factors, terms and conditions and exclusions please read the product brochure before concluding the sale. HDFC Life Insurance Company Limited (Formerly HDFC Standard Life Insurance Company Limited) is the name of our insurance company and HDFC Life Cancer Care (UIN: 101N106V01, Form No. P501-133) is the name of health plan. The name of the company: HDFC Life Insurance Company Limited (Formerly HDFC Standard Life Insurance Company Limited), Name of the brand: HDFC Life, Name of the product: HDFC Life Cancer Care does not indicate the quality of the plan. HDFC Life Insurance Company Limited (Formerly HDFC Standard Life Insurance Company Limited). IRDAI Registration No.101. ARN No. MC/05/2015/6319. CIN: U99999MH2000PLC128245